Daily Comment (November 10, 2020)
by Bill O'Grady, Thomas Wash, and Patrick Fearon-Hernandez, CFA
[Posted: 9:30 AM EDT] | PDF
Our Daily Comment today opens with the latest developments in the post-election political and legal maneuvering.  Naturally, we follow that with a discussion of coronavirus news and what to expect after yesterday's blockbuster announcement regarding the vaccine development by Pfizer (PFE, 39.20).  We end with various other international and market news.
U.S. Elections:  President Trump continues to pursue legal remedies to his apparent re-election loss.  Although the legal challenges still seem unlikely to change the result, they continue to slow the timing of certifying the results and complicate the prospects for a smooth transition of power.
COVID-19:  Official data show confirmed cases have risen to 50,913,451 worldwide, with 1,263,089 deaths.  In the United States, confirmed cases rose to 10,110,552, with 238,251 deaths.  Here is the interactive chart from the Financial Times that allows you to compare cases and deaths among countries, scaled by population.
Virology
 Economic Impacts
 U.S. Policy Response
United Kingdom:  Treasury chief Rishi Sunak yesterday outlined a review of finance rules, including possible changes to make it easier for companies to raise money in London.  This is aimed at keeping the country's vast financial sector competitive with New York after Brexit.  Given the financial services industry's prevalence in the British economy and their high representation in the British stock market, maintaining global competitiveness in this sector could be critical in maintaining the U.K.'s attractiveness as an investment destination.
EU-U.S. Technology Firms:  Reports indicate the EU will announce formal antitrust charges against Amazon (AMZN, 3,143.74) today regarding how it uses data about merchants on its platform.  The case focuses on Amazon's dual role as both a marketplace for third-party vendors and a competitor selling its own goods.  The charges turn on concerns that Amazon may be abusing its role by using the data it gathers on merchants to compete against them.  These charges are also part of a long line of EU legal challenges to U.S. technology firms and their business models.  Coupled with yesterday's positive news about coronavirus vaccines and the possibility of the global economy getting "back to something like normal," the continuing EU regulatory attacks suggest tech firms will face increased headwinds in the near term.
Nagorno-Karabakh:  Azeri forces fighting Armenian troops over control of Nagorno-Karabakh accidentally shot down a Russian military helicopter, killing two crew members.  The incident apparently helped prompt the Kremlin to intensify its effort to resolve the conflict, and reports today say Armenia and Azerbaijan have signed a ceasefire deal that will deploy Russian peacekeepers in the territory.  The Russian troops are reportedly already being deployed.  The truce, which follows the capture of a strategically decisive city by Azeri forces, represents a major military victory for Baku, cementing its large territorial gains and raising questions about the future of the Armenia-controlled enclave.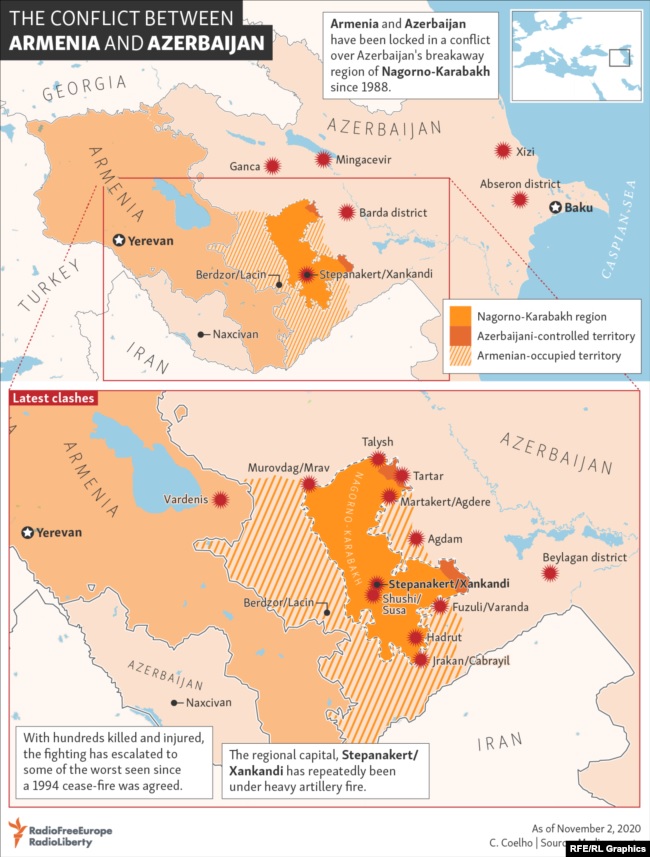 Japan:  The Bank of Japan said it will exempt regional banks from negative interest rates if they agree to merge or cut costs.  Regional banks with approved restructuring plans will be able to earn a positive interest rate of 0.1% on their deposits at the BoJ, instead of minus 0.1%. That is an incentive that could be worth billions of yen, and it's a highly unusual use of monetary policy to reshape the financial sector.
Peru:  The country's Congress has ousted President Martín Vizcarra over what appears to be trumped-up charges of corruption and incompetence related to the coronavirus pandemic.