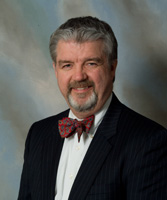 Chief Market Strategist
As Chief Market Strategist, Bill O'Grady performs market, economic, and geopolitical research for the firm, and is a member of the investment committees for the Asset Allocation strategies and International Equity strategies. Bill also co-manages Confluence's Global Hard Assets portfolio, which focuses on tangible commodities investments. These strategies all rely on his top-down evaluations of the geopolitical environment, fundamental macroeconomic trends, and technical patterns in the target markets. Additionally, Bill writes numerous reports for the firm, which can be found on the Confluence website under Research & News, in which he provides insights on various economic and geopolitical topics and discusses market effects.
Prior to joining Confluence, Bill served as Vice President and Chief Investment Strategist for Wachovia Securities. As Chief Investment Strategist, he provided short-term asset allocation advice for Wachovia's Advisory Services Group. Prior to this, Bill served in a variety of positions in his 19-year tenure at A.G. Edwards & Sons, Inc., including Chief Global Investment Strategist, Assistant Director of Market Analysis, and Manager of Futures Research, and was also a member of the A.G. Edwards Investment Strategy Committee.
In all, Bill has more than 35 years of experience following the energy, foreign exchange, and futures markets and is frequently quoted by such national media outlets as the Wall Street Journal and Bloomberg News. Bill earned a master's degree in economics from St. Louis University and has undergraduate degrees in history and public administration from Avila College.