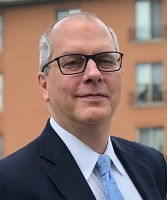 Chief Investment Officer - Asset Allocation
As Chief Investment Officer-Asset Allocation, Greg Ellston leads the Asset Allocation Committee, which is responsible for setting and implementing policy for the firm's cyclical ETF strategies.
Prior to joining Confluence, Greg was Managing Director of Asset Allocation and Portfolio Construction for the Investment Management Group at TIAA-CREF for nine years. In this role, he initiated and constructed a discretionary management platform that grew to over $21 billion during his tenure. His group also provided oversight for another $20 billion in assets for a number of affiliates.
Before TIAA-CREF, Greg worked at A.G. Edwards as a vice president within the Gallatin Asset Management division, where he directed Manager Analysis and served as co-manager on the Cyclical Asset Allocation Portfolios. Prior to A.G. Edwards, Greg held roles at Rauscher Pierce Refsnes, Inc. and Stifel, Nicolaus & Company. Over the course of his more than 35 years of experience, Greg has been involved in building five fee-based platforms at three different firms, including separate accounts, open-end mutual funds and exchange-traded funds. He was involved in the first closed-end fund research effort and the first research group incorporating dedicated investment manager analysts.
Greg has served on the Securities Industry Association's Investment Company Committee and has been a member of Morningstar's Institutional Advisory Council. Greg earned his Bachelor of Business Administration from the University of Mississippi and his MBA from the A.B. Freeman School of Business at Tulane University.