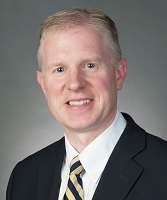 Chief Compliance Officer
Steven Farmer serves as Confluence's Chief Compliance Officer. Steven is responsible for managing the firm's compliance program, which includes monitoring firm-wide compliance with internal policies as well as regulatory requirements.
Before joining Confluence in 2019, Steven served as Chief Compliance Officer for Northern Trust Investments, Inc., 50 South Capital Advisors, LLC and various registered mutual funds.  Previously, Steven was Chief Compliance Officer at Mesirow Advanced Strategies, Inc., and also held senior compliance positions at Mesirow Financial International in the U.K. and Hong Kong.
Steven earned a Master of Business Administration from DePaul University and a Bachelor of Science in finance from Northern Illinois University.