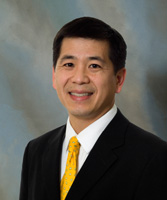 Portfolio Manager
David Miyazaki is a portfolio manager at Confluence and manages the specialty finance portfolios with an emphasis on business development companies (BDCs). This work includes co-managing the First Trust Specialty Finance and Financial Opportunities Fund (NYSE: FGB). David is also a member of the Asset Allocation Committee. In addition, he works with the firm's balanced portfolios, with a particular focus on the fixed income investments.
Prior to joining Confluence, David served as a portfolio manager and analyst with Gallatin Asset Management, the investment management arm of A.G. Edwards, Inc. David was responsible for separately managed accounts invested in individual stocks with a value discipline and co-managed the aforementioned FGB closed-end fund, then known as the First Trust/Gallatin Specialty Finance and Financial Opportunities Fund, as well as the A.G. Edwards ETF-based asset allocation program. In addition to portfolio management, David served as a member of the A.G. Edwards Investment Strategy Committee. As a strategist, he was responsible for the firm's quantitative asset allocation models, including its Cyclical Asset Allocation Program.
Before joining A.G. Edwards, David was a portfolio manager at Koch Industries, where he managed a short-term interest rate arbitrage portfolio. Previously, he was a private placement debt analyst at Prudential Capital Group and worked as a mortgage bond trader for Barre & Company. David has over 30 years of financial experience, starting in the industry in 1991.
David earned a Bachelor of Arts in business administration from Texas Christian University and is a CFA charter holder.