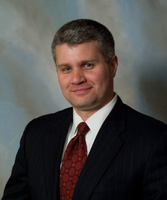 President and Chief Operating Officer
Brian Hansen is responsible for the day-to-day operations at Confluence and is a member of Confluence's Board of Directors, which sets the strategic direction of the firm.
Prior to founding Confluence, Brian served as a managing director in the Financial Institutions & Real Estate investment banking practice at A.G. Edwards & Sons. While at A.G. Edwards, he provided financial advisory and capital markets services to companies operating in the asset management sector, commercial real estate companies including real estate investment trusts, and other real estate-oriented asset managers. Additionally, he assisted numerous asset managers with the development of innovative investment fund products in the real estate, energy and specialty finance sectors. Before joining A.G. Edwards, Brian served as a manager in Arthur Andersen LLP's Audit & Business Advisory practice.
Brian currently serves on the Board of Directors of Franklin Street Properties Corp. (NYSE MKT: FSP), a Boston-based Real Estate Investment Trust, and the Investment Committee of the Archdiocese of St. Louis.
Brian earned his Master of Business Administration from the Kellogg School of Management at Northwestern University, and graduated magna cum laude from DePaul University with a Bachelor of Science in commerce. Brian is a Certified Public Accountant.