Daily Comment (November 2, 2021)
by Bill O'Grady, Thomas Wash, and Patrick Fearon-Hernandez, CFA
[Posted: 9:30 AM EDT] | PDF
Good morning and happy All Souls Day!  Risk markets are mostly steady this morning as the FOMC begins its meetings.  We noted yesterday that it is widely expected the Fed will announce a tapering plan to slow and eventually end its balance sheet expansion.  Economics and policy begin our coverage.  China news is up next. Crypto and international news follow, and we close with pandemic updates.
Economics and policy:  Yellen hints that the debt ceiling may need to be raised unilaterally, and Sen. Manchin (D-WV) puts a damper on the budget.
We have been expecting the debt ceiling to be resolved by the Democrats raising it in the reconciliation bill. The leadership has resisted that because they know the GOP will use that against them in the 2022 midterms.  So, the Democrats want the GOP to vote with them to raise the limit.  That would be fair.  However, as is often said, "politics ain't beanbag."  Treasury Secretary Yellen has apparently decided that it would be better to raise the debt ceiling without the GOP than to risk default.  On that topic, the Treasury will probably be able to function without a debt limit increase at least until mid-December, and perhaps as long as mid-February.
Yesterday, we noted retirements are up, and the labor markets have tightened because of it. Although, there isn't much evidence of that in the Social Security data.  That's because the newly retired are deferring their application for Social Security, which will boost the monthly payment compared to taking it immediately.  This information suggests that more affluent workers may be leaving the labor force, who can afford to delay taking Social Security.
Manchin threw a spanner in the works by stating in a press conference yesterday suggesting he is in no hurry to vote for the budget. This action hardens his position and increases the risk that nothing gets done, at least for a while.
Also, yesterday, we noted two prominent GOP senators taking positions in opposition to the party's business constituency in terms of globalization. It appears that, at long last, the pandemic is leading firms to reshore in order to secure supply chains.
Recent polls show a notable negative turn in attitudes towards the economy; inflation worries appear to be the primary reason.
Although the anecdotal evidence continues to point to supply chain issues, the ISM subindex data showed some interesting improvement.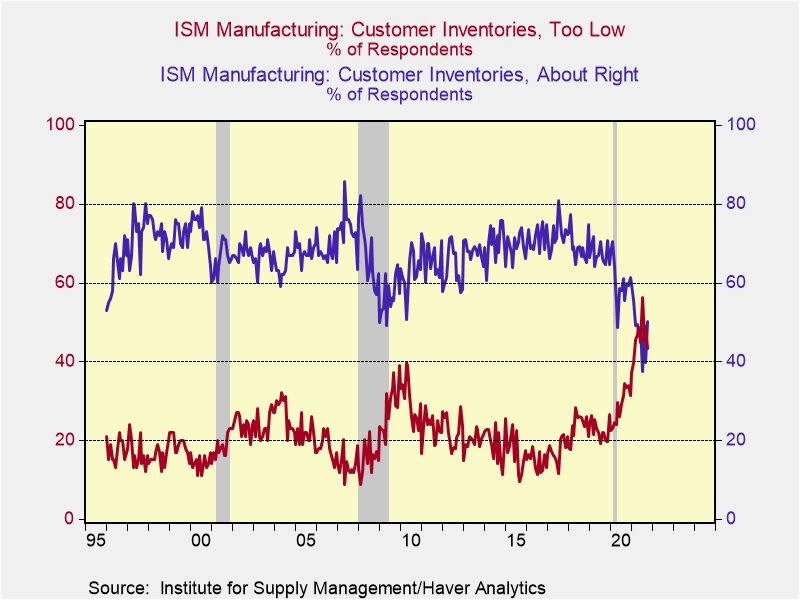 For several months, the majority of purchasing managers were saying that customer inventories were too low.  For the first time since February, they report that 50.1% say customer inventories are "about right."  If that trend holds, it suggests that the perception of stockpiles is improving.  On the downside, lead times for production materials are at the highest level since 1979.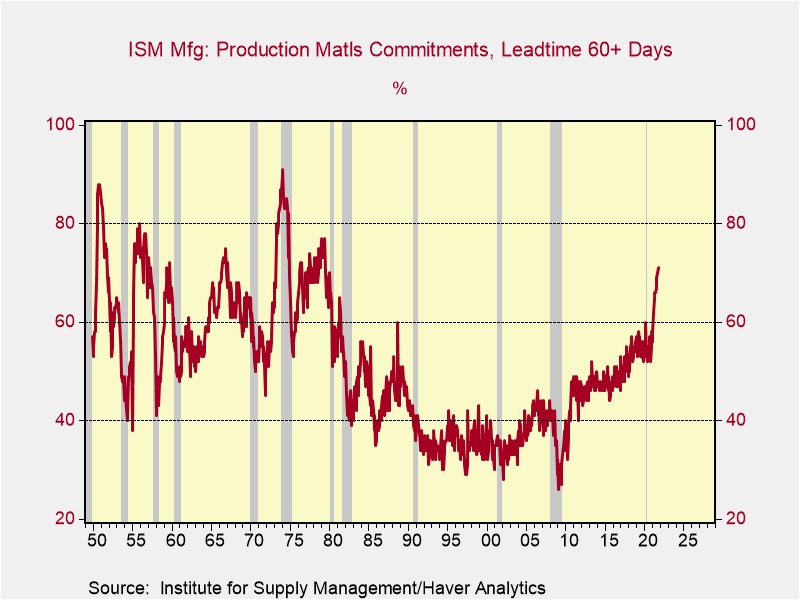 The ISM information comes in light of anecdotal news. First, the world's largest container shipping company, Maersk (AMKBY, USD, 15.06) says there is "no end in sight" to the current shipping crisis.  Second, the Ports of Los Angles and Long Beach are enforcing pickup fines of $100 per day for containers that are not moved from their ports.  Given the chassis shortage, the fines are yet another cost to shipping.  Third, exacerbating the problem is warehouses that are full, meaning containers have nowhere to go.
Walmart is holding a national supply chain hiring event. What is starting pay?  It is $20.37 per hour.  These positions are mostly warehouse work, but the pay level will likely force other retailers to match it or lose access to workers.
A group of NYC taxi drivers is holding a hunger strike to force the city to renegotiate loans on medallions which have proven onerous. The medallions skyrocketed in value until 2014, when ridesharing upended the industry, leaving taxi drivers with loans backed by an asset that has collapsed in value.
China news:  Food comments are worrisome, and Xi may be preparing for the title of chairman.
China is issuing directives on food, the so-called "clean plate campaign," in a bid to ease food prices. Although official CPI food prices in China are falling, that is most likely due to the spike last year in pork prices.  The two-year change in prices is positive, though falling.  However, prices have been high in recent years.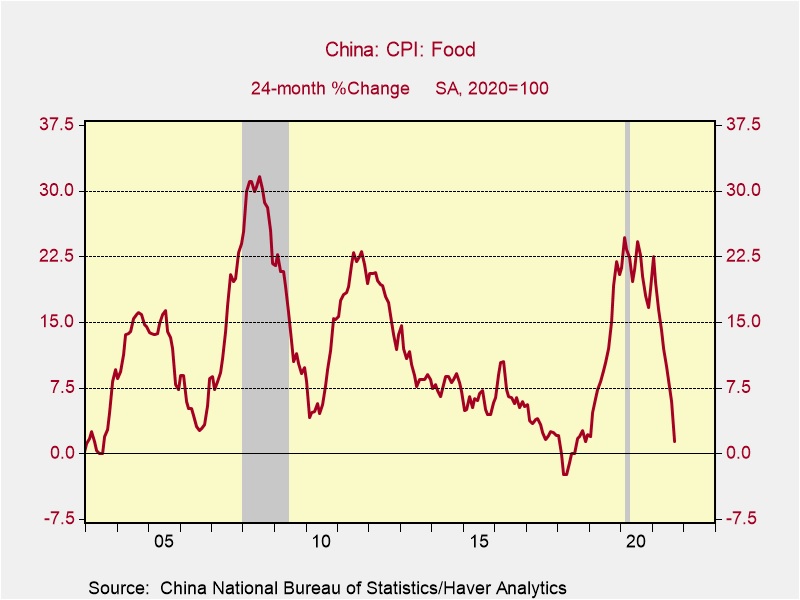 The program also opposes binge eating and attempts to better use food waste.  Beijing is also directing households to stockpile food.  All this looks like the government is deeply concerned about food shortages; perhaps the worry is that shipping problems may lead to disruptions.
Crypto:  U.S. regulators are moving to apply money market regulations to stablecoins.  A recent joint report lays out regulator concerns and recommendations.  We are seeing a gradual adoption of cryptocurrencies; regulation will be necessary for broader usage.
International roundup:  The G-20 met over the weekend, and COP26 starts today.
COVID-19:  The number of reported cases is 247,215,525, with 5,008,694 fatalities.  In the U.S., there are 46,093,886 confirmed cases with 747,167 deaths.  For illustration purposes, the FT has created an interactive chart that allows one to compare cases across nations using similar scaling metrics.  The FT has also issued an economic tracker that looks across countries with high-frequency data on various factors.  The CDC reports that 518,561,375 doses of the vaccine have been distributed, with 423,005,384 doses injected.  The number receiving at least one dose is 221,760,691, while the number receiving second doses, which would grant the highest level of immunity, is 192,586,927.  For the population older than 18, 69.6% of the population has been vaccinated.  The FT has a page on global vaccine distribution.