Daily Comment (May 5, 2020)
by Bill O'Grady, Thomas Wash, and Patrick Fearon-Hernandez, CFA
[Posted: 9:30 AM EDT]
The risk-on tenor in the markets today reflects continued scientific progress against the coronavirus and further lockdown easing across the globe, although there are also worries that the easing might come too fast and spark a second wave of infections.  Below, we review all the key virus news and related developments.
COVID-19:  Official data show confirmed cases have risen to 3,603,217 worldwide, with 252,102 deaths and 1,174,006 recoveries.  In the United States, confirmed cases rose to 1,180,634, with 68,934 deaths and 187,180 recoveries.  Here is the chart of infections from the Financial Times: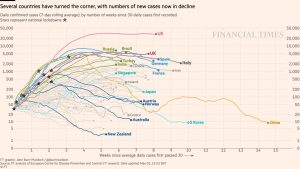 Virology
Real Economy
U.S. Policy Responses
The Treasury Department said it expects to borrow at least $4.5 trillion this fiscal year, up from $1.3 trillion last year, on account of the decline in tax revenues and increased spending related to the virus crisis.

The department said it plans to issue $2.99 trillion in marketable securities in the second quarter alone, approximately five times the peak quarterly bond issuance during the Great Financial Crisis of 2008-2009.
As we've noted in previous analyses, burgeoning budget deficits tend to be associated with rising gold prices.
International Policy Responses
Political Fallout
Iran:  The Iranian parliament has approved currency reform that will slash four zeros from the country's currency to help ease the psychological impact of soaring inflation.  Under the reform, every 10,000 rials will be swapped for one unit of a new currency known as the "toman."