Daily Comment (May 21, 2020)
by Bill O'Grady, Thomas Wash, and Patrick Fearon-Hernandez, CFA
[Posted: 9:30 AM EDT]
Good morning!  Equity markets are taking a breather this morning.  China is preparing for its CPC spring meetings.  Germany bends (a little) on a Eurobond.  We touch on the Fed minutes and update the COVID-19 news.  The Weekly Energy Update is available, as is our most recent podcast.  Here is what we are watching:
COVID-19:  The number of reported cases is 5,016,171 with 328,471 deaths and 1,913,103 recoveries.  In the U.S., there are 1,551,853 confirmed cases with 93,439 deaths and 294,312 recoveries.
For those who like to keep score at home, the FT has created a nifty interactive chart that allows one to compare cases and fatalities between nations, scaled by population.  One chart worth noting: the virus is rapidly becoming an emerging world problem.  This is partly because these nations can't absorb the costs of lockdowns.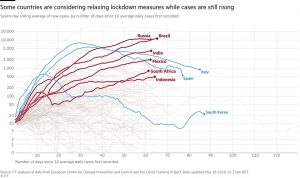 The virus news:
The good news:
The bad news:
The policy news:
The finance news:
The economic news:
The foreign news:
In a surprising move this week, Germany decided to support a common Eurobond to fund a €500 bn recovery fund. This is a significant move, and a reversal of Germany's historic stance.  It's not a done deal.  As true of all such measures, passage requires consent from all 27 members of the EU.  It is quite possible that other northern European nations (e.g., Netherlands, Finland and Austria) may scuttle the proposal.  On its face, it would appear this decision would be unpopular with conservative Germans.  However, German conservatives have generally signed off on the arrangement due to its limited scope, suggesting the real problem isn't a specific mutual Eurobond, but a general one.  So, think of this deal as being similar to a municipal bond for a specific project.  Of course, once a bridge is crossed, doing it again is easier.  Today, the Eurobond may be limited; tomorrow, maybe not.
In the U.K., for the first time in centuries, Wales is putting up barriers to English citizens over London's virus policies.
China news:
Brexit:   Westminster announced its tariff plans for the EU if a Brexit deal is not reached.   Meanwhile, PM Johnson sketched out a trade deal with the EU, similar to the one the group struck with Canada.  Brussels is not happy with that proposal.  Positions between the two sides are hardening.  And, quietly, the Johnson government is admitting there will be customs checks at the shore of the Irish Sea for trade going to the British Isles.
Libya:  The civil conflict in Libya continues to rage, causing widespread hardship.  For the past year, Gen. Khalifa Hifter, who has support of the Gulf States and Russia, has been expanding his area of control, from east to west, heading toward Tripoli.  However, over the past week, Hifter has suffered some significant setbacks as U.N. backed forces centered in the east have seized a key airfield and taken control of two cities.  As turmoil increases, we could see Libyan oil exports fall and there may be a rise in refugees to Europe.
Turkey:  The TRL has been under pressure for months due to falling reserves and rising inflation.  Under normal circumstances, Turkey could petition the U.S. for help; the Fed has been remarkably generous in providing liquidity to nations to ensure ample dollar liquidity.  However, Ankara has fallen out of favor with the U.S. for its treatment of the Kurds and for accepting delivery of a Russian-built S-400 missile system.  So, as its reserves dwindle, it is facing increasing pressure to either (a) raise interest rates to stop the outflows, (b) ask the IMF for help, or (c) find help elsewhere.  The first two options will entail pain, so Turkey went with the third option, getting a boost in its swap line with Qatar.  Qatar is on the outs with other GCC nations and Turkey has been supportive, keeping troops there to discourage the other GCC nations from military adventurism.  It looks like it has been rewarded for its efforts with Qatar.