Daily Comment (May 9, 2022)
by Patrick Fearon-Hernandez, CFA, and Thomas Wash
[Posted: 9:30 AM EDT] | PDF
Our Comment today opens with an update on the Russia-Ukraine war, where Russia's advances remain stalled, and President Putin gave a Victory Day speech that was unexpectedly restrained.  We next review a range of international and U.S. developments with the potential to affect the financial markets.  Finally, we wrap up with the latest news on the coronavirus pandemic, where new data underscores the extent to which China's "zero-COVID" policies are weighing on economic activity.  The data also emphasizes the threat to world economic growth, which, along with rising bond yields, has contributed to the downdraft in global stock markets so far today.
Russia-Ukraine:  The military situation in Ukraine remained relatively static over the weekend, with Russian forces failing to make any significant advances.  Russian forces appear to be massing in Belgorod, Russia, to reinforce Russian efforts in the northern Ukrainian city of Kharkiv and prevent the ongoing Ukrainian counteroffensive from pushing closer to the Ukraine-Russia border.  Russian forces near the northeastern Ukrainian city of Izyum focused on regrouping, replenishing, and reconnoitering Ukrainian positions in order to continue advances to the southwest and southeast of the city.  Meanwhile, Russian forces continued their ground attacks to drive to the borders of Donetsk and Luhansk Oblasts but did not make any territorial gains.  Finally, in Mariupol, Russian troops continued to assault the Azovstal Steel Plant and advanced efforts to integrate the city economically into the wider Russian economy.  In a rare instance of Ukrainian dissent, after the last civilians were evacuated from the Azovstal plant over the weekend, the commander of Ukraine's Azov regiment defending the facility accused Kyiv of providing insufficient support.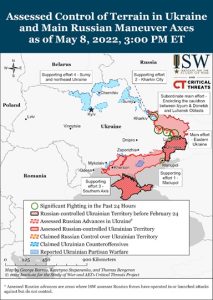 In his highly anticipated Victory Day speech on Red Square today, Russian President Putin focused on justifying his attack on Ukraine.  He said he called for a preemptive strike against the country after judging that growing Western support for Ukraine would have eventually put it in a position to attack Russia.  Contrary to expectations, Putin refrained from declaring any kind of victory in the war, and more importantly, he did not announce any broader mobilization of the Russian military or society.  However, he hinted Russia will seek to annex at least some of the territory Russian forces have seized, stating the country's troops are "fighting on their own land."

On a first read of the speech, we find it another curious instance of relative restraint and caution on Putin's part, not unlike his unwillingness to launch major attacks against Western arms flows into Ukraine and his military's failure to take down much of Ukraine's telecommunications infrastructure so far.  The speech didn't even repeat Putin's recent nuclear saber-rattling against the West.
As of this writing, we take the speech as a reminder that Putin faces a number of political, military, economic, and financial constraints as he prosecutes the war in Ukraine, just as any leader would face constraints in prosecuting a major war.  One key question is what those constraints are.  For example, we have noted rumors of political opposition and potential coups throughout the war.  Lending some credence to those rumors, the massive flyover of military aircraft planned for the Victory Day festivities was scrapped at the last moment, perhaps because of security concerns.  With Russia's military continuing to exhibit incompetence on the battlefield and Putin continuing to pull his punches, Western governments are likely to be emboldened by their support for Ukraine.  That will likely prolong the war, along with its economic and financial impacts, although it is also increasingly tipping the balance of power in Ukraine's direction.

Separately, the Biden administration announced new sanctions targeting Russian state-controlled media and banking executives, a ban on Americans providing accounting and management consulting services, and new export controls targeting the country's industrial sector.
The G7 countries yesterday also pledged during a virtual meeting with Ukrainian President Zelensky to ban or phase out Russian oil, aiming to erode Russia's economic standing even further as it pursues its invasion of Ukraine.
Finally, in an interview with the Financial Times, EU High Representative for Foreign Policy Borrell said the EU should not only freeze Russian foreign reserves under its control but also seize them for use in rebuilding Ukraine after the war.  The West's freezing of Russia's reserves has already accelerated the fracturing of the world into different geopolitical and economic blocs, and the extra step of outright asset seizures would further increase tensions between those blocs.
China-Taiwan:  In detailed comments on China's response to Russia's invasion of Ukraine, CIA Director Burns said President Xi has been "unsettled" by the conflict.  Burns said that Xi, who prizes predictability, has been shocked to learn of the "reputational damage that can come to China by the association with the brutishness of Russia's aggression [and] the economic uncertainty that's been produced by the war."
Burns implied that Xi's reaction actually has produced some daylight between him and President Putin, despite their assertions that their partnership has "no limits."
Burns added China was also dismayed by "the fact that what Putin has done is driving Europeans and Americans closer together" and was looking "carefully at what lessons they should draw" for Taiwan.  Yet, he still believes that Xi eventually intends to unify Taiwan with the mainland.
China-Hong Kong:  John Lee Ka-chiu, the sole candidate in Hong Kong's leadership election, has been confirmed as the city's next chief executive with 99.4% of the vote from the city's electoral body.  In his acceptance speech, Lee vowed that the rule of law and stability would be among his key priorities in running Hong Kong.  Lee is considered a hardliner in imposing Beijing's policies on Hong Kong.
Before his promotion to chief secretary, Lee was security minister and oversaw the government's handling of 2019's social unrest.  His later involvement in implementing the Beijing-imposed national security law landed him on a U.S. sanctions list along with several other current and former officials.
Lee's vast majority in the voting committee illustrates how mainland China now completely controls the city's political development.  Over time, that will continue to call into question Hong Kong's position as the center of Asia-Pacific financial markets.
Chinese Technology Industry:  As major Chinese technology firms continue to face a tough regulatory crackdown by the government and U.S. investment restrictions, they are trying to boost their stock prices through buybacks and dividend hikes.  All the same, we still see heightened regulatory risks as a major issue for investing in Chinese tech companies.
United Kingdom:  In Northern Ireland, the latest voting tallies show the Irish Republican Party Sinn Féin is on track to become the biggest party in the province's legislature.  The rival Democratic Unionists (DUP), who have led every power-sharing government in Belfast since 2007, suffered significant losses that will resign it to a painful second-place finish.
Under the Good Friday peace deal, power must be shared with the largest unionist party. However, the DUP has vowed to block Sinn Féin from leading a power-sharing government unless the U.K. government first suspends EU-required checks on British goods arriving at Northern Irish ports, an act that could trigger trade retaliation from the EU.
If no power-sharing deal is reached within 24 weeks, Northern Ireland will have to vote again.
Philippines:  Filipinos today began voting in a presidential election that pits the offspring of two leading political dynasties against a progressive candidate promising a break with the country's increasingly authoritarian governance.  Ferdinand "Bongbong" Marcos, Jr., the son of a former dictator, and his running mate Sara Duterte, President Rodrigo Duterte's daughter, hold a commanding lead in opinion polls over the nearest rival Leni Robredo, the sitting vice-president.
U.S. Electricity Supply:  From California to Texas to Indiana, electric-grid operators warn that power-generating capacity is struggling to keep up with demands, a gap that could lead to rolling blackouts during heat waves or other peak periods as soon as this year.
U.S. Port Operations:  West Coast dockworkers and cargo-handling firms will begin contract negotiations this week that carry high stakes for an American economy wracked by supply chain disruptions.  The labor talks cover about 22,400 workers at 29 ports, including the sizable Southern California facilities that make up the country's busiest gateway for imported goods.  If the talks fail and a strike ensues, the added supply disruptions would likely further boost inflation, slow economic growth, and weigh on corporate profits and stock prices.
COVID-19:  Official data show confirmed cases have risen to 517,364,841 worldwide, with 6,251,376 deaths.  The countries currently reporting the highest rates of new infections include Germany, South Korea, France, and Italy.  (For an interactive chart that allows you to compare cases and deaths among countries, scaled by population, click here.)  In the U.S., confirmed cases rose to 81,863,771, with 997,528 deaths.  In data on the U.S. vaccination program, the number of people considered fully vaccinated now totals 220,138,061, equal to 66.3% of the total population.
Virology
In the U.S., the Omicron BA.2 variant continues to spread, especially in New England and Puerto Rico, but it is still generating relatively few serious illnesses or hospitalizations.  The seven-day average of people hospitalized with confirmed or suspected COVID-19 came in at 18,918 yesterday, up 21% from two weeks earlier.
Shanghai, the epicenter of China's current outbreak, reported a fall in new cases for the 15th consecutive day.  The city detected 3,975 new infections late yesterday, 5.7% fewer than a day earlier, although Beijing continued to report enough new cases to suggest that China's latest draconian measures against the virus would continue.
Economic and Financial Market Impacts