Daily Comment (March 22, 2021)
by Bill O'Grady, Thomas Wash, and Patrick Fearon-Hernandez, CFA
[Posted: 9:30 AM EDT] | PDF
Good morning and happy Monday!  U.S. equity futures are turning modestly higher as Treasury yields have turned a bit lower this morning.  We are seeing a pattern where lower yields tend to lift tech over other sectors.  Our coverage begins with international news.  Turkey is in turmoil after the central bank head was replaced.  We move on to economics and policy, pandemic coverage, and close with China news.
International news:  Turkey has a new central bank governor and a weaker currency.  Turmoil in Myanmar continues.
Economics and policy:  Generations are moving in together in response to high home prices and concerns over elder care.
Elevated home prices and the pandemic are increasing, a trend that started after the Great Financial Crisis, multigenerational housing. After the Great Depression and the advent of Social Security, multigenerational housing became less frequent.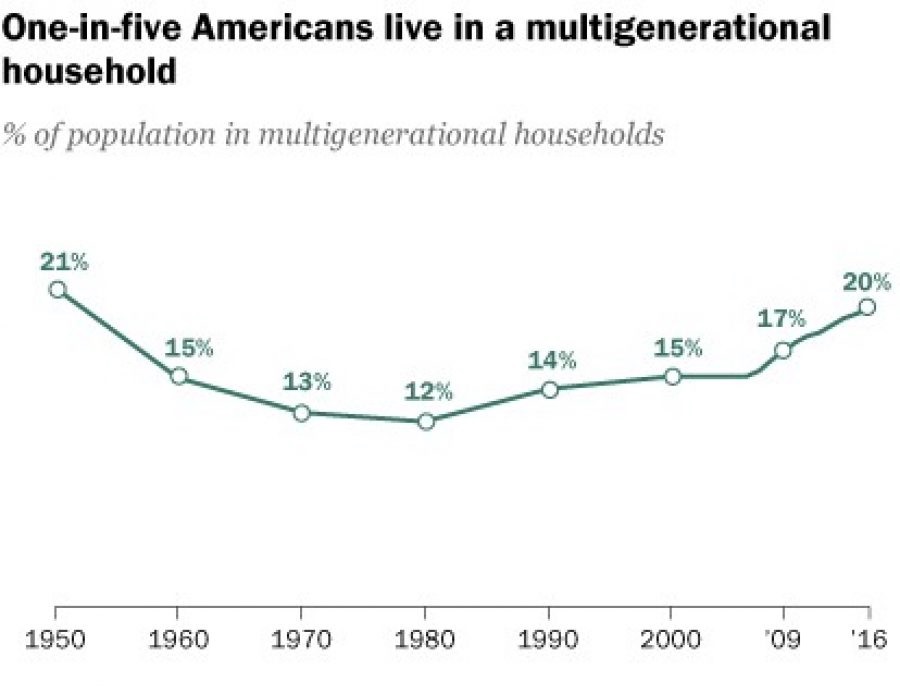 However, as the above chart shows, although it has been rising since 1980, the trend has accelerated this century.  Reports indicate that families are pooling their resources among parents, grandparents, and children to buy homes.  Such trends may reduce the number of homes sold, but they will tend to support larger homes and remodeling.  On the other hand, it isn't a welcome trend for nursing homes and assisted living facilities.
Visa (V, USD, 206.90) is facing anti-trust investigations over its debit card actions. The DoJ has become increasingly hostile to industry practices that require concentration to function.
Multinational trade deals have fallen from favor in the U.S. The lack of participation does not favor American industries that rely on trade, such as meat.
In light of reports that the Biden administration is considering raising taxes, a new paper by the NBER suggests that underreporting by the highest earners may be more than 20%. Although better compliance would increase revenue, the bigger part of this story is that it gives political fodder to the goal of increasing marginal tax rates at the upper end.  After all, if they are cheaters, they should pay.
As stimulus checks arrive, the "known/unknown" is what households will do with the money. There is evidence that most of what has been distributed was saved, at least initially.  There is also evidence that some debt reduction occurred.  If this pattern continues, economic growth forecasts are probably too high, but the improvement in balance sheets will be positive for long-term growth.  There is also some evidence that the relief checks will end up in equities.
Big tech is facing an increasingly hostile regulatory environment. Both the populist right and left are turning on the industry, although for different reasons.  The industry is turning to the few remaining libertarian-leaning legislators for help.
COVID-19:  The number of reported cases is 123,287,417 with 2,716,696 fatalities.  In the U.S., there are 29,819,108 confirmed cases with 542,359 deaths.  For illustration purposes, the FT has created an interactive chart that allows one to compare cases across nations using similar scaling metrics.  The FT has also issued an economic tracker that looks across countries with high-frequency data on various factors.  Over the past two weeks, case counts in the U.S. are down 8.8%.  The CDC reports that 156,743,555 doses of the vaccine have been distributed with 124,481,412 doses injected.  The number receiving at least one dose is 81,415,769, while the number of second doses, which would grant the highest level of immunity, is 44,141,228.  The FT has a page on global vaccine distribution.
Virology
China news:
The U.S. and China meeting was strained.  We wonder if American officials looked at each other after this weekend's meeting with Chinese officials and said, "that went well, right?"  The meetings were difficult, to say the least.  The public presentations were fiery, although it does appear that the closed-door meetings were less fractious.  Although relations have been deteriorating for some time, it is clear China will not easily accept America's plans to isolate it.