Daily Comment (March 18, 2021)
by Bill O'Grady, Thomas Wash, and Patrick Fearon-Hernandez, CFA
[Posted: 9:30 AM EDT] | PDF
Good morning!  U.S. equity futures have mostly failed to hold yesterday's gains as long-duration Treasury yields continue to move higher.  Our coverage begins with economics and policy with a focus on the FOMC and monetary policy.  China news comes next as U.S. and Chinese officials prepare to meet in Alaska.  Pandemic coverage follows.  Our roundup of international news comes next, wrapping-up with technology.  We finish with a cautionary ESG tale.
Economics and policy:  We recap the Fed and other items.
The Fed didn't exactly surprise anyone. Policy rates and QE remained unchanged.  However, in the forecasts, the FOMC has lifted its GDP forecast to 6.5% for this year, up from 4.2% in December.  The forecast for core PCE was lifted to 2.2% this year, from 1.8% in December.  Inflation is expected to fall in 2022-23.  So, the FOMC is indicating that inflation will be transitory.  The "dot" plot showed a modest rise in support for a higher policy rate in 2023, but the majority still expect to keep rates steady through the end of 2023.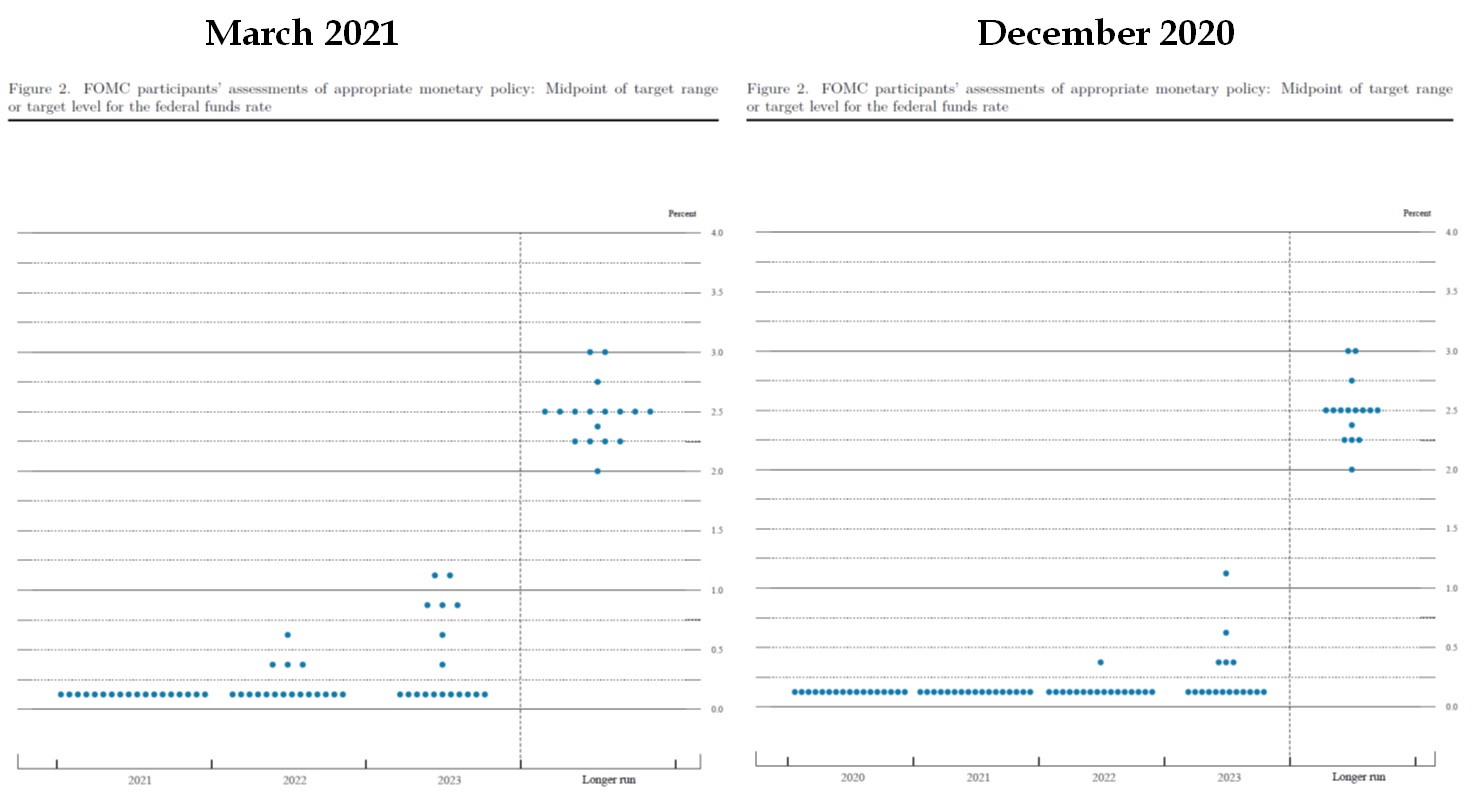 Overall, market action in the wake of the decision was surprisingly bullish.  Equities rallied, the dollar declined, precious metals rallied, but long-duration Treasuries did end the day with higher yields.  It's not obvious what the financial markets were expecting.  There appeared to be great concern about rising long-duration Treasury yields going into the meeting.  Nothing about yield curve control or increasing QE was revealed.  The Fed did not decide on supplemental reserve ratios, and if last year's adjustment is not extended, bank demand for Treasuries will likely decline.  Going into the meeting, it appeared the fear was the FOMC would allow inflation to rise unrestrained.  It's hard to see how that was addressed.  It is not clear if the rally described above was merely a relief rally that won't be sustained, or somehow, without saying much, the Fed managed to calm concerns.  Market action this morning suggests that yesterday's rally is fading.  In the cold light of morning, it is clear the Fed hasn't resolved the issue of long-duration interest rates.  It looks like we are probably on a path for 10-year T-note yields to approach the 1.90%/2.00% area; the key question is whether that level will trigger financial stress.
China:  The U.S. and China meet today in what looks to be a tense atmosphere, and Myanmar is a growing problem for China.
COVID-19:  The number of reported cases is 121,319,246 with 2,682,660 fatalities.  In the U.S., there are 29,608,162 confirmed cases with 538,093 deaths.  For illustration purposes, the FT has created an interactive chart that allows one to compare cases across nations using similar scaling metrics.  The FT has also issued an economic tracker that looks across countries with high-frequency data on various factors.  The CDC reports that 147,590,615 doses of the vaccine have been distributed with 113,037,627 doses injected.  The number receiving at least one dose is 73,669,956, while the number of 2nd doses, which would grant the highest level of immunity, is 39,989,196.  The FT has a page on global vaccine distribution.  U.S. case counts are steady or falling in most states.
Virology
International news:  There were elections in the Netherlands, and protests are emerging in Lebanon.
Technology:   
There are numerous items on the labor front. Overall, the tech firms are seeing a clear upturn in labor activism.

In the U.K., Uber (UBER, USD, 56.07) is giving drivers "worker," as compared to "employee" status. This change will make them eligible for benefits that will boost the costs of operating.  The change came after the company lost a legal battle to have its workers retain contractor status.
Next week, Amazon (AMZN, USD, 3130.56) will face a unionization vote in Alabama. Working conditions appear to be the biggest issue.  The company is aggressively trying to beat back the effort.
Workers at Google (GOOG, USD, 2088.25) have voted in a minority union. This is a union that won't have formal NLRB recognition, thus not allowing it to collectively bargain.  The situation at Google shows a difference between white and blue-collar workers.  The former is more concerned about company activities and less about wages and working conditions.

The Biden administration has put together a team on industrial organization that is clearly moving to overturn the Bork standard. Here is a roundup of the team.
An ESG cautionary tale:  Danone (DANOY, USD, 14.31) has been something of a "poster child" for ESG.  For example, last summer, the company officially adopted a French legal status, enterprise à mission, or a purpose-driven company, signaling to shareholders that it would not be solely focused on profit maximization.  Emmanuel Faber, the CEO and chairman who implemented these changes, has been ousted due to poor stock performance.  Investors like the conscience soothing that comes with ESG investing as long as it doesn't affect equity performance.