Daily Comment (July 31, 2020)
by Bill O'Grady, Thomas Wash, and Patrick Fearon-Hernandez, CFA
[Posted: 9:30 AM EDT] | PDF
Happy St. Ignatius[1] Day!  It's Friday and the "dog days" of August await.  Equity markets are mostly higher this morning after the major tech firms revealed impressive earnings.  This may be one of the rare times where such earnings are a problem given the firms' recent testimony to Congress.  Policy news, or the lack thereof, leads today's coverage.  China and COVID-19 are next.  The new Asset Allocation Weekly is posted below (and published as a separate report on our website) and the related podcast and chart book are also available.  Here are the details:
Policy news: 
As a number of recovery measures are set to expire, congressional leaders remain far apart on a deal for another stimulus package. The GOP has offered a series of individual bills that would address unemployment insurance and evictions.  Democrats were not impressed, fearing that once these measures pass, other goals would languish.  We do expect a bill to be passed, because the lack of additional support would be a serious problem.  As yesterday's GDP data revealed, the economy is in a difficult spot.
On the topic of yesterday's GDP data, the headline numbers were so historically bad that much of the detail was lost in the coverage. This is the fourth recession since 1982, meaning that the U.S. economy has suffered a recession roughly every 9.5 years since then.  From 1946 through the 1982 recession, the economy had a recession, on average, every four years.  One reason that recessions became less frequent was due to a structural change in the economy.  As services became more important, downturns were less frequent.  This is because services are less prone to inventory cycles.  Goods production is hard to get exactly right; if overproduction occurs, and stockpiles rise, activity declines and recessions occur.  But, in services, the "inventory" is actually made up of workers.  Firms will adjust tasks when business slows and only reluctantly reduce headcount.[2]  In general, there is less volatility in services relative to goods.  From 1947 until Q1 2020, the average contribution to GDP from services consumption was 1.1% per quarter with a standard deviation of 0.6%.  For goods over the same time frame, the average was +0.9% with a standard deviation of 1.7%.  However, last quarter, goods consumption subtracted 2.2% from GDP, while services consumption pulled a whopping -22.9%.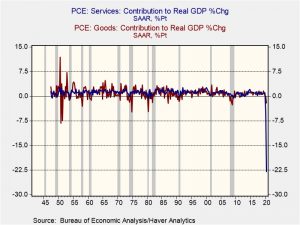 This chart highlights the problem of boosting growth.  Consumption dominates GDP and services dominate consumption.  Goods represent 33% of consumption and services 67%.  Services are dependent on contact; 16% of service consumption is restaurant and recreation.  Add health care, another service that usually requires contact, and the percentage rises to 40%.  Without a reliable way to control the spread of the virus, getting services back will be very difficult.  A vaccine with widespread adoption is the best path to this goal, so, as Chair Powell indicated, the economic recovery is dependent on the virus.
China news:
The CPC announced it will hold its central committee meeting in October. Meanwhile, Chairman Xi is holding Politburo meetings about the economy where he is recommending a focus on fostering domestic demand for future growth.  This "pivot" to domestic consumption and away from the dependence on exports and investment has been recommended by economists for years.  The economics of the move are well understood, but the politics are another matter.  There are two problems with this shift politically; first, those who have benefited from the export/investment policy tend to be powerful members of the CPC.  Xi has deliberately purged most opposition but the blowback from harming this powerful group's economic fortunes is risky.  Second, the transition won't be easy; households would need to have assets and income moved in their direction and one would expect a lag between receiving that income and assets and increasing consumption.[3]  That would mean slower growth, at least for a while.  And, the CPC has made its mark on delivering growth, so the party's political image would be harmed by a drop in GDP.

With regard to growth, China has returned to its old playbook of investment to lift output. It is pressing state and local governments to borrow.  This may be a short-term fix, but it does highlight how hard it is to break old habits.  It also explains this quarter's lift in industrial metals prices.
Although this reform is likely necessary for China's development, the proximate cause appears to be due to the deterioration of U.S./China relations.
It is also important to remember that China has a long history of cycling between openness and inwardness. The former tends to occur when the government wants faster growth and the latter when it wants political stability.  We may be heading into an "inward" phase.

China's economy does seem to be doing ok. PMI data indicates the expansion continues.
Hong Kong legislative elections have been delayed, with leaders blaming COVID-19. A number of pro-democracy candidates have been banned from running.
As we have been saying for a while, China continues to lag in its Phase One commitments. At the same time, we are seeing a surge in corn orders, a welcome sign for American farmers.
At a hearing before the Senate Foreign Relations Committee, SoS Pompeo indicated that additional measures against China are planned.
Lee Teng-hui, Taiwan's first elected president, died yesterday at age 97.
COVID-19:  The number of reported cases is 17,322,041 with 673,833 deaths and 10,156,580 recoveries.  In the U.S., there are 4,495,224 confirmed cases with 152,075 deaths and 1,414,155 recoveries.  For those who like to keep score at home, the Financial Times has created a nifty interactive chart that allows one to compare cases across nations using similar scaling metrics.  The FT has also issued an economic tracker that looks across countries with high frequency data on various factors.  The Rt data is showing some improvement.  Forty percent of the states have a reading under 1, which would indicate the virus spread should diminish.  On a local note, Missouri has the highest reading in the union, at 1.2.
Virology:
Foreign news:
---
[1] The founder of the Society of Jesus (Jesuits).
[2] This is why the advent of gig work is so interesting.  It allows firms more flexibility in their "inventory."
[3] The economic theory is called the permanent income hypothesis.  It postulates that households spend based on their income and wealth history.  Thus, if incomes fall but the decline is seen as temporary, spending continues.  If the opposite occurs, wherein a windfall happens, spending doesn't immediately adjust.
[4] Until 1956, it was generally believed that humans had 48 chromosomes; turns out, we have 46.
[5] "Science progresses one funeral at a time." — Max Plank