Daily Comment (January 29, 2021)
by Bill O'Grady, Thomas Wash, and Patrick Fearon-Hernandez, CFA
[Posted: 9:30 AM EST] | PDF
Good morning.  Global equities are lower this morning as the spread of a new variant of the virus and COVID-19 vaccine production delays continue to worry investors.  We begin our coverage with a discussion of new developments in the Reddit controversy.  We next discuss China news, which includes a summary of its new assertive stance against Taiwan.  We round up the commentary with developments in policy, economics, and international news.  Being Friday, the Asset Allocation Weekly is now available, along with the associated podcast and chart book.
Reddit Rally: In the last 48 hours, the online community has been the talk of Wall Street and K Street.  Following the unprecedented rise of the stock prices of AMC (AMC, $8.74) and GameStop (GME, $193.60), there is now bipartisan support to hold congressional hearings regarding this matter.  Additionally, several trading sites and apps have restricted trading, and in some, cases have blocked trades.  NASDAQ has announced that it will limit the trading of stocks it believes to be hyped by social media chatter.  As we mentioned yesterday, the recent rally has caught many politicians and regulators off guard, and there are growing calls for government intervention.  Our take is that even though there have been discussions on platforms about these stocks, it isn't legally clear whether stocks boosted by social media message boards count as market manipulation by current standards.  Market manipulation involves artificially inflating or deflating the price of a security for personal gain.  An unrelated group of people getting together to openly promote stock buying likely doesn't meet that standard.  That being said, if this practice becomes more widespread, it could potentially make markets less efficient and will make bubbles (likely small ones) and zombie companies more likely.  As a result, we expect that we could see new regulations to address the issue.  What they will look like is anybody's guess. We have already seen social media sites being proactive in clamping down on these groups. On Thursday, Facebook (FB, $265.00) removed a discussion group with conversations around the shares of GameStop.  In addition to message boards, there have also been some discussions surrounding the role that trading platforms have in limiting trading as many lawmakers and investors alike have questioned the legality of its decision to restrict trading on certain stocks.
Flows v. Pros, Part Deux:  The Reddit crowd has turned its sights on another market, silver.  The message board is looking to go after Wall Street firms and has decided on silver due to JP Morgan (JPM, USD, 130.11) paying fines for manipulating trades in the silver market.  Traders working for the firm engaged in "spoofing," which is placing bids/offers with no intention of fulfilling trades at those prices or volumes.  However, targeting silver appears to be a bit like going after someone already in jail.  As noted, JP Morgan has already paid a sizeable fine on its activities, and we haven't seen any evidence that the silver market is being manipulated.  That being said, silver does have a history of being manipulated.  The famous Hunt brothers' attempt to corner the silver market in the early 1980s is a classic example.  It's a rather small market, so it doesn't take a huge amount of money to affect prices.
A casual look at short interest in silver companies doesn't suggest they are heavily shorted; the short-interest ratio is usually, at most, around 20%, whereas the normal target is 40%.  However, in addition to buying silver companies, it appears these traders are moving into the silver commodity as well.  So far, moves in silver are notable, but not outside the norm for a commodity accustomed to price swings.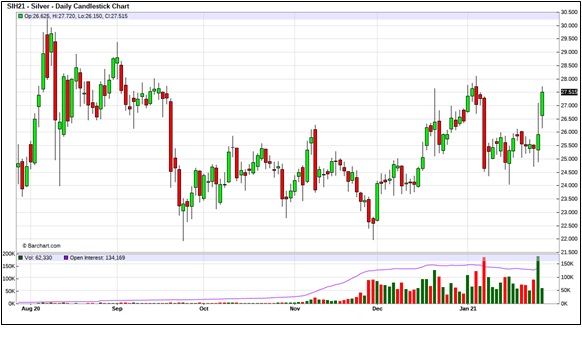 (Source: Barchart)
It is not clear to us how long this activity will last, or who will be the next target.  However, this group is clearly making headlines.
China: On Thursday, China warned Taiwan that any moves toward independence will lead to war.  This is the firmest warning issued by China to the province it considers to be its territory and will likely prove to be a test for the Biden administration.  Fears that Taiwan may formally declare its independence has led China to become more abrasive in recent weeks.  Earlier this month, Taiwan accused China of using intimidation tactics when it found multiple Chinese fighter jets and bombers flying through its airspace.  Although China denies any wrongdoing, it is becoming clear that it is growing confident in its ability to counter any possible U.S. intervention.  It was reported on Friday that China simulated missile attacks against U.S. aircraft carriers in Taiwanese waters.  We suspect that open conflict with China is unlikely, but we do believe the chances of conflict have recently escalated significantly.  Our biggest concern is the risk of miscalculation from China.  Its actions suggest that China may be underestimating the stake that other Southeast Asian countries (particularly Japan) have in maintaining Taiwan's independence. Although other Southeast Asian countries enjoy a cordial relationship with China, many are reluctant for it to be the sole power in the region.  China has long viewed other Asian countries as extensions of its diaspora, and therefore are subordinate to China.  In 2017, Chinese President Xi Jinping told the then newly elected President Trump that Korea used to be part of China, a claim strongly rejected by South Korea.  As a result, we suspect that conflict over Taiwan could have serious consequences for equities as the scale of war may be larger than most investors realize.  Here are the other stories coming out of China:
 COVID-19:  The number of reported cases is 101,253,267 with 2,184,718 fatalities.  In the U.S., there are 25,708,124 confirmed cases with 431,882 deaths.  For illustration purposes, the FT has created an interactive chart that allows one to compare cases across nations using similar scaling metrics.  The FT has also issued an economic tracker that looks across countries with high-frequency data on various factors.  The CDC reports that 48,386,275 doses of the vaccine have been distributed with 26,193,682 doses injected.  The number of first doses is 21,698,606, while the number of second doses, which would grant the highest level of immunity, is 4,263,056.  The Axios map shows that case growth is falling across the country.  The Rt data confirms the Axios map, with only six states showing a reading greater than one.  Vermont has the worst reading, and Nebraska has the best.  Hospitalizations in the U.S. for COVID-19 are declining as well.
Virology
Novavax announced that it has a COVID-19 vaccine that is 89% effective but also found that the vaccine is not as effective against the South African variant.
Two cases of the more contagious South African variant of the coronavirus were discovered in South Carolina.
The EU will empower member states to block exports of vaccines, forcing pharmaceutical companies to seek authorization before shipping the life-saving jabs out of the bloc.
The independent commission advising the German government on vaccination policy has recommended that the Oxford/AstraZeneca vaccine not be used for people over age 65, in a move likely to complicate the acrimonious rollout in the EU.
Africa has secured 400 million doses of the AstraZeneca COVID-19 vaccine, which will be supplied by the Serum Institute of India (SII), according to the director of the African Union's disease control and prevention body.
COVID-19 cases have quadrupled since November to almost 4,000 a day, and doctors complain of a shortage of beds, even as the United Arab Emirate's vaccination drive speeds ahead.
Mexico's confirmed coronavirus death toll surpassed India's on Thursday to become the world's third highest.
A single-shot coronavirus vaccine from pharmaceutical giant Johnson & Johnson (JNJ, $169.16) was 66% effective at preventing moderate and severe illness in a massive global trial as shown by findings released Friday.  But its performance was stronger in the United States and weaker in South Africa, where a worrisome coronavirus variant now dominates — a complicated result that reflects the evolution of the pandemic.
Policy and Economics: Here are the highlights:
House Speaker Nancy Pelosi announced that the House will hold a vote next week on the budget.  The move could help fast track President Biden's $1.9 trillion stimulus package.  Senate Republicans have come out against the move as being counterproductive; the general sentiment is that Congress will be able to get a deal done, possibly near the $1.1 trillion range.
Democrats are believed to be weighing the nuclear option in order to change the rules for reconciliation to pass the $15 minimum wage.  This change would end the filibuster rule for non-budget measures.

The two newly elected Democratic senators from Georgia pressed White House officials and fellow Senate Democrats Thursday to act quickly to pass a new round of stimulus checks, arguing that this promise won their party the Senate majority and needs to be accomplished.

The White House announced it will reopen healthcare enrollment, making it easier for the uninsured to get coverage during the pandemic.
The Pentagon warned the Taliban that it is jeopardizing its agreement with the United States for a full U.S. military withdrawal by May.  U.S. military officials said the Taliban had yet to break with al Qaeda and that has complicated efforts to remove troops from the country.
President Biden's nominee for the chair of the Council of Economic Advisers, Cecilia Rouse, testified before the Senate Banking Committee on Thursday.
The U.S. oil industry is seeking to forge an alliance with the nation's corn growers and biofuel producers to lobby against the Biden administration's push for electric vehicles. So far, it is meeting a cool reception, according to multiple sources familiar with the discussions.
The Philippines expect to benefit if there is a renewed emphasis on Asia by the new administration of President Biden, which could help act as a counterbalance to China in the region.
President Biden will issue executive orders on immigration next week.
International roundup: