Daily Comment (February 23, 2021)
by Bill O'Grady, Thomas Wash, and Patrick Fearon-Hernandez, CFA
[Posted: 9:30 AM EST] | PDF
The fifth and final part in our recent Weekly Geopolitical Report series, "The U.S.-China Balance of Power," is now published.  We also have several other recent multimedia offerings.  There is a new chart book recapping the recent changes we made to our Asset Allocation portfolios.  Here is the latest Confluence of Ideas podcast.  The most recent Asset Allocation Weekly, chart book, and podcast are also available.  You can find all this research and more on our website.
Today's Comment opens with the latest developments regarding bond yields, which continue to unsettle some investors.  While we think yields could continue to rise for a while, we are currently more sanguine than many observers and maintain our favorable attitude toward equities.  We next turn to various sector, domestic, and international news, before finishing up with the latest on the coronavirus pandemic.
Bond Market:  As longer-term bond yields continue to march higher, investors are becoming more concerned about their impact on the economy and stocks.  In addition, investors are keenly watching the narrowing spread between the 2-Year Treasury yield and the interest rate paid by the Federal Reserve on banks' excess reserves (the so-called IOER).  Traders are concerned that the shrinking spread reflects a rising appetite for short-term debt as investors gobble up safe assets and park their cash.  It also highlights two key questions for investors: To what extent is Fed support for markets taking asset prices to unsustainable levels, and how vulnerable does that leave bond markets and other areas exposed to sudden reversals?  With that in mind, all eyes will be on Fed Chairman Powell today as he begins his semiannual testimony before Congress.  European Central Bank President Lagarde yesterday said the ECB was closely monitoring bond yields, which was taken as a sign of discomfort with their recent rise, but Powell is expected to be more sanguine.
Powell is again likely to signal that easy-money policies will remain in place for the foreseeable future.  He will also probably face questions on the size of the next fiscal stimulus package, interest rates, the Fed's bond purchases, and the potential for inflation to heat up alongside accelerating economic growth.
As we will show in our upcoming Asset Allocation Weekly, even if the benchmark 10-Year Treasury yield rises to 2%, we suspect the negative impact on the housing market would be relatively modest, as would the impact on stock valuations.  Overall, we maintain our favorable attitude towards equities simply due to the outstanding level of liquidity available to financial markets.
Technology Industry:  Facebook (FB, 260.33) reached a deal with the Australian government to restore news pages to the social media company's platform, following a five-day suspension because of a disagreement over payment for content.  Under the deal, the Australian government will modify legislation moving through parliament to better protect deals that a social media firm makes directly with traditional media companies for news feeds.  It will also provide for an additional round of negotiations between social media firms and news outlets before arbitration kicks in.  While the deal may resolve this particular issue within Australia, it probably won't ease concerns about the broader rise of regulatory risks for technology companies.  In addition to the recent rise in bond yields, rising regulatory risks are probably another reason for the recent headwinds facing technology stocks.
Texas Storms:  The Internal Revenue Service extended the April 15 tax-filing and payment deadline to June 15 for all residents and businesses in Texas, citing the damage caused by the recent winter storms and power outages in the state.
United States-Russia:  National Security Advisor Sullivan has warned that the U.S. will respond within "weeks, not months" to the massive SolarWinds cyberattack discovered in December and attributed to the Russian government.  According to Sullivan, the response is likely to include both overt and covert tools and will not be limited to just sanctions.  In his words, "We will ensure that Russia understands where the United States draws the line on this kind of activity."
European Union-Russia:  EU foreign ministers agreed in principle yesterday to impose travel bans, asset freezes, and other sanctions on at least four Russian officials involved in the jailing of opposition activist Alexei Navalny.  U.S. Secretary of State Blinken, who held a separate meeting with the EU foreign ministers, signaled his support for the move as a way to help defend human rights in Russia.
Taiwan-China:  Former Taiwanese justice minister Chiu Tai-san has taken charge of the Mainland Affairs Council as part of a government reshuffle that seems to be an effort to ease tensions with Beijing.  Chiu has taken a relatively moderate stand on relations with mainland China compared to other politicians in the pro-independence camp.  Analysts say the change could signal a move by President Tsai Ing-wen's government to adjust its confrontational cross-strait policy.
Brazil:  In a bad sign of renewed political meddling in Brazil's key state-owned oil company, Petrobras (PBR, 7.94), President Bolsonaro has ousted the company's U.S.-trained CEO and looks likely to replace him with a 71-year-old reserve army general who has no experience in oil and gas.  In U.S. trading yesterday, the firm's ADRs traded down 21.0%.  The move also raises concerns about political meddling in the wider Brazilian economy, so it is likely to be a headwind for Brazilian equities going forward.
COVID-19:  Official data show confirmed cases have risen to 111,824,687 worldwide, with 2,476,668 deaths.  In the United States, confirmed cases rose to 28,191,213, with 500,443 deaths.  Vaccine doses delivered in the U.S. now total 75,205,940, while the number of people who have received at least their first shot totals 44,138,118 .  Finally, here is the interactive chart from the Financial Times that allows you to compare cases and deaths among countries, scaled by population.
Virology
 Economic and Financial Market Impacts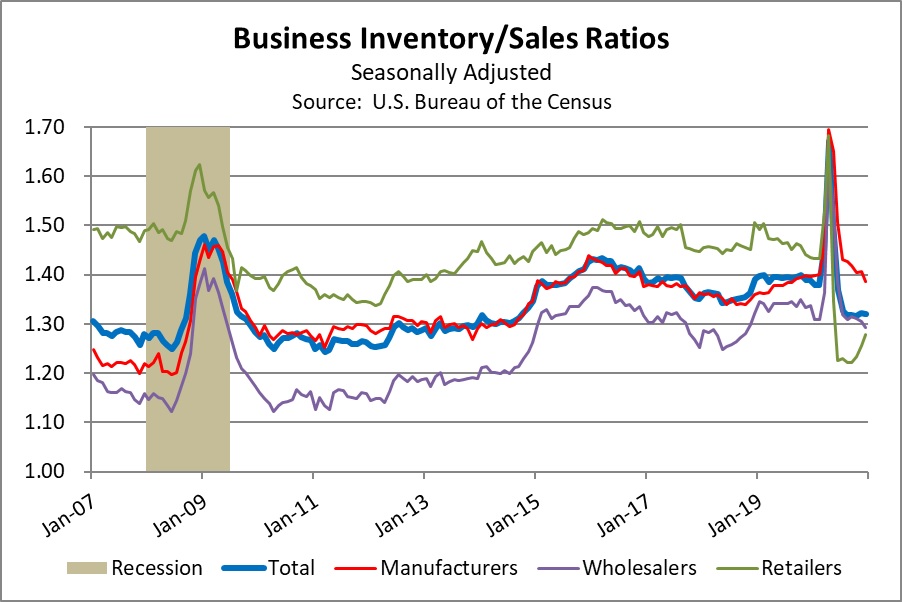 The problem is also evident in Europe.  For example, thousands of European manufacturers have been hit by a surge in the price of polymer resins used to make plastic, reflecting a strong demand and a slump in supplies.
For workers, the bright side of the rebound in manufacturing and the ongoing surge in the housing industry is that blue-collar job growth is booming.  That should hold out hope for a quicker fall in unemployment and a rise in wages for many people who lost their jobs in the service sector during the pandemic.  Any rise in wages will probably also feed into concerns about inflation.
 U.S. Policy Response
The House Budget Committee yesterday approved President Biden's $1.9 trillion pandemic relief package.  It officially fused together and passed the different portions of the legislation that advanced earlier this month in nine different House committees. A full House vote is expected Friday or Saturday, after which the legislation will go to the Senate.  Remaining as passed by the Budget Committee, the bill would:

Provide $400-a-week unemployment benefits through August 29.
Send $1,400 per-person payments to most households.
Provide billions in funding for schools and vaccine distribution.
Expand the child tax credit.
Broaden child-care assistance.
Bolster tax credits for health insurance.
Increase the federal minimum wage to $15 per hour over four years.