Daily Comment (December 6, 2021)
by Bill O'Grady, Thomas Wash, and Patrick Fearon-Hernandez, CFA
[Posted: 9:30 AM EDT] | PDF
Good morning and happy Monday!  Financial markets remain choppy this morning.  U.S. equity futures are generally higher, as is oil.  Meanwhile, moderate temperatures in the U.S. are sending natural gas prices plunging, with nearest futures off nearly 10%.  Inflation data is out later this week, and a reading over 7% is pos60sible.  The Biden administration is expected to announce a diplomatic boycott of the Winter Olympics this week, which will send a signal to Beijing but allow athletes to compete.
Our coverage begins with the crypto markets, which had a rough weekend.  Economics and policy come next, with an interesting chart on the labor markets.  We also note that Q4 GDP is looking surprisingly strong.  International news follows, with comments on Russia's troop buildup and Iran/U.S. nuclear talks.  China news is next.  The PBOC cut reserve requirements this morning.  We close with our usual pandemic update; indicators are that the Omicron variant spreads easily but may be less lethal.
Crypto:  Major cryptocurrencies had a tough weekend, with prices falling more than 20% at one point.  It isn't clear why the selloff occurred, although we note that comments from the Chinese real estate market (see below) coincided with the selling.  That may be a coincidence, but it could be that these real estate firms hold crypto and are selling to boost liquidity.  Crypto is a 24/7/365 market, but that doesn't necessarily mean that all periods have the same level of liquidity.  Some of the drop may be due to selling into a thin market.  However, the overall reason for the decline appears tied to concerns about policy tightening.  We view crypto as a debasement asset, and a Fed pivoting to tightening isn't positive for this asset class.
Economics and policy: We comment on the employment report and the economy.
Here are a couple of notable charts. First, the headline report of weak payroll data overshadowed remarkably strong household survey data.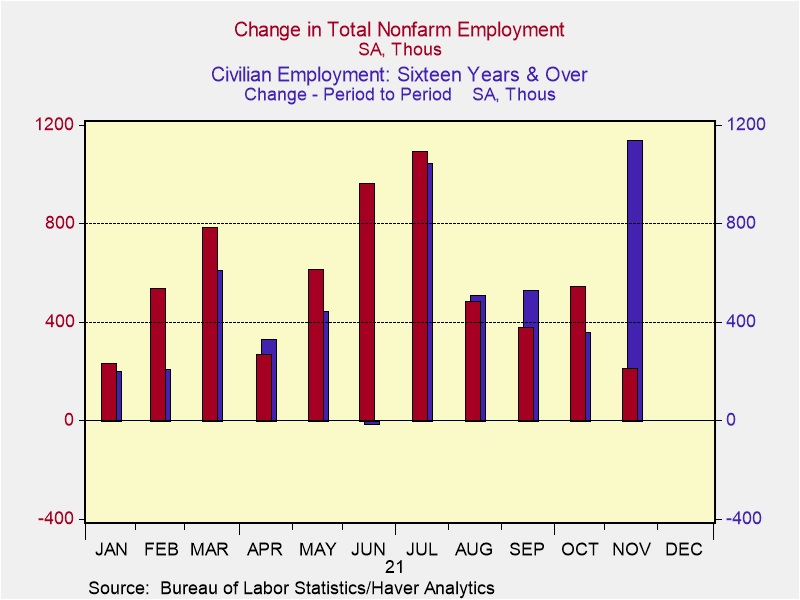 This difference of 926,000 is rare.  In the 886 months of data, a difference of this level or more has occurred only six times.  We suspect the payroll data will be revised higher, but it is also possible that the household survey is picking up anecdotal reports of a surge in entrepreneurship.  The establishment survey, where the payroll data comes from, won't pick up workers starting their own businesses.
Second, the Atlanta FRB's GDPNow report is currently calling for a 9.7% GDP number for Q4.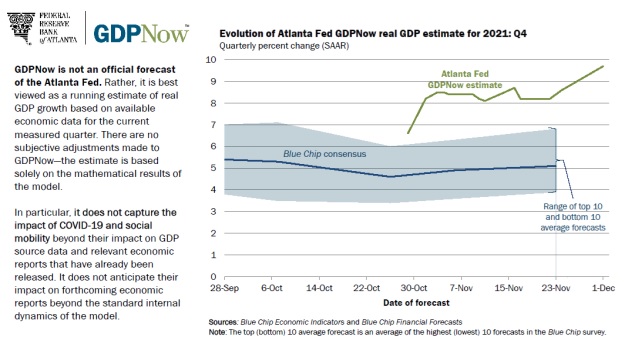 This level of growth is likely prompting the Fed to shift away from policy accommodation.
International roundup:  The Russian troop buildup continues to raise concerns, and talks with Iran are not going well.
China news:  Reserve requirements were cut this morning.
COVID-19:  The number of reported cases is 265,990,136, with 5,258,654 fatalities.  In the U.S., there are 49,086,840 confirmed cases with 788,364 deaths.  For illustration purposes, the FT has created an interactive chart that allows one to compare cases across nations using similar scaling metrics.  The FT has also issued an economic tracker that looks across countries with high-frequency data on various factors.  The CDC reports that 580,417,105 doses of the vaccine have been distributed, with 470,297,846 doses injected.  The number receiving at least one dose is 235,698,738, while the number receiving second doses, which would grant the highest level of immunity, is 198,962,520.  For the population older than 18, 71.5% of the population has been fully vaccinated, with 59.9% of the entire population fully vaccinated.  The FT has a page on global vaccine distribution.