Daily Comment (April 16, 2021)
by Bill O'Grady, Thomas Wash, and Patrick Fearon-Hernandez, CFA
[Posted: 9:30 AM EDT] | PDF
Good morning, all! It has been a relatively quiet news day so far. U.S. equities are expected to open higher following strong earnings from financial firms. We will begin our coverage with more details about the Russian sanctions. International news follows, with Castro stepping down from leadership, the Brexit fallout in the finance sector, and more. Economics and policy are up next along with information about the housing shortage. China news follows, and we close with our pandemic coverage.
As anticipated, the Biden administration imposed new sanctions on Russia due to its involvement in the SolarWind (SWI, $18.20) hack and other cyberwarfare activities. The sanctions included 32 individuals and entities. Additionally, 10 Russian diplomats, who were also suspected of being operatives, were expelled from the Russian Embassy, and American banks were banned from purchasing newly issued Russian government debt. As an olive branch, the Biden administration walked back claims that the Russian government had put bounties on American soldiers, claiming low to moderate confidence in the intelligence. The administration also stated it would like to establish a "stable and predictable relationship" with the Russian government.
In all, the measures taken against the Russian government weren't the most stringent, but they do provide a guidebook as to what the Biden administration has in store for countries it doesn't like. By banning the purchase of Russian government bonds, the Biden administration is signaling it is willing to use financial markets as a weapon. Although this isn't a new strategy, as the country frequently has used the SWIFT network to the same end, it does suggest an escalation. By targeting government debt, the Biden administration is expressing its willingness to make it more expensive and possibly more destabilizing to finance itself. We suspect this decision will likely encourage other countries to develop more elaborate workarounds to the U.S. financial system. This could mean an embrace of digital currencies, which is why we suspect China has begun developing a digital yuan. Accordingly, this could mean that other countries build closer relationships with China, which also has its own issues. Most importantly, if the U.S. continues to use its financial system, it could further accelerate a trend away from globalization as countries will begin to view it as a threat to their sovereignty. Although this deglobalization is unlikely to happen in the foreseeable future, there are increasing signs that the world may be growing fatigued with global integration. We will continue to monitor this situation closely.
International news: Raul Castro steps down, financial firms are leaving London, and Hungary is blocking the EU.
Economics and policy: The housing shortage, U.S.-China tensions, the infrastructure package, and student debt proposal.
China:  Chinese growth is not as impressive when looked at closely, and China in Afghanistan.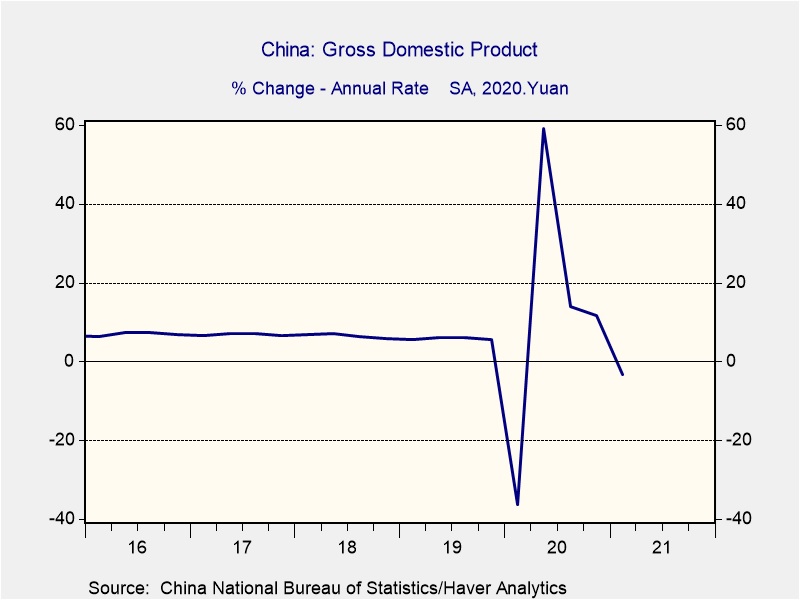 COVID-19:  The number of reported cases is 138,581,232 with 2,977,619 fatalities.  In the U.S., there are 31,455,995 confirmed cases with 564,715 deaths. For illustration purposes, the FT has created an interactive chart that allows one to compare cases across nations using similar scaling metrics. The FT has also issued an economic tracker that looks across countries with high-frequency data on various factors. The CDC reports that 255,400,665 doses of the vaccine have been distributed with 198,317,040 doses injected. The number receiving at least one dose is 125,822,868, while the number of second doses, which would grant the highest level of immunity, is 78,498,290. The FT has a page on global vaccine distribution. The weekly Axios map shows rising cases in about half the country.
Virology
In related news, the United States is seeing a rise in unused vaccines as demand has significantly slowed as of late. About 37% of Americans have received the first dose of the vaccine, far below the estimated  80-85% needed for the country to achieve herd immunity.