Daily Comment (April 19, 2022)
by Patrick Fearon-Hernandez, CFA, and Thomas Wash
[Posted: 9:30 AM EDT] | PDF
Today, we open our Comment with an update on the Russia-Ukraine war; reports suggest Russian forces have launched the long-anticipated Battle for Donbas.  We next review a range of international and U.S. developments with the potential to affect the financial markets.  We close with the latest news on the coronavirus pandemic.
Russia-Ukraine:  In an address last night, Ukrainian President Zelensky announced that the Battle of the Donbas has begun, with Russian forces launching a major offensive along the line of control running through eastern Ukraine from Kharkiv to Donetsk, Luhansk, and the southeastern port city of Mariupol.  While that couldn't be confirmed, U.S. military sources said the Russians have increased the number of their battalion tactical groups (BTGs) in the region to approximately 75 and were taking preliminary steps for a major attack.  Russian forces also continue trying to stamp out the last remaining Ukrainian defenders in Mariupol by dropping "bunker buster" bombs on them.  The U.S. and its NATO allies are therefore accelerating their efforts to ship heavier weapons to the Ukrainians and train their soldier on how to use them.  In the coming days, the U.S. expects to move forward with training Ukrainian troops outside of Ukraine on using howitzers and new radar systems, including counter-battery radars to pinpoint the course of Russian artillery fire. The U.S. is sending more than a dozen 155-mm howitzers as part of a fresh infusion of weapons.
Some military analysts believe that if the Russians have really launched their full-scale assault on the Donbas, they may be making yet another major mistake.  That's because the Russian forces have not taken the expected operational pause necessary to reconstitute damaged units withdrawn from northeastern Ukraine and integrate them into operations in eastern Ukraine.

Russian forces withdrawn from around Kyiv and sent back to fight in Donbas have, at best, been patched up and filled out with soldiers from other damaged units.  The Russian military has few, if any, cohesive units not previously deployed to Ukraine to funnel into new operations.
Frequent reports of low Russian morale and continuing logistics challenges indicate the effective combat power of Russian units in eastern Ukraine is likely a fraction of their on-paper strength in numbers of BTGs.
If Russian forces are indeed launching their offensive prematurely, it probably reflects pressure from President Putin or other top officials seeking to notch political points by announcing a major victory in the coming weeks.

On the economic front, the European Union continues to debate a ban on Russian oil and gas imports to punish Russia for its invasion and reduce funding for the Russian war effort.  Italian Prime Minister Draghi suggested that a viable interim step would be for the EU to cap how much it pays for Russian energy.  However, it's not clear whether Russia would continue to send energy into the EU if it wasn't receiving full market prices.
Also on the economic front, Bank of Russia Chief Nabiullina said the consequences of Western sanctions were only beginning to be felt in Russia, while Moscow's mayor said 200,000 jobs were at risk in the capital alone.
France:  Days ahead of the final round of the presidential election on Sunday, a French investigative news site has published extracts of an EU report alleging that far-right populist candidate Marine Le Pen misappropriated more than €100,000 of EU parliamentary funds.  The EU's anti-fraud office confirmed it had finalized a report last September, while Paris prosecutors said they received the allegations in March and have begun examining them.
Le Pen has been dogged by such allegations for years, but since yesterday's leak came so close to Sunday's neck-and-neck election, it smacks of a dirty trick by President Macron.  It remains to be seen what impact the leak will have on the final outcome of the election.  The latest opinion polls continue to suggest Macron will win by 54% to 46%.
Given Le Pen's past calls for France to leave the EU and her current calls to wrest powers from Brussels back to Paris, a Le Pen win would likely cast the future of the EU into doubt and be a major negative for European markets.
Last week, Le Pen also reiterated her call for France to pull out of NATO's military command and suggested the alliance make a "strategic rapprochement" with Russia.  That illustrates a Le Pen win would also have significant geopolitical implications that would undermine European stock values.
Israel:  The Israeli military today carried out airstrikes in Gaza in response to a rocket fired from the Palestinian territory, raising fears of a wider conflict amid heightened tensions after days of clashes at a sensitive holy site in Jerusalem.
Japan:  The yen continues to plunge, dropping against the dollar for a record 13th consecutive day.  As of this writing, the currency is trading at 128.45 per dollar, down 11.4% from the end of 2021 and 19.2% from the end of 2020.
As we wrote in our Bi-Weekly Asset Allocation Report yesterday, the drop is primarily in response to the Bank of Japan's recommitment last month to its policy of yield curve control, even as the Federal Reserve and other major central banks are hiking interest rates and letting bond yields rise.
United States-China:  Despite the renewed Russian threat in Europe, the U.S. continues to reorient its military toward the Asia-Pacific region to counter the rising threat from China.  The U.S. Navy has now designated Guam as the home port for five Los Angeles-class fast-attack submarines, up from just two as recently as November.
U.S. Monetary Policy:  St. Louis FRB President Bullard, perhaps the most notorious uber-hawk on the Fed's policy-setting committee, said he wouldn't rule out a 75-basis-point hike in the benchmark fed funds rate in the coming months, although he suspected a series of 50-basis-point hikes would be sufficient to tame inflation.  According to Bullard, the fed funds rate should stand at about 3.50% at year's end.
Bullard's year-end target of 3.50% would imply hiking rates by 50 basis points in each of the Fed's six remaining policy meetings this year.
The statement underscores that Fed policymakers remain in a panic over inflation.  They continue to plan to tighten monetary policy aggressively.  High inflation and the prospect of aggressive Fed tightening continue to reduce bond values, driving the yield on the 10-year Treasury note to 2.851% yesterday and 2.895% so far today.
Real 10-year Treasury yields, as reflected in the market for Treasury Inflation-Protected Securities (TIPS), are even on the verge of turning positive for the first time in more than two years.  The yield on the 10-year TIPS currently stands at approximately -0.04% compared with readings below -1.00% for much of the last year.
Coupled with factors like tightening fiscal policy and high inflation, rapid monetary tightening could well help spark a financial crisis or significant economic slowdown in the coming 12 to 18 months.  Obviously, such an event would be a negative for risk assets.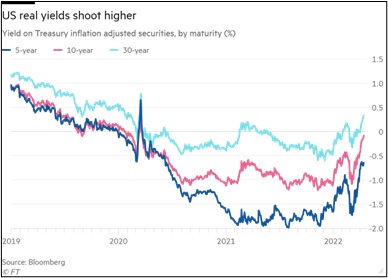 U.S. Housing Market:  Privately held online mortgage provider Better.com has launched its third round of layoffs since December and its first cuts since offering voluntary buyouts to some employees nearly two weeks ago.  With housing inventory low, prices soaring, and mortgage interest rates rising fast, the downsizing at Better.com is one of the first signs that a slowdown in the housing market may be at hand.
U.S. Labor Market:  The NLRB ruled that workers at an Amazon (AMZN, $3,055.70) delivery center in New Jersey have won the right to hold a vote on unionizing the facility.  If successful, the vote would mark the company's second facility to be unionized after a successful process at a warehouse in New York earlier this month.
The successful unionization drives at Amazon facilities illustrate how today's labor shortages and low unemployment rates have shifted economic power to workers.
If unionization continues to expand, it could eventually boost wages, increase workers' purchasing power, and reduce income inequality.  However, the downside is that it could also weigh on corporate profit margins or touch off a wage-price spiral that worsens inflation, both of which would likely be negative for financial assets.
COVID-19:  Official data show confirmed cases have risen to  505,095,194 worldwide, with 6,200,389 deaths.  In the U.S., confirmed cases rose to 80,686,455, with 988,912 deaths.  (For an interactive chart that allows you to compare cases and deaths among countries, scaled by population, click here.)  In data on the U.S. vaccination program, the number of people considered fully vaccinated now totals 218,937,361, equal to 65.9% of the total population.
Virology
In the U.S., the Omicron BA.2 variant continues to spread, but it is still generating relatively few serious illnesses or hospitalizations.  The seven-day average of people hospitalized with a confirmed or suspected case of COVID-19 came in at 14,653 yesterday, down 6% from two weeks earlier.  Because of the low level of hospitalizations and general fatigue with the pandemic, the new outbreak is prompting few new policy responses.
Yesterday, a federal judge in Florida ruled that the Biden administration's mask mandate on public transportation exceeded the CDC's legal authority and is, therefore, unlawful.  In response, the Biden administration said it would not try to enforce the mandate while it decides whether to appeal.  Several major airlines have already lifted the requirement on their flights, and others are soon expected to follow suit.
In China, Health Minister Ma Xiaowei wrote in an editorial that the country must stick to its "dynamic zero-COVID" policy and reject any thoughts of "coexisting with the virus" to ensure the Communist Party has a successful 20th National Congress in the autumn.  The statement provides further evidence that the government will maintain or even double down on its strict lockdowns in Shanghai and other cities, despite the rising economic costs.
Economic and Financial Market Impacts