Daily Comment (April 14, 2022)
by Patrick Fearon-Hernandez, CFA, and Thomas Wash
[Posted: 9:30 AM EDT] | PDF
Good morning! In today's report, we give a fresh update on the Russian invasion of Ukraine and what it may mean for the global economy. Next is a brief overview of international news, followed by economic and policy news. We end with our COVID-19 coverage.
After peace talks reached a dead end, Russian forces have started to renew their efforts take over southern and eastern Ukraine. Russia has deployed more troops and launched a new airstrike on Mariupol. Currently, there still seems to be a stalemate, as both sides are still finding military success. On Wednesday, Ukraine announced it was able to hit a major Russian warship in the Black Sea. Meanwhile, Russian media stated that a thousand Ukraine marines surrendered in Mariupol. Nevertheless, it is becoming clear that Mariupol is getting closer to being under Russian control. Ukrainian President Volodymyr Zelensky has called on the West to send additional resources to aid the country in the war. The West has responded by expanding its intelligence to Ukrainian forces and sending $800 million worth of additional weapons. Furthermore, the Pentagon has asked defense companies to ramp up their arms production. Russia has responded to the increased support by declaring the weapons in transportation to Ukraine are legitimate targets.
Following its pledge to provide more military support to Ukraine, the West has accused Russia of committing war crimes. The Organization for Security and Co-operation in Europe (OSCE) stated that it has found credible evidence of violations of fundamental human rights. Although the organization fell short of describing the killings that took place in Ukraine as genocide, it did not dismiss President Biden's characterization of the killings as such. The condemnation comes as the West attempts to portray Russia as an aggressor attacking a hapless victim. As the war rages on, we suspect the West will use claims of war crimes to force countries to choose sides. As we have mentioned in the past, we believe that the Russian invasion will accelerate the world away from globalization and toward regionalization. So far, emerging market countries have been receptive to Russia's claim that the invasion was to stop NATO expansion, making it harder for the West to find allies in developing countries. The move away from global order could make equities in emerging markets less attractive.
This policy shift is further supported by Treasury Secretary Janet Yellen's allusion to friend-shoring. Friend-shoring is when supply chains are built using countries that were friendly with the U.S. Earlier this year, Moscow announced a similar approach with its demand for unfriendly countries to pay for Russian commodities using rubles. The move away from globalization puts China in a vulnerable situation. Beijing has expressed sympathy for Russian claims of security concerns, but it has still maintained its relations with Western firms. We believe the breakdown of this order will likely be decided by China. As long as Beijing views strong trade ties with the West as beneficial, the global order will probably stay in place.
Economic Policy and News 
International News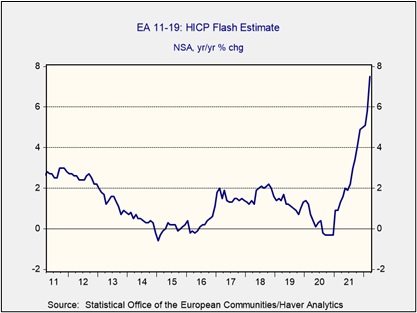 COVID-19:The number of reported cases is 501,512,915, with 6,188,577 fatalities. In the U.S., there are 80,518,050 confirmed cases with 987,331 deaths. For illustration purposes, the FT has created an interactive chart that allows one to compare cases across nations using similar scaling metrics. The CDC reports that 713,605,745 doses of the vaccine have been distributed, with 567,188,881 doses injected. The number receiving at least one dose is 256,489,187, while the number of second doses is 218,622,907, and the number of the third dose, granting the highest level of immunity, is 99,035,505. The FT has a page on global vaccine distribution.