Weekly Geopolitical Report – The Protests in Cuba (July 26, 2021)
by Bill O'Grady | PDF
Over the past two weeks, Cuba has been racked with widespread protests.  As this map suggests, the civil unrest was scattered across the island nation.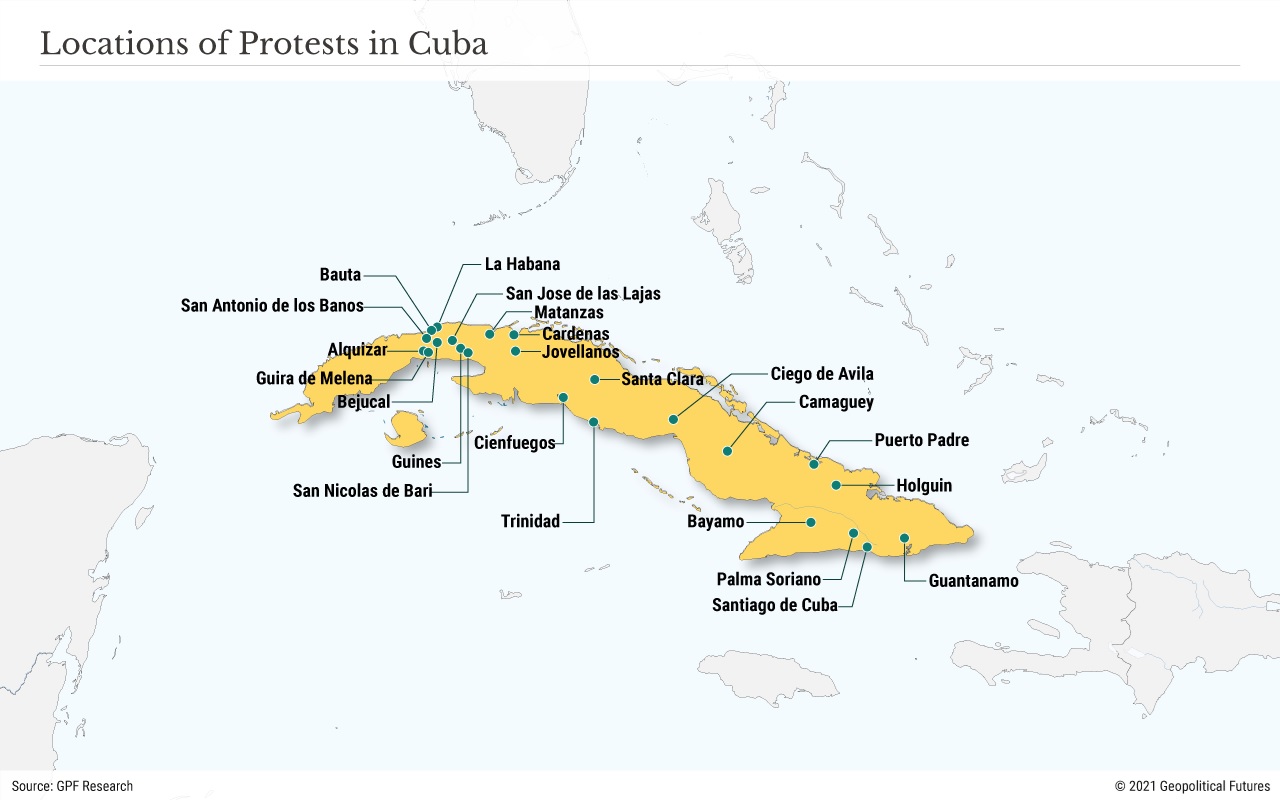 The widespread nature of the protests suggests some degree of coordination (and, it appears there was).  Two groups, the San Isidro Movement and the 27N Movement, used social media to organize marches and protests.  At the same time, the size of the protests also suggests widespread dissatisfaction with the regime.  Even the elderly turned out.  The regime blamed outside forces (read: U.S.), but this uprising seems to be a home-grown response to a deteriorating economy.
The government's response was typical.  It arrested hundreds, shut down the internet on July 11, and promised to do better.  After switching the internet back on a few days later, the world got a peek at the repression of the Cuban security forces.
Cuba has geopolitical significance.[1]  For the U.S., the risk of a foreign power controlling Cuba means that trade could be stifled at the Port of New Orleans, which is where the agricultural and industrial abundance of the Mississippi River system finds its way to the world.  In addition, it could bottle up the Port of Houston which is critical for the American oil industry. Thus, the U.S. has been interested in Cuba since the Louisiana Purchase.
In this report, we will begin by discussing the underlying structural problems of the Cuban political system and its economy.  Next, we will examine the specific factors that have negatively affected the Cuban economy and created conditions that have led to the current unrest.  We will close with the U.S. response to the protests and market ramifications.
---
[1] For a review of Cuban geopolitics and history, see our WGR from 1/5/2015, "The Cuban Thaw."