Weekly Geopolitical Report – Iran Sanctions and Potential Responses: Part II (August 6, 2018)
by Bill O'Grady
Last week, we introduced the topic of the Trump administration's decision to implement sanctions on Iran and covered two potential responses from Iran, which were restarting its nuclear program and projecting power.  This week, we will discuss the threat to the Strait of Hormuz.
Response #3: Closing the Strait of Hormuz
On its face, it seems somewhat illogical for Iran to close the Strait of Hormuz to oil traffic because it would not only prevent the Gulf States and Iraq from exporting oil, but it would prevent Iran from doing so as well.  As a result, we believe that Iran would only take this step if sanctions were so effective as to nearly end Iranian oil exports.  Thus, Iran would have to be in dire "straits" before taking this step.
The world has several recognized oil flow "chokepoints" where there is the potential for a disruption of oil flows.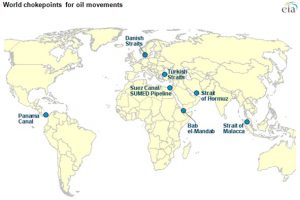 As the global superpower, one responsibility of the U.S. is to secure the world's sea lanes to support global trade.  As this map shows, there are numerous points where oil trade could be affected by blockades.  In terms of volume, the two most critical are the Strait of Hormuz, through which about 18.5 mbpd and products pass, and the Strait of Malacca, which sees about 16.0 mbpd of energy traffic.  Much of the oil, refined product and LNG produced in the Middle East passes through the Strait of Hormuz.  Energy destined for the Far East moves through the Strait of Malacca, while flows to the Western Hemisphere and Europe either pass through the Suez Canal and the SUMED pipeline or the Cape of Good Hope.[1]  Disruptions to the latter group would tend to have more severe regional effects, whereas disruption to the Strait of Hormuz would affect global energy supplies.
---
[1] We note that Houthi rebels apparently recently threatened a Saudi oil tanker in the Red Sea at the Bab el-Mandab chokepoint: https://www.ft.com/content/f0858962-9005-11e8-b639-7680cedcc421; we don't view this threat to be as significant as actions in the Strait of Hormuz, but if Iran were able to threaten both chokepoints it would have a much more substantial impact on prices.  For now, we are assuming this attack was a "one-off" and not part of a campaign to stop Red Sea shipping.