Weekly Energy Update (September 1, 2022)
by Bill O'Grady, Thomas Wash, and Patrick Fearon-Hernandez, CFA | PDF
(The Weekly Energy Update will not be published next week.  The report will return on September 15.)
Crude oil prices remain under pressure on fears of a deal with Iran and weakening economic growth.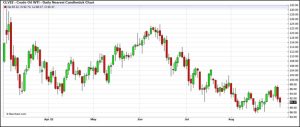 (Source: Barchart.com)
Crude oil inventories fell 3.3 mb compared to a 2.5 mb draw forecast.  The SPR declined 3.1 mb, meaning the net draw was 6.4 mb.

In the details, U.S. crude oil production fell 0.2 mbpd to 12.0 mbpd.  Exports fell 0.8 mbpd, while imports were unchanged.  Refining activity rose 0.3% to 93.8% of capacity.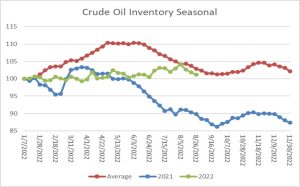 (Sources: DOE, CIM)
The above chart shows the seasonal pattern for crude oil inventories.  Clearly, this year is deviating from the normal path of commercial inventory levels although the past months' inventory changes are more consistent with seasonal behavior.  We will approach the usual seasonal trough for inventories in mid-September.
Since the SPR is being used, to some extent, as a buffer stock, we have constructed oil inventory charts incorporating both the SPR and commercial inventories.

Total stockpiles peaked in 2017 and are now at levels last seen in 2003.  Using total stocks since 2015, fair value is $107.69.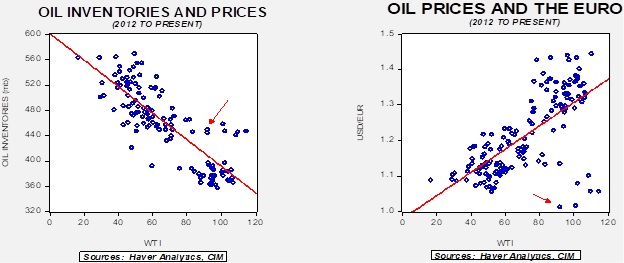 With so many crosscurrents in the oil markets, we are beginning to see some degree of normalization.  The inventory/EUR model suggests oil prices should be around $64 per barrel, so we are seeing about $24 of risk premium in the market.
Market news:
There are grave concerns about how Europe will manage energy this winter. Natural gas inventories have been rising, but it is probable that the European economy, likely in recession now, will see weaker economic activity in the coming months.  However, conditions are improving and it is possible that, barring an unusually cold winter or some other crisis, the situation might be more manageable than it looked earlier this year.  Some of this improvement is due to European industrial consumers making adjustments.
Russia has halted flows of natural gas over the Nord Stream 1 pipeline for maintenance. The shutdown is supposed to last three days, although there are worries that it could be extended.  One of the issues about these periodic shutdowns is that Russia doesn't have extensive storage networks for natural gas.  We have been concerned that if Russia starts closing in wells, there could be a permanent loss of production.  Apparently, Russia is avoiding this outcome by massive flaring of natural gas.  In effect, Russia is simply burning the gas into the atmosphere rather than put it in the pipeline.  Flaring does avoid the issue of shutdowns.
The Canadian natural gas market is mostly isolated. Although there are pipelines that interconnect to the U.S. system, they occasionally reach capacity, leading to large discounts on Canadian natural gas.  We are seeing that situation now as the chart below shows the U.S. market trading at a nearly $7.00 premium.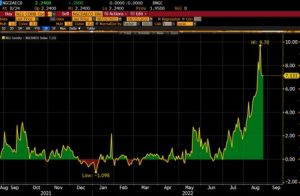 (Source:  Bloomberg)
 Geopolitical news:
 Alternative energy/policy news: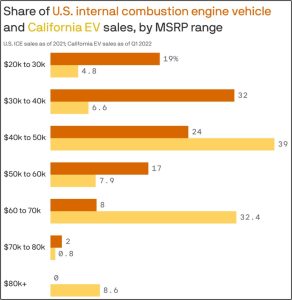 (Source:  Axios)
One factor driving the price of EVs higher is the goal of giving the cars the same range as a gasoline powered vehicle. However, when "fill up" of electricity can be done daily in one's garage, an EV with a much smaller range might be more practical for everyday use and be cheaper to make.
We remain bullish on metals required in the conversion away from fossil fuels because it doesn't appear that the demand is impossible to fill. At the same time, miners continue to find that local opposition is delaying the building of new mines for the materials required for batteries.