Weekly Energy Update (October 19, 2023)
by Bill O'Grady, Thomas Wash, and Patrick Fearon-Hernandez, CFA | PDF
Continued tensions in the Middle East are supporting crude oil prices.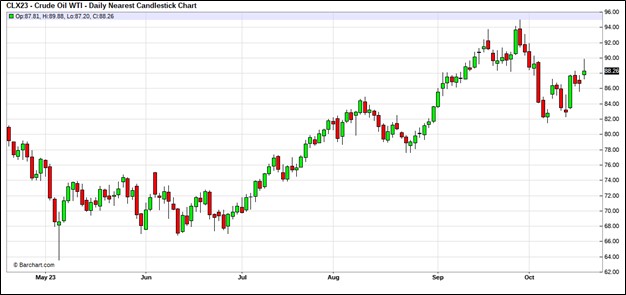 (Source: Barchart.com)
Commercial crude oil inventories fell 4.5 mb compared to forecasts of a 0.6 mb draw.  The SPR was unchanged, which puts the net draw at 4.5 mb.

In the details, U.S. crude oil production was steady at 13.2 mbpd.  Exports rose 2.3 mbpd, while imports fell 0.4 mbpd.  Refining activity rose 0.4% to 86.1% of capacity.  The rise likely signals that we are coming to the end of the autumn refinery maintenance period, which should lift oil demand.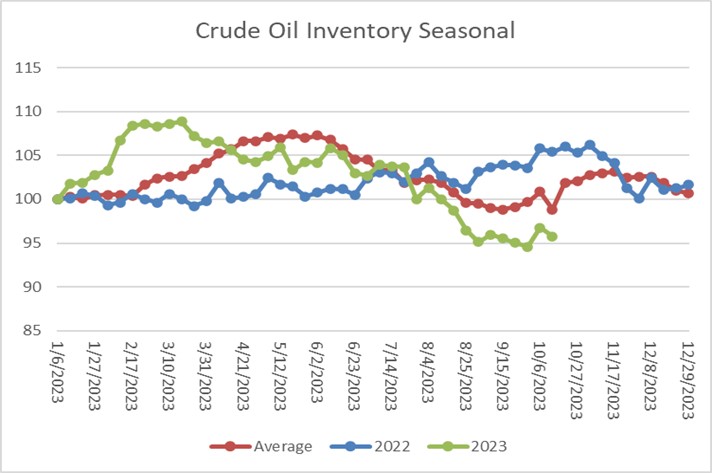 (Sources: DOE, CIM)
The above chart shows the seasonal pattern for crude oil inventories.  Last week's is contrary to seasonal patterns, but we do note that refinery operations rose this week.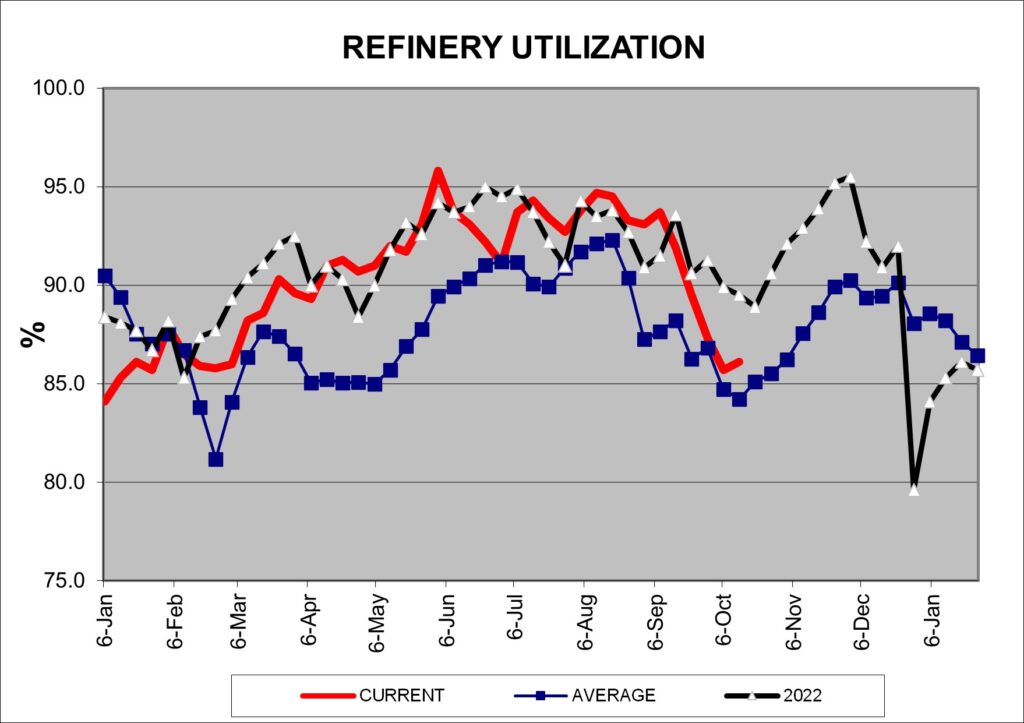 (Sources: DOE, CIM)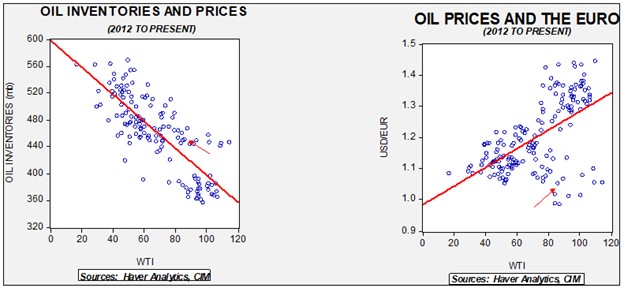 Fair value, using commercial inventories and the EUR for independent variables, yields a price of $74.38.  However, given the level of geopolitical risk in the market, we are not surprised that oil prices are well above this model's fair value.
Since the SPR is being used, to some extent, as a buffer stock, we have constructed oil inventory charts incorporating both the SPR and commercial inventories.

Total stockpiles peaked in 2017 and are now at levels last seen in late 1984.  Using total stocks since 2015, fair value is $94.45.
Market News:
Rising prices for diesel fuel are creating an opportunity for China to expand product exports. Although China is dependent on foreign oil supplies, it has expanded its refining capacity, giving it the ability to export product.  It is worth noting that China has been buying sanctioned oil from Iran and Russia at discounts and in its own currency, likely creating attractive refining margins.  Russia has been curtailing diesel exports to secure domestic supplies which is giving China an export opportunity.
For the first time in history, crude oil is poised to become America's largest export. The combination of rising production and higher prices, along with demand from Europe, have led to this development.
Canada is nearing the completion of its Trans-Mountain Pipeline, which will allow it to send oil from central Canada to the Pacific coast. This development will likely raise prices on Canadian oil exported to the U.S.  At the same time, it should also reduce prices to Asia.
Geopolitical News:
 Alternative Energy/Policy News:
Note: The next edition of this report will be published on November 2.