Weekly Energy Update (October 15, 2021)
by Bill O'Grady, Thomas Wash, and Patrick Fearon-Hernandez, CFA | PDF
[N.B. Today's report was delayed one day due to the Columbus/Indigenous Day holiday.]
Prices have moved above $80 per barrel.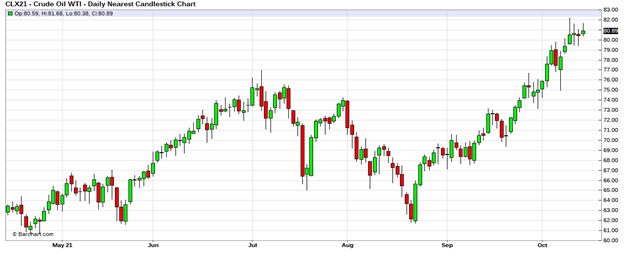 (Source: Barchart.com)
Crude oil inventories rose 6.1 mb compared to the 1.1 build forecast.  The SPR declined 0.8 mb, meaning the net draw was 5.3 mb.

In the details, U.S. crude oil production rose 0.1 mbpd to 11.4 mbpd, approaching the 11.5 mbpd pre-Ida level.  Exports rose 0.4 mbpd, while imports declined 1.0 mbpd.  Refining activity fell 2.9%.
(Sources: DOE, CIM)
This chart shows the seasonal pattern for crude oil inventories.  We are in the autumn build season.  Note that stocks are significantly below the usual seasonal trough.  Our seasonal deficit is 68.4 mb.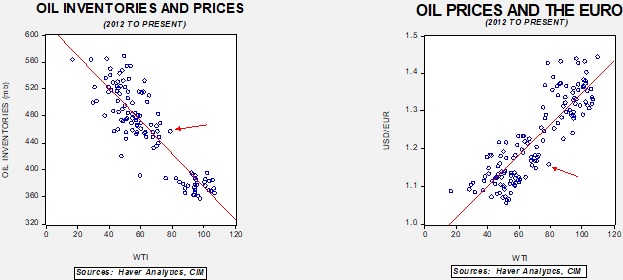 Based on our oil inventory/price model, fair value is $65.55; using the euro/price model, fair value is $57.99.  The combined model, a broader analysis of the oil price, generates a fair value of $61.44.  We are seeing a notable divergence in the model between inventory and the dollar and a rising level of overvaluation.  Part of the overvaluation is likely due to fears of tighter inventories. If the builds continue, which is consistent with seasonal patterns, the model suggests some moderation of prices.  However, supply fears are so elevated this may not be the case.
In some respects, this week's data doesn't add up; the build with imports significantly down suggests that we may be seeing higher production than is being reported.  The plug number of "unaccounted for crude oil" is elevated, suggesting an undercount, and the most likely area is production, which is estimated.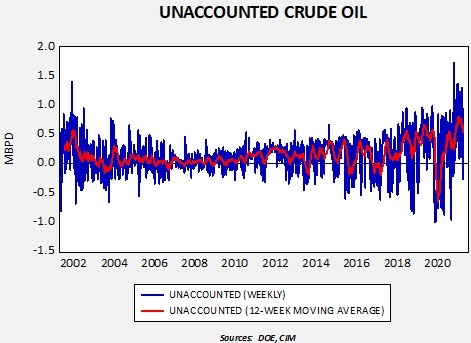 The most recent official U.S. oil production data, which is through August, shows production at 11.1 mbpd.  We suspect production is probably closer to 11.6 mbpd.
 Market news:
Geopolitical news:
 Alternative energy/policy news: