Weekly Energy Update (October 7, 2021)
by Bill O'Grady, Thomas Wash, and Patrick Fearon-Hernandez, CFA | PDF
Prices are approaching $80 per barrel.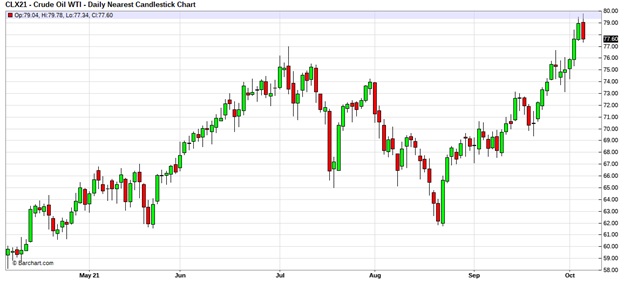 (Source: Barchart.com)
Crude oil inventories rose 2.3 mb compared to the 1.0 build forecast.  The SPR declined 0.9 mb, meaning the net draw was 1.4 mb.

In the details, U.S. crude oil production rose 0.2 mbpd to 11.3 mbpd, approaching the 11.5 mbpd pre-Ida level.  Exports fell 0.4 mbpd, while imports declined 0.9 mbpd.  Refining activity rose 0.3%.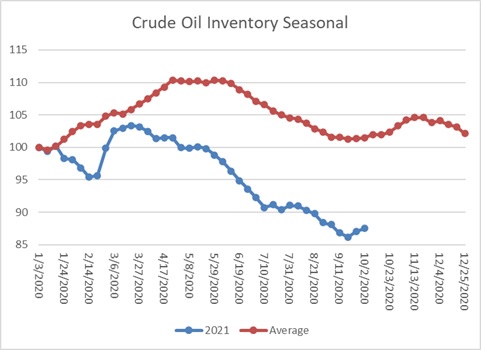 (Sources: DOE, CIM)
This chart shows the seasonal pattern for crude oil inventories.  We are in the autumn consolidation and build season.  Note that stocks are significantly below the usual seasonal trough.  Our seasonal deficit is 72.3 mb.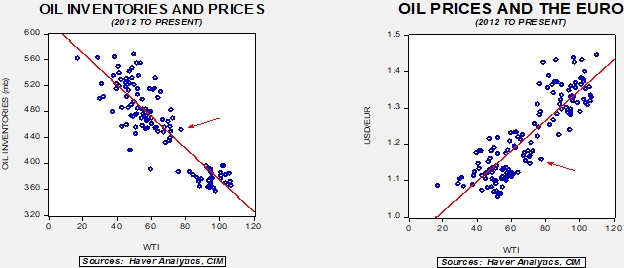 Based on our oil inventory/price model, fair value is $67.48; using the euro/price model, fair value is $58.26.  The combined model, a broader analysis of the oil price, generates a fair value of $62.66.  We are seeing a notable divergence in the model between inventory and the dollar and a rising level of overvaluation.  Some of the overvaluation is likely due to fears of tighter inventories. If builds continue (and the seasonal pattern indicates a modest build that will start later in October), we will probably see some moderation of prices.
Ida
Thankfully, Hurricane Ida was not followed up by a subsequent storm as with Katrina in 2005.  Since the comparison is becoming less relevant, this will be the last week of reporting on this issue.
(Source:  DOE, CIM)
This chart compares refinery runs during the two periods following the hurricanes.  In 2005, Hurricane Rita soon followed Katrina.  Since that didn't occur with Ida (at least so far), we have seen refinery activity return to normal this week.
 Market news:
Geopolitical news:
 Alternative energy/policy news: