Weekly Energy Update (November 16, 2023)
by Bill O'Grady, Thomas Wash, and Patrick Fearon-Hernandez, CFA | PDF
Crude oil prices have retreated from their early October highs.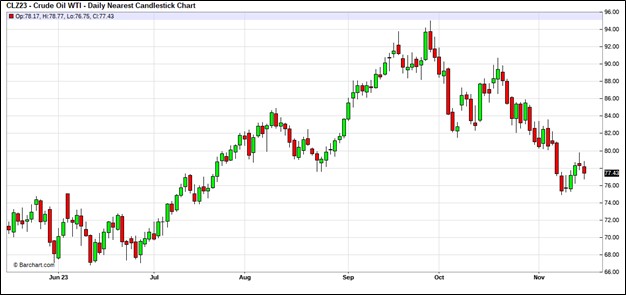 (Source: Barchart.com)
Commercial crude oil inventories rose 0.8 mb compared to forecasts of a 2.0 mb build.  The SPR was unchanged, which puts the net build at 0.8 mb.

In the details, U.S. crude oil production was steady at 13.2 mbpd.  Exports rose 0.4 mbpd, while imports were unchanged.  Refining activity rose 0.9% to 86.1% of capacity.  Refinery activity has started its seasonal recovery which should last into December.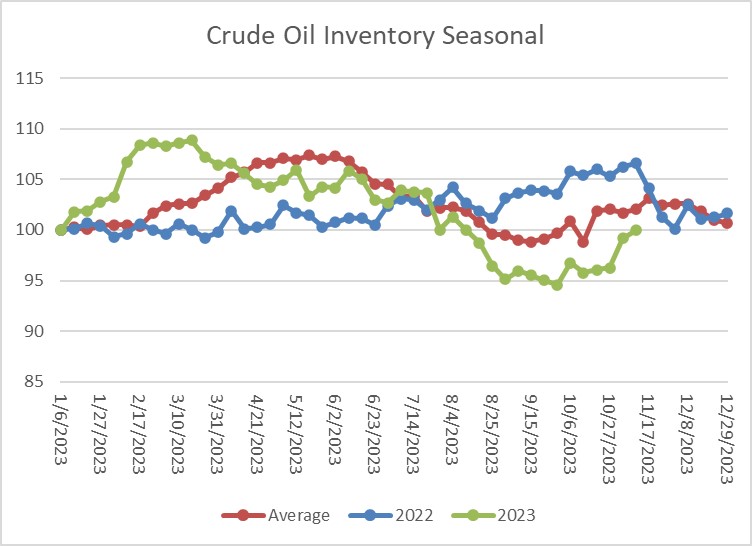 (Sources: DOE, CIM)
The above chart shows the seasonal pattern for crude oil inventories.  We continue to see lower-than-normal inventory accumulation although the gap to average is narrowing.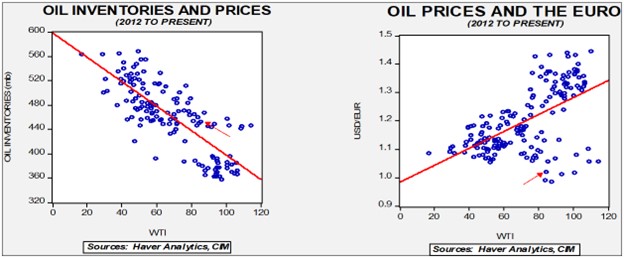 Fair value, using commercial inventories and the EUR for independent variables, yields a price of $67.53.  However, given the level of geopolitical risk in the market, we are not surprised that oil prices are well above this model's fair value.
Since the SPR is being used, to some extent, as a buffer stock, we have constructed oil inventory charts incorporating both the SPR and commercial inventories.

Total stockpiles peaked in 2017 and are now at levels last seen in late 1984.  Using total stocks since 2015, fair value is $91.44.
Market News:
Geopolitical News:
Alternative Energy/Policy News:
A key element of the energy transition is electrification, which requires copper. We saw the U.S. kill a proposed copper project in Alaska earlier this year, and now Panama has seen protests against another project.  Although we understand that local interests need to be considered due to the disruption caused by mining, it is unclear where the copper will come from to meet the demands of the energy transition.
A new climate report suggests that climate effects are having sizable financial consequences as well. The costs of addressing storms in the U.S. is leading to increases in insurance costs.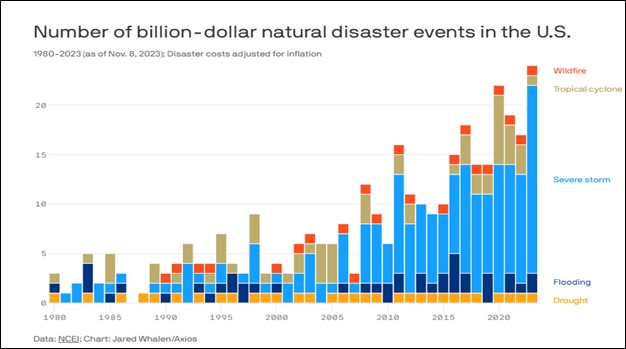 Rapidly rising costs for wind turbines are leading to cancelled projects or attempts to renegotiate prices.  If governments don't get involved, wind projects may stall.  Parts companies for windmills indicate that wind goals set for 2030 will not be met.
Note: Due to the Thanksgiving Day holiday, the next report will be issued November 30.