Weekly Energy Update (November 11, 2021)
by Bill O'Grady, Thomas Wash, and Patrick Fearon-Hernandez, CFA | PDF
After pulling back from $85 per barrel, the market made another assault on the price level, but that level is proving to give strong resistance.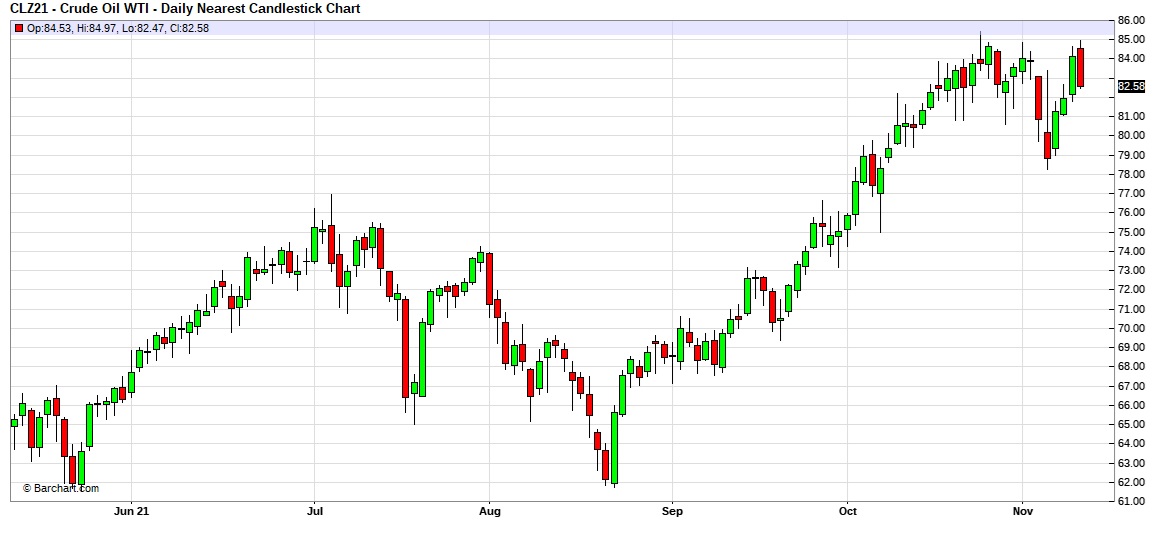 (Source: Barchart.com)
Crude oil inventories rose 1.0 mb compared to a 2.6 mb build forecast.  The SPR declined 3.1 mb, meaning the net draw was 2.1 mb.

In the details, U.S. crude oil production was unchanged at 11.5 mbpd.  Exports rose 0.1 mbpd, while imports fell 0.1 mbpd.  Refining activity rose 0.4%.  This build season usually ends in mid-November.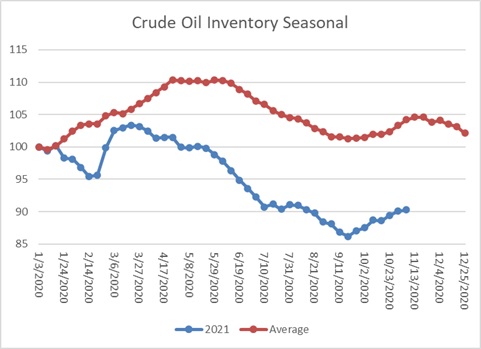 (Sources: DOE, CIM)
This chart shows the seasonal pattern for crude oil inventories.  We are nearing the end of the autumn build season.  Note that stocks are significantly below the usual seasonal trough.  Our seasonal deficit is 71.9 mb.

Based on our oil inventory/price model, fair value is $63.15; using the euro/price model, fair value is $58.34.  The combined model, a broader analysis of the oil price, generates a fair value of $60.30.  Across all models, the current price of oil is overvalued.  Although supply concerns, especially the lack of response from producers in the light of high prices, is a bullish factor, it is also arguable that prices have mostly discounted (or perhaps more than discounted) the impact of this issue.  So far, the market is consolidating in a range between $80 to $85 per barrel.  Breaking out from that range may require a weaker dollar or falling stockpiles.
The SPR withdrawal continues and is a bearish factor for oil prices.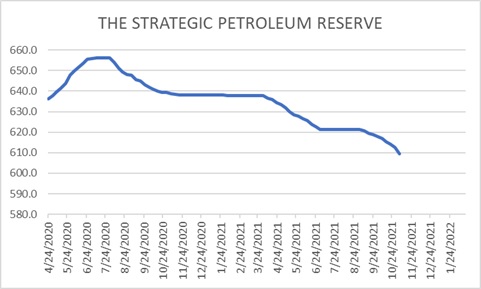 (Sources:  DOE, CIM)
Perhaps less appreciated is that the SPR is down 117.2 mb from its all-time peak.  In the next few weeks, we will examine the geopolitics of the strategic reserve in an upcoming Weekly Geopolitical Report.
 Market news:
Geopolitical news:
Alternative energy/policy news: