Weekly Energy Update (November 4, 2021)
by Bill O'Grady, Thomas Wash, and Patrick Fearon-Hernandez, CFA | PDF
After touching $85 per barrel, oil prices have dropped on rising inventories and worries about tightening monetary policy.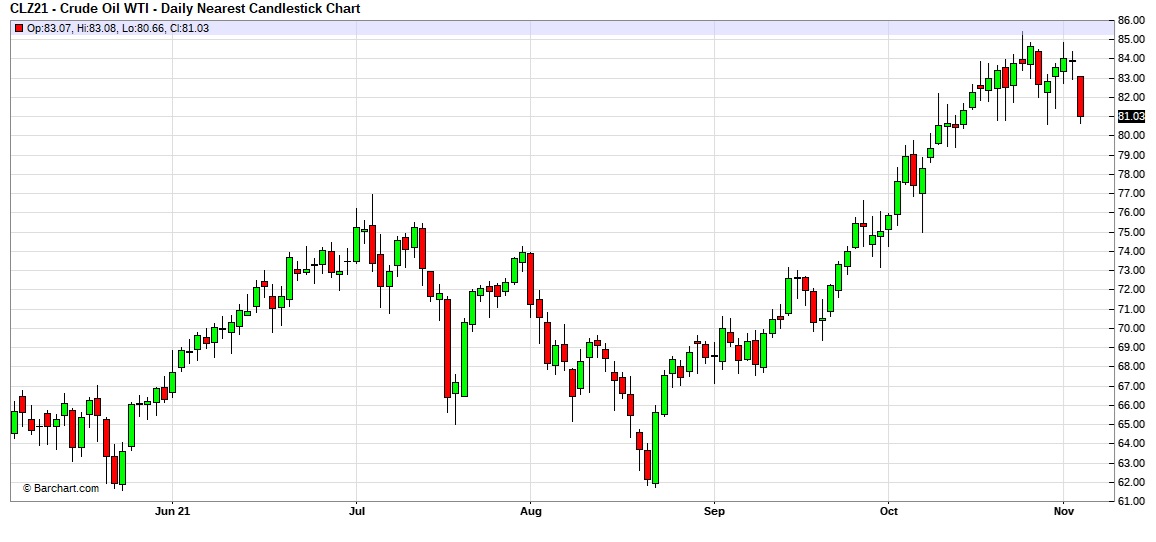 (Source: Barchart.com)
Crude oil inventories rose 3.3 mb compared to a 2.0 mb build forecast.  The SPR declined 1.6 mb, meaning the net draw was 1.7 mb.

In the details, U.S. crude oil production rose 0.2 mbpd to 11.5 mbpd; production has returned to the pre-Ida level.  Exports rose 0.1 mbpd, while imports fell 0.1 mbpd.  Refining activity rose 1.2%, suggesting we are at the end of the refinery maintenance season.  This build season usually ends in mid-November.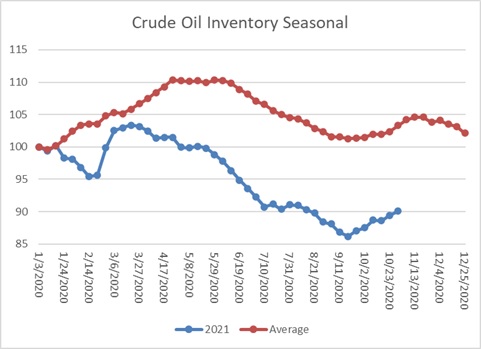 (Sources: DOE, CIM)
This chart shows the seasonal pattern for crude oil inventories.  We are in the autumn build season.  Note that stocks are significantly below the usual seasonal trough.  Our seasonal deficit is 68.4 mb.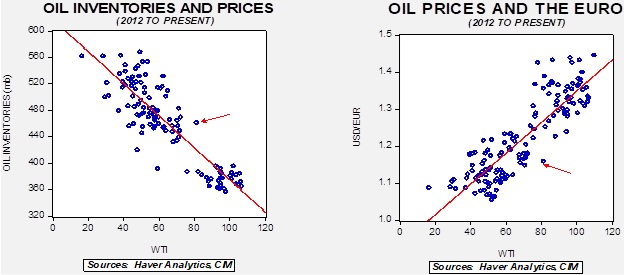 Based on our oil inventory/price model, fair value is $63.30; using the euro/price model, fair value is $58.57.  The combined model, a broader analysis of the oil price, generates a fair value of $60.49.  Across all models, the current price of oil is overvalued.  Although supply concerns, especially the lack of response from producers in the light of high prices, is a bullish factor, it is also arguable that prices have mostly discounted (or perhaps more than discounted) the impact of this issue.  If so, we may see a period of consolidation in the coming weeks.
Another factor has been the decline in the SPR.  Since July 2020, inventory in the SPR has declined 43.6 mb, or about 2.9 mb per month.  As the chart below shows, the withdrawal from the SPR has not been a straight line, but if the SPR had not been reduced, current inventories would be below 410 mb, a level that would be consistent with current prices.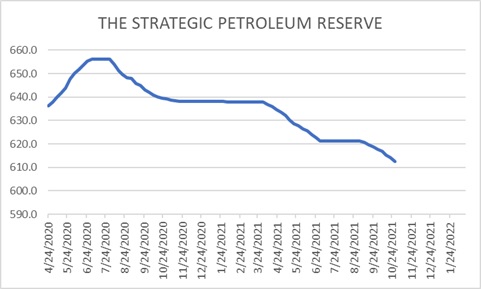 (Sources:  DOE, CIM)
The Consolidated Appropriations Act of 2018 mandated 10 mb of sales from the SPR in 2020 and 2021 as part of a 58 mb sales over eight fiscal years beginning in 2018.  Since August, we have seen about 10 mb of sales, which means we may be getting near the end of sales for this year.
 Market news:
Although there is clear evidence that ESG practices are reducing domestic production, the administration continues to blame OPEC for high oil prices.  The fact of the matter is that if the world is going to reduce carbon emissions, it will be hard to enact that without demand destruction brought about by higher prices.
The current budget in Congress includes several measures that affect the oil and gas industry.  Here are the short takes:

Methane fees—the EPA would collect fees that would escalate over time based on leakages of the gas.
Bans on new offshore oil and gas leases—would permanently ban new leases on both coasts and the eastern GOM and protect the ANWR.
Raises royalty fees—lifts fees on offshore projects to 14% and the onshore rate between 12.5% to 18.75%.  These rates apply to new leases.
Increases the minimum bid for oil and gas leases to $10 from $2 with an inflation escalator attached.
New per acre fees for Federal leases and on expressions of interest—there will be a $4 per acre Conservation of Resources fee for new production leases along with a $6 per acre fee on non-producing (speculative) leases.
Severance fee—a collection of $0.50 per barrel on oil produced from Federal lands or the Outer Continental Shelf and $2 per metric ton of coal output.
Other—rental rates are raised, lease terms reduced, and bonding requirements added.
Offshore pipeline fees—charge pipeline owners a fee of $1,000 per mile for undersea pipelines up to 500 feet, $10,000 per mile for greater depths.

All these obviously raise the cost of extracting oil and gas.  However, it is still not clear they will become law.  For example, Sen. Manchin (D-WV) opposes the methane salvage fee.
China is tapping its strategic reserves and implementing rationing in a bid to deal with supply shortages and price increases.  However, there are reports that strategic stockpiles are so low that Beijing may have no choice but to step up imports.  That is already happening with LNG.
Although Russia continues to claim it is supplying adequate levels of natural gas to Europe, there is evidence it is actually withdrawing gas from the continent.
One way EU nations could reduce energy prices to households would be to lower taxes on energy products.
Geopolitical news:
Alternative energy/policy news: