Weekly Energy Update (May 4, 2023)
by Bill O'Grady, Thomas Wash, and Patrick Fearon-Hernandez, CFA | PDF
Recession fears are gripping the oil market, sending prices toward lows last seen in March.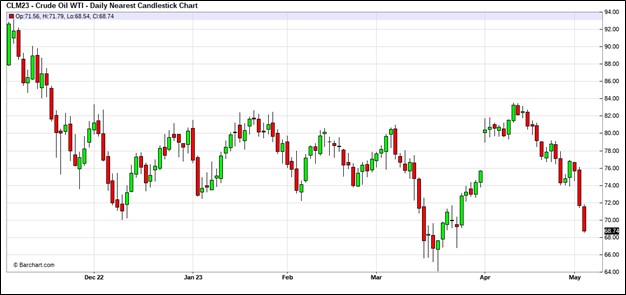 (Source: Barchart.com)
Commercial crude oil inventories fell 1.3 mb compared to the forecast draw of 1.5 mb.  The SPR fell 2.0 mb, putting the total draw at 3.3 mb.

In the details, U.S. crude oil production rose 0.1 mbpd to 12.3 mbpd.  Exports fell 0.1 mbpd, while imports were unchanged.  Refining activity fell 0.6% to 90.7% of capacity.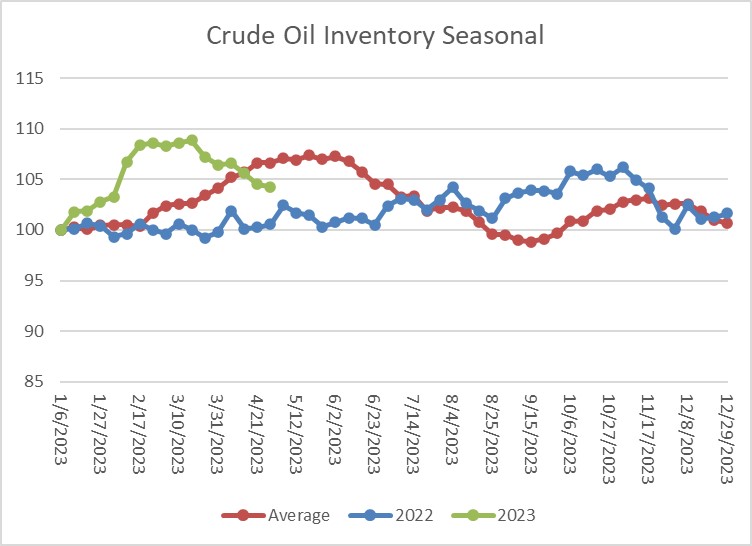 (Sources: DOE, CIM)
The above chart shows the seasonal pattern for crude oil inventories.  After accumulating oil inventory at a rapid pace into mid-February, injections first slowed and have since declined, putting storage levels below seasonal norms.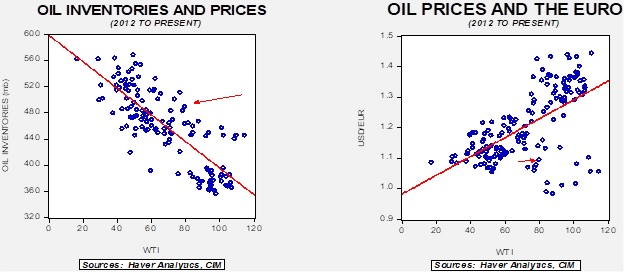 Fair value, using commercial inventories and the EUR for independent variables, yields a price of $58.88.  Although OPEC+ is trying to stabilize the market, recession worries are clearly pressuring crude oil prices.
Since the SPR is being used, to some extent, as a buffer stock, we have constructed oil inventory charts incorporating both the SPR and commercial inventories.  With another round of SPR sales set to happen, the combined storage data will again be important.

Total stockpiles peaked in 2017 and are now at levels last seen in 2002.  Using total stocks since 2015, fair value is $95.17.
Market News:
 Geopolitical News:
China may be building military installations, or at least intelligence-gathering platforms, in the UAE. The emirate is home to the Al Dhafra Air Base which is used by the USAF.
In the debate over the "petrodollar v. petroyuan," the reserve asset is a key issue. There is an argument that the petroyuan can't work because China won't create a reserve asset.  If an oil exporter accepts CNY, what will they do with it if they can't buy Chinese financial assets?  One solution is to use the funds for investment.  We note that China is building a steel factory in the Kingdom of Saudi Arabia (KSA).  The KSA has indicated that it will accept CNY for payment, so using the currency to fund Chinese investment in the country is one solution.
Iran seized two oil tankers this week that held crude oil destined for the U.S. One of the tankers is leased by a Chinese shipper but sailed under the flag of the Marshall Islands, and the second carried a Panamanian flag.  These actions may have been in retaliation for the U.S. redirecting an Iranian vessel bound for China, which was carrying crude oil.
Russia considers Armenia and Azerbaijan to be included in its sphere of influence. These two powers have been in some sort of conflict for decades, however, which complicates matters for Moscow.  In an interesting twist, the U.S. is holding talks between the two nations to moderate tensions, a move that will be seen by the Kremlin as meddling.  We note that the natural gas supply line from Russia to Armenia has been temporarily suspended for repairs just as the discussions appear to be getting underway.
In a recent Bi-Weekly Geopolitical Report, we noted that the KSA has indicated what it would require in order to normalize relations with Israel. Reports suggest the U.S. is considering its options.
Iranian officials fleeing the violence in Sudan were evacuated by the KSA military. These officials arrived in Jeddah this week.  The news adds to evidence of the thaw between the KSA and Iran.
The impact of sanctions has mostly been to disrupt oil flows. Although Russia is still exporting significant levels of oil and natural gas, it is earning less due to the increased cost of transportation.  India, it appears, is a prime beneficiary since it is taking Russian crude oil and processing it into products to be sold to Europe.
Resource nationalism is becoming increasingly common. Last week, we noted that Chile has moved to nationalize its lithium industry.  We discuss this in further detail in the Alternative Energy section below.
We continue to monitor updates on the Nord Stream I and II attacks. Denmark reports that Russian vessels that carry small submarines were seen in the area just before the blast.
Turkmenistan has started exporting natural gas to Pakistan for its eventual sale to Afghanistan. Turkmenistan wants to build pipelines to South Asia to boost its exports but is finding it hard to secure routes through Afghanistan.
A German firm's investment in Siberian natural gas fields may be supporting Russia's war effort.
Iran is looking to swap oil for Chinese cars.
 Alternative Energy/Policy News: