Weekly Energy Update (May 27, 2021)
by Bill O'Grady, Thomas Wash, and Patrick Fearon-Hernandez, CFA | PDF
(Due to staff vacation schedules, the next report will be published on June 10.)
 Oil prices continue to trade in a range from $60 to $68 per barrel.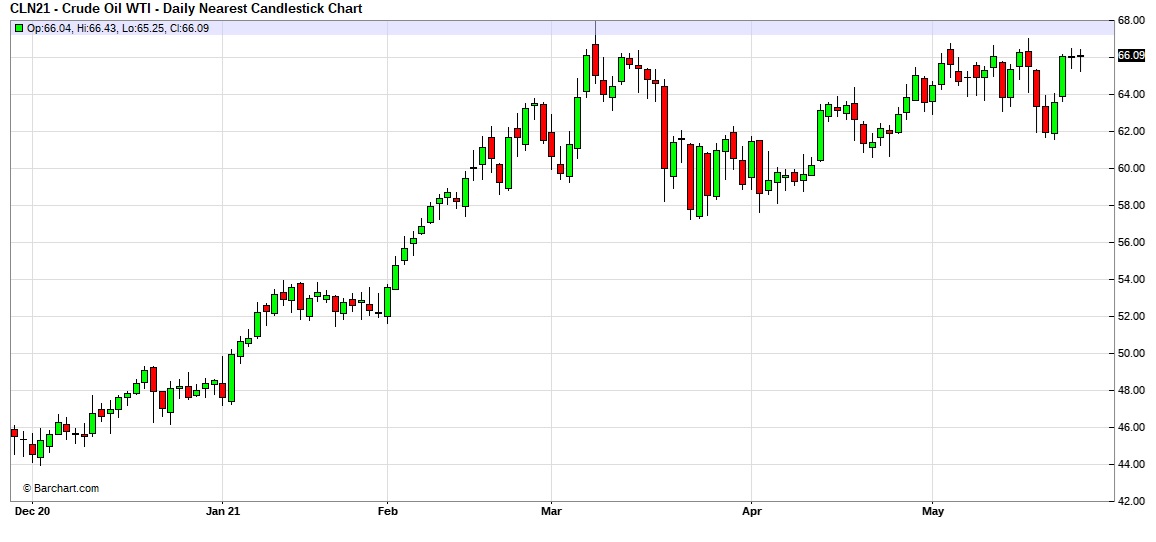 (Source: Barchart.com)
Crude oil inventories fell 1.7 mb compared to the 1.0 mb draw expected.  The SPR fell 1.6 mb, meaning without the addition from the reserve, commercial inventories would have declined 2.3 mb.

In the details, U.S. crude oil production was steady at 11.0 mbpd.  Exports rose 1.5 mbpd while imports rose 0.9 mb.  Refining activity rose 0.2%.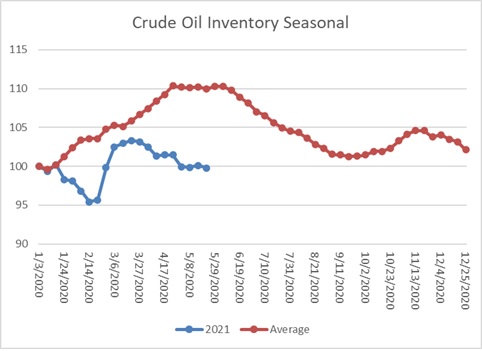 (Sources: DOE, CIM)
This chart shows the seasonal pattern for crude oil inventories.  We are through the peak of the winter/early spring build season.  In the second half of June, stockpiles usually decline.  Note that stocks are already below the usual seasonal trough seen in early September.  Our seasonal deficit is 51.7 mb.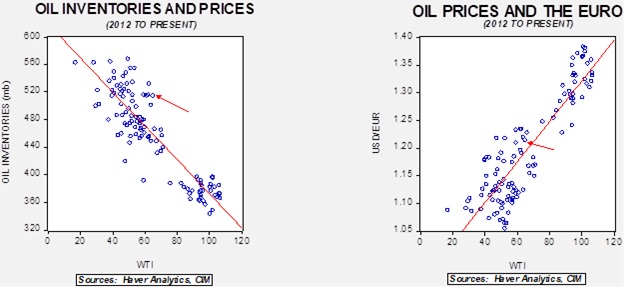 Based on our oil inventory/price model, fair value is $46.78; using the euro/price model, fair value is $69.77.  The combined model, a broader analysis of the oil price, generates a fair value of $57.58.  Although the slow decline in stockpiles is price supportive, the weakening dollar is much more important in lifting the model's fair value.
Market news:
Geopolitical news:
Alternative energy/policy news: