Weekly Energy Update (May 26, 2022)
by Bill O'Grady, Thomas Wash, and Patrick Fearon-Hernandez, CFA | PDF
Crude oil prices have been mostly holding steady this week.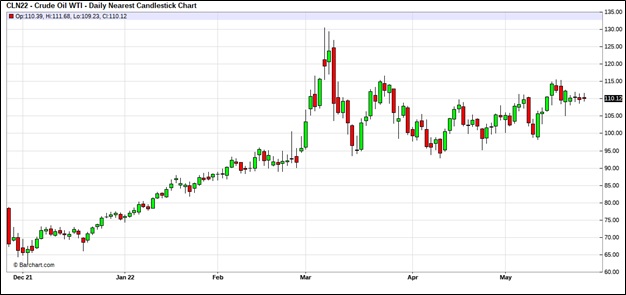 (Source: Barchart.com)
Crude oil inventories fell 1.0 mb compared to a 2.1 mb draw forecast.  The SPR declined 6.0 mb, meaning the net draw was 7.0 mb.

In the details, U.S. crude oil production was unchanged at 11.9 mbpd.  Exports rose 0.8 mbpd, while imports fell 0.1 mbpd.  Refining activity rose 1.4% to 93.2% of capacity.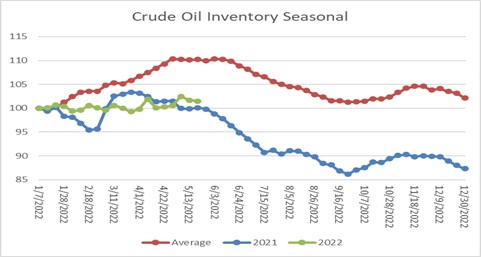 (Sources: DOE, CIM)
The above chart shows the seasonal pattern for crude oil inventories.  This week's report is consistent, showing a partial reversal of last week's rise, with rising crude oil exports and increased refinery activity offsetting the continued draw from the SPR.  Seasonally, the draw begins in earnest in June.
Since the SPR is being used, to some extent, as a buffer stock, we have constructed oil inventory charts incorporating both the SPR and commercial inventories.

Total stockpiles peaked in 2017 and are now at levels seen in late 2008.  Using total stocks since 2015, fair value is $90.65.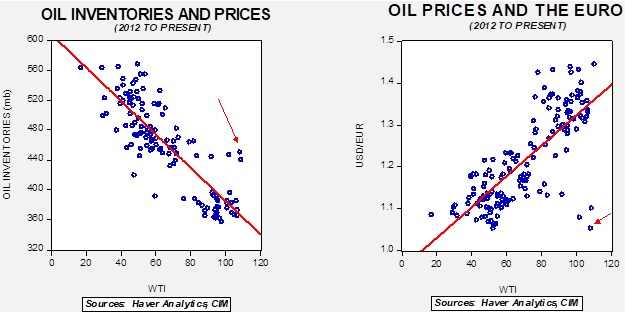 With so many crosscurrents in the oil markets, we see some degree of normalization.  The inventory/EUR model suggests oil prices should be around $60 per barrel, so we are seeing about $40 of risk premium in the market.
To scale the impact of high gasoline prices, we calculate the number of gallons a non-supervisory worker can purchase with one hour of work at the average national retail price of gasoline.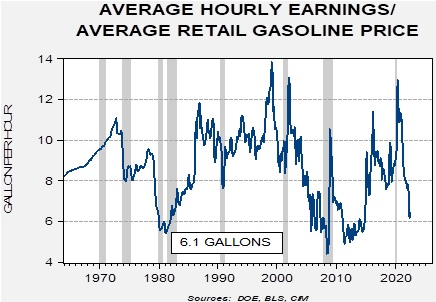 As the chart shows, we are approaching six gallons, which isn't the all-time low but getting close to that level.  In general, low readings tend to track consumer confidence and presidential approval ratings.
Market news: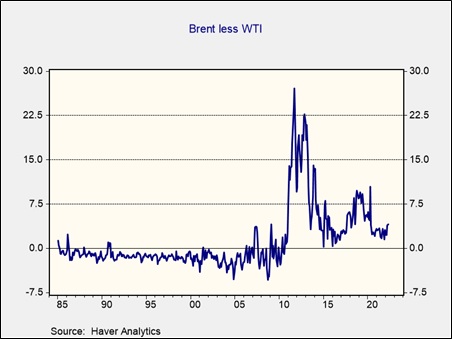 This chart shows the long-term history of the Brent-WTI spread.  Until the shale revolution, WTI regularly was priced higher than Brent.  Restrictions on exports and the explosion of shale production led the spread to flip violently around 2011.  As the U.S. increased oil exports, the spread narrowed, but Brent tended to hold its premium over WTI. The recent narrowing is likely signaling rising export demand from the U.S.
 Geopolitical news:
 Alternative energy/policy news: