Weekly Energy Update (May 18, 2023)
by Bill O'Grady, Thomas Wash, and Patrick Fearon-Hernandez, CFA | PDF
Oil prices were mostly steady over the past week.  Recession fears continue to stifle price movements.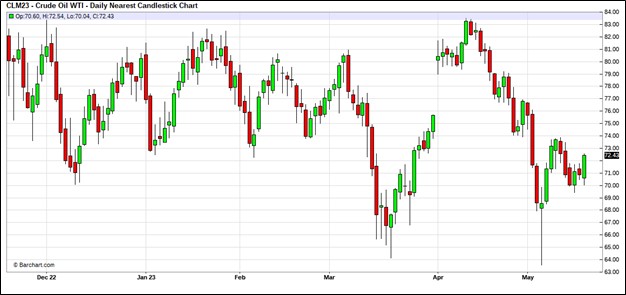 (Source: Barchart.com)
Commercial crude oil inventories rose 5.0 mb compared to the forecast draw of 2.0 mb.  The SPR fell 2.4 mb, putting the total build at 2.6 mb.

In the details, U.S. crude oil production fell 0.1 mbpd to 12.2 mbpd.  Exports rose 1.4 mbpd, while imports increased 1.3 mbpd.  Refining activity rose 1.0% to 92.0% of capacity.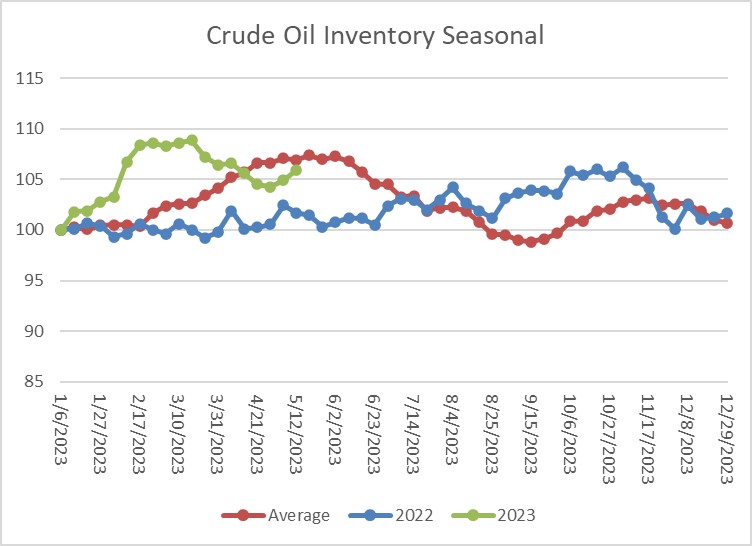 (Sources: DOE, CIM)
The above chart shows the seasonal pattern for crude oil inventories.  After accumulating oil inventory at a rapid pace into mid-February, injections first slowed and then declined.  For the past two weeks, stock have increased, putting the current level near average.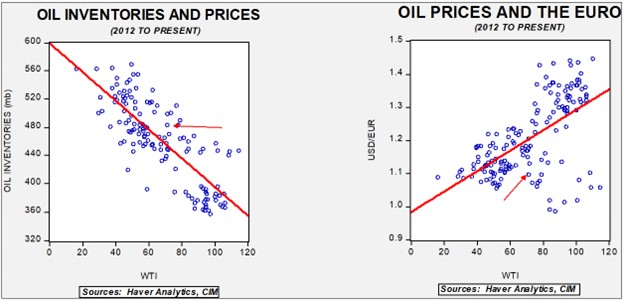 Fair value, using commercial inventories and the EUR for independent variables, yields a price of $56.42.  Although OPEC+ is trying to stabilize the market, recession worries are clearly pressuring crude oil prices.
Since the SPR is being used, to some extent, as a buffer stock, we have constructed oil inventory charts incorporating both the SPR and commercial inventories.  With another round of SPR sales set to happen, the combined storage data will again be important.

Total stockpiles peaked in 2017 and are now at levels last seen in 2002.  Using total stocks since 2015, fair value is $93.20.
Gasoline markets are tight.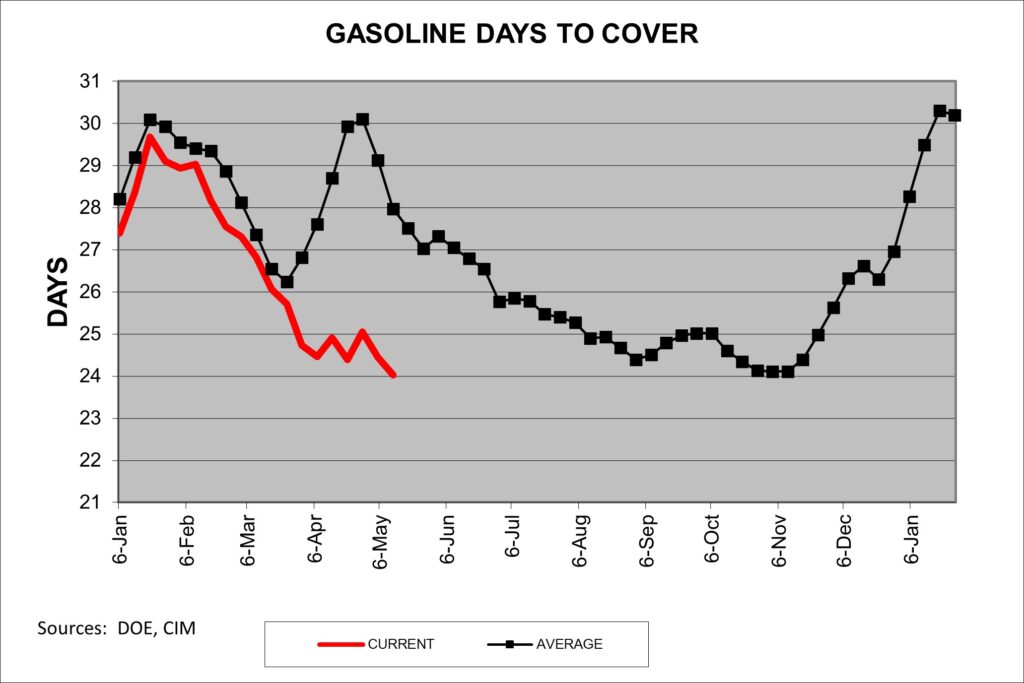 The previous chart shows the number of days the current level of inventory could cover based on current demand.  The latest reading is 24 days, a level we usually see in late October, well after the summer driving season has ended.  As the five-year average shows, we usually have about six more days of inventory available as we swing toward Memorial Day.  Barring a sharp decline in demand, we are going into the summer with unusually tight gasoline supplies, which may boost prices.
Market News: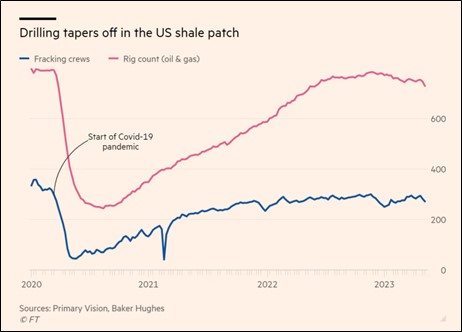 Geopolitical News:
 Alternative Energy/Policy News: