Weekly Energy Update (May 12, 2022)
by Bill O'Grady, Thomas Wash, and Patrick Fearon-Hernandez, CFA | PDF
Oil prices have been volatile over the past few days.  A number of factors have been at play. However, the chart suggests a price range is developing between $100 to $110 per barrel.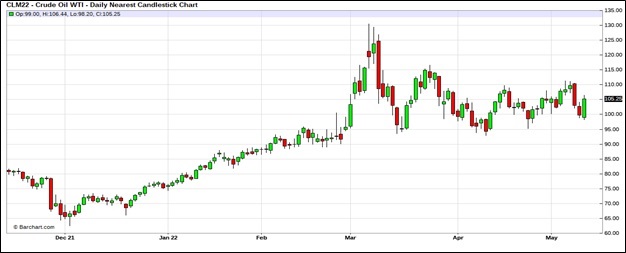 (Source: Barchart.com)
Crude oil inventories unexpectedly rose 8.5 mb compared to a 1.0 mb draw forecast.  The SPR declined 7.0 mb, meaning the net build was 1.5 mb.  This draw from the SPR is the largest single-week withdrawal in history.

In the details, U.S. crude oil production fell 0.1 mbpd to 11.8 mbpd, although the decline is somewhat exaggerated due to rounding.  Exports fell 0.1 mbpd, while imports declined 0.7 mbpd.  Refining activity rose 1.6% to 90.0% of capacity.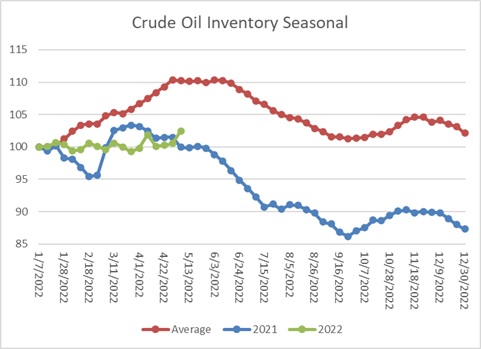 (Sources: DOE, CIM)
The above chart shows the seasonal pattern for crude oil inventories.  This week's report shows a sharp rise, reflecting the large draw in the SPR.  As refining operations expand, the SPR sales should prevent a large draw in commercial stocks.  Seasonally, the draw begins in earnest in June.
Since the SPR is being used, to some extent, as a buffer stock, we have constructed oil inventory charts incorporating both the SPR and commercial inventories.

Total stockpiles peaked in 2017 and are now at levels seen in late 2008.  Using total stocks since 2015, fair value is $87.23.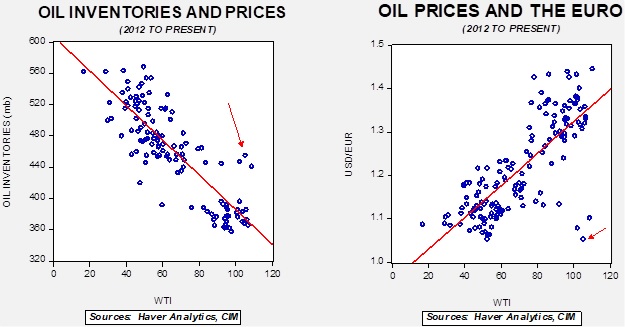 With so many crosscurrents in the oil markets, we see some degree of normalization.  The inventory/EUR model suggests oil prices should be around $60 per barrel, so we are seeing about $40 of risk premium in the market.
Market news: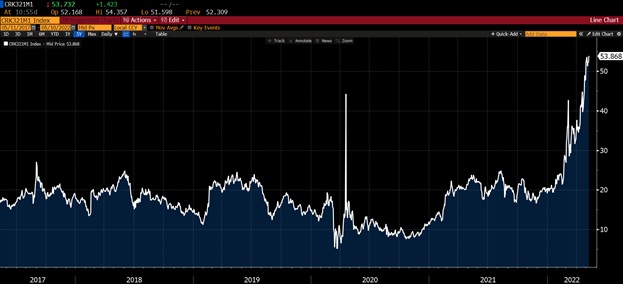 (Source:  Bloomberg)
Complicating matters further is that product demand has been robust as much of the developed world emerges from the COVID-19 pandemic.  High gasoline prices are a politically sensitive issue.  This report is a primer on the gasoline market and why efforts to bring prices down will likely be less effective than hoped.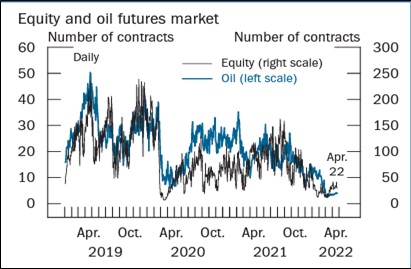 (Source:  Federal Reserve)
Geopolitical news:
The EU is failing to formulate a plan to embargo Russian oil and gas. The EU structure requires unanimous approval for most measures, and Hungary has objected to sanctioning Russian oil.  Although we expect some sort of restrictions to be developed, it isn't going to occur in the near term.  A plan to effectively ban Russian oil shipments by denying tankers insurance has also failed due to objections from Greece.

It should be noted that bans would adversely impact Europe. Germany could see a 12% decline in GDP if Russian natural gas is banned.

The odds of an Iran deal appear to be lengthening. There is rising pressure in Congress to raise obstacles to an agreement, and the overall political costs are increasing.  In addition, the benefits of a thaw are falling; more Iranian crude oil is leaking into the global economy as India and China increase purchases.  Our position has been that a deal would never occur.  Increasingly, it appears one won't.

Iranian President Raisi has announced subsidy cuts on bread. As wheat prices have risen, the costs of subsidies have soared.  However, such cuts are risky.  Most of these subsidies offer sustenance to the poor.  Cutting subsidies could trigger civil unrest if inflation rises further.
 Alternative energy/policy news:
Renewable energy output continues to expand. A recent IEA report shows how renewables are slowly offsetting conventional energy.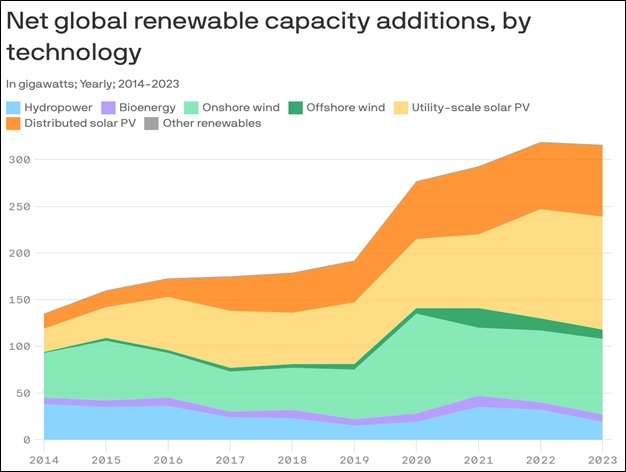 (Source:  Axios)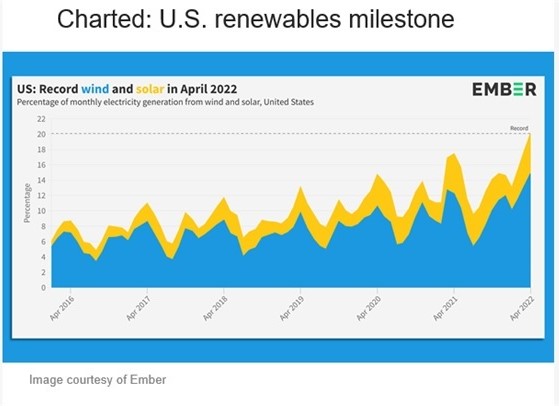 ---
[1] This spread is (2 gasoline * 42 + 1 heating oil * 42)- 3 crude oil.  Multiplying by 42 converts the gallon price to a barrel.  This spread roughly mimics the output of a U.S. refinery.