Weekly Energy Update (March 4, 2021)
by Bill O'Grady, Thomas Wash, and Patrick Fearon-Hernandez, CFA | PDF
Here is an updated crude oil price chart.  Prices are consolidating in the high $50s to the mid-$60s.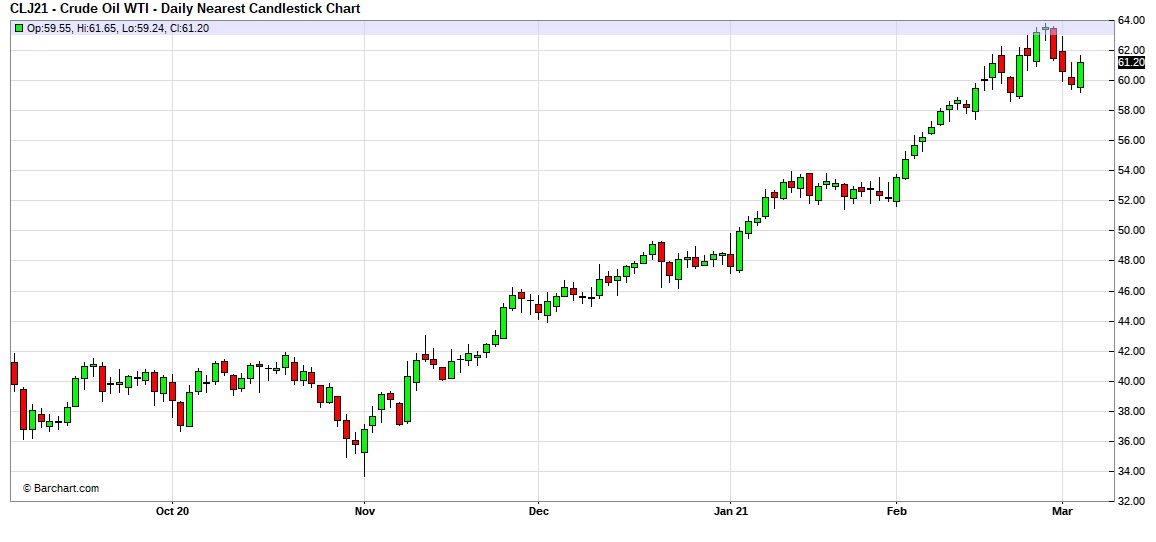 Crude oil inventories jumped 21.6 mb when a draw of 4.0 mb was forecast.  There was no change in the SPR.  The build in stockpiles was offset by declines in product but the report outlier was the 12.6% drop in refinery operations which prompted the rise in inventories.

In the details, U.S. crude oil production rose 0.3 mbpd to 10.0 mbpd.  Exports were unchanged, while imports rose 1.7 mbpd.  Refining activity plunged 12.6%.  The second week of falling refining activity led to the unanticipated rise in inventories.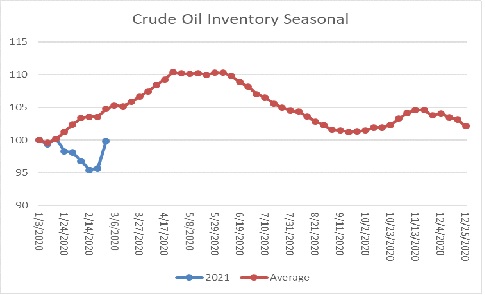 The above chart shows the annual seasonal pattern for crude oil inventories.  This week's rise is seasonally normal but clearly outsized.  The usual seasonal pattern occurs due to refinery maintenance; in the past, the U.S. oil industry had limited ability to export, which contributed to the seasonal pattern.  With the potential for higher exports, the expected seasonal build may not occur, which would be bullish for prices.  If we were following the normal seasonal pattern, oil inventories would be 34.5 mb higher.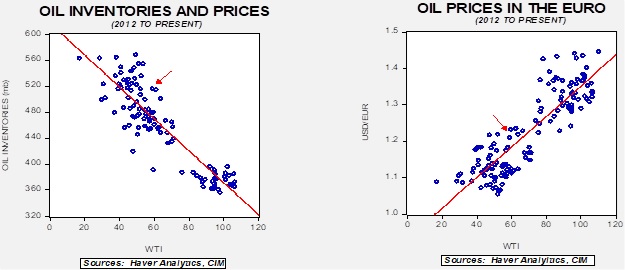 Based on our oil inventory/price model, fair value is $45.63; using the euro/price model, fair value is $68.88.  The combined model, a broader analysis of the oil price, generates a fair value of $59.83.  The divergence continues between the EUR and oil inventory models, although it is narrowing.
As we noted above, refinery utilization plunged last week.  This is the lowest weekly utilization on record dating back to 1986.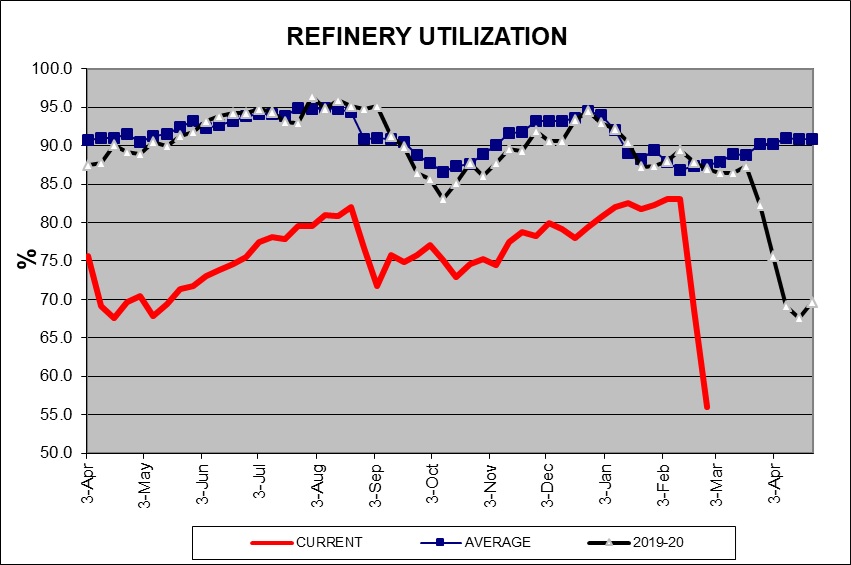 Market news:  As the data show, the oil markets are still adjusting to the February cold snap.  We would expect normalization to begin with next week's report.  Sadly, the financial fallout will likely last much longer.
Geopolitical news:
Alternative energy/policy news: