Weekly Energy Update (March 25, 2021)
by Bill O'Grady, Thomas Wash, and Patrick Fearon-Hernandez, CFA | PDF
Here is an updated crude oil price chart.  Prices have declined over $10 per barrel since peaking on March 8.  Worries about slowing European growth and a slower than expected recovery in refinery operations after the Texas freeze have weighed on prices.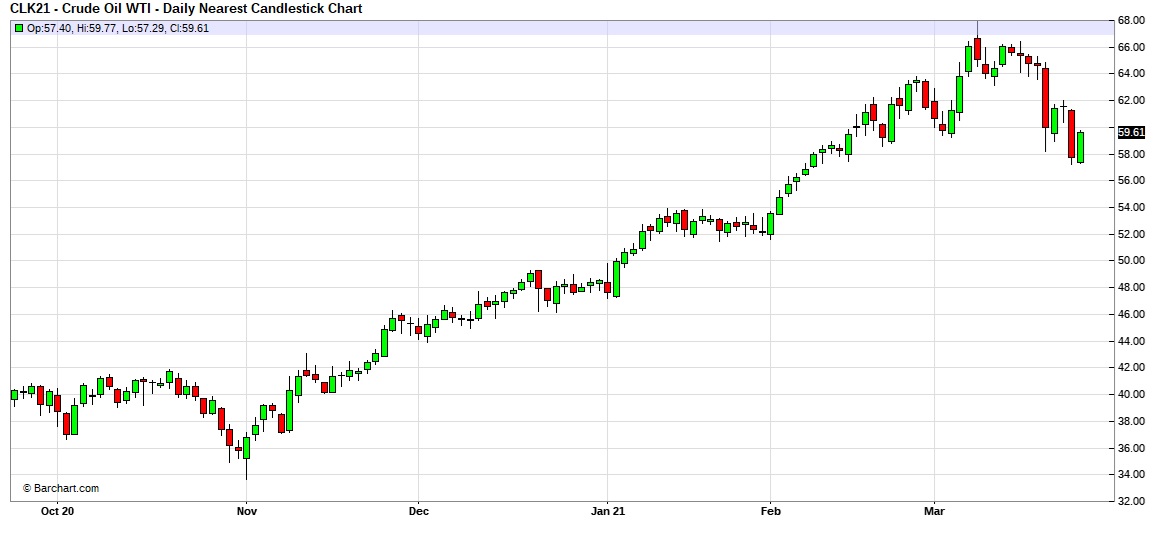 Crude oil inventories rose 1.9 mb compared to the 1.2 mb expected.  There was no change in the SPR.  Refinery operations, as noted below, continue to recover.

In the details, U.S. crude oil production rose 0.1 mbpd to 11.0 mbpd, meaning that U.S. production has recovered to pre-Texas disruption levels.  Exports were unchanged, while imports rose 0.3 mbpd.  Refining activity rose 5.5%.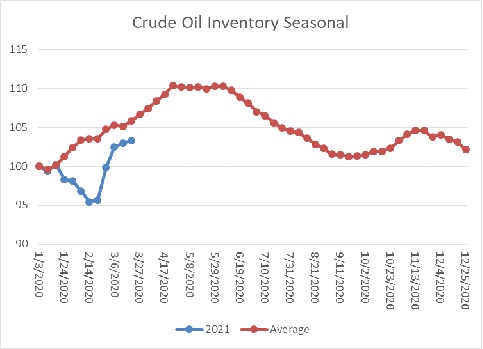 The above chart shows the annual seasonal pattern for crude oil inventories.  Inventories remain at a seasonal deficit, but the gap did narrow, mostly due to disruptions surrounding the recent cold snap.  If we were following the normal seasonal pattern, oil inventories would be 17.1 mb higher.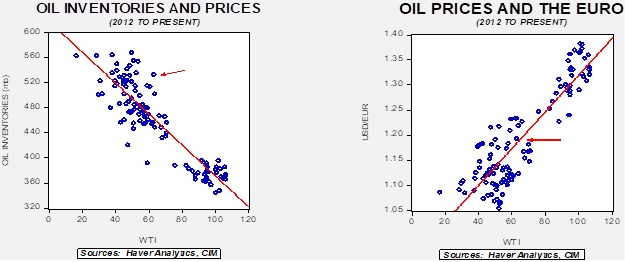 Based on our oil inventory/price model, fair value is $40.25; using the euro/price model, fair value is $65.54.  The combined model, a broader analysis of the oil price, generates a fair value of $51.37.  The divergence continues between the EUR and oil inventory models, although recent dollar strength has reduced the projected fair value generated from the euro/price model.
Refinery operations continued to recover last week and are near pre-winter storm levels.  We would expect utilization to stabilize in the coming weeks.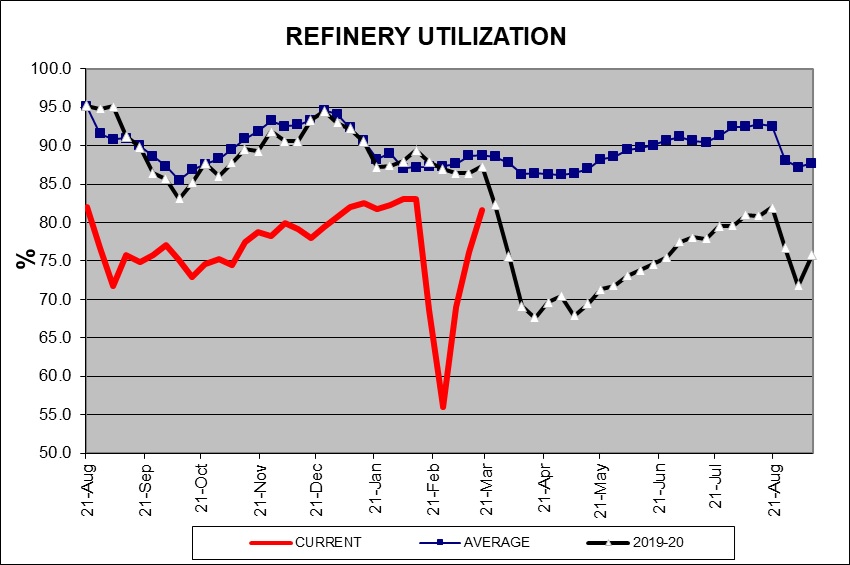 Market news: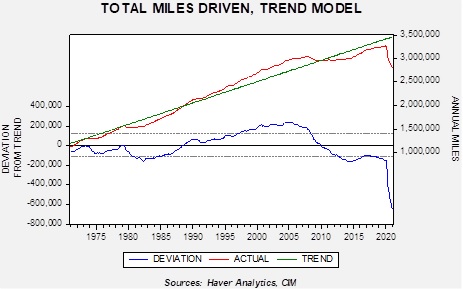 Driving activity fell below trend during the Great Financial Crisis and plummeted during the pandemic.  It is highly unlikely we will ever return to trend.  This factor will tend to dampen either gasoline prices or force the refining industry to contract.  Recent IEA research supports this notion.
Geopolitical news:
A Biden administration goal was to return to the Obama-era nuclear deal.  However, very little progress has been made.  Iran wants the U.S. to roll back sanctions as a precondition for talks, while the U.S. wants Iran to cut back on nuclear activities as a precondition for talks.  Given the history, neither side trusts the other.  A complicating factor is that some parts of the 2015 agreement are coming to their negotiated end, meaning the return to the original deal doesn't do much to address Iran's threat to the region.  Our take is that Obama wanted Iran to become the regional hegemon, allowing the U.S. to then shift its focus to Asia.  Naturally, Israel and the Gulf States opposed this idea.  However, the nuclear deal was a small step in the process; Obama likely accepted this because he assumed a Democrat would succeed him and carry out the rest of the process.  This obviously didn't occur.  Now, the Biden administration likely has the same goal―exiting the Middle East―but doesn't have an obvious path to that end.
Alternative energy/policy news: