Weekly Energy Update (March 9, 2023)
by Bill O'Grady, Thomas Wash, and Patrick Fearon-Hernandez, CFA | PDF
Crude oil remains in a trading range between $72-$82 per barrel.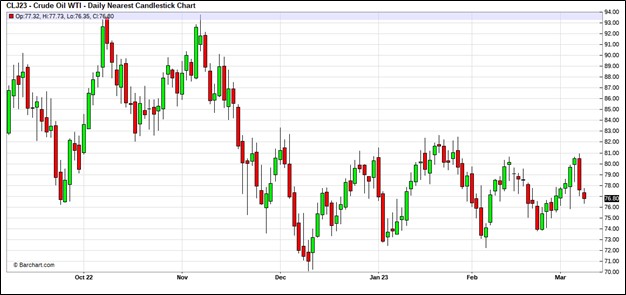 (Source: Barchart.com)
Crude oil inventories fell 1.7 mb compared to a 1.9 mb build forecast.  The SPR was unchanged.

In the details, U.S. crude oil production declined 0.1 mbpd to 12.2 mbpd.  Exports fell 2.3 mbpd, while imports rose 0.1 mbpd.  Refining activity rose 0.2% to 86.0% of capacity.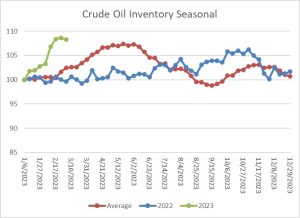 (Sources: DOE, CIM)
The above chart shows the seasonal pattern for crude oil inventories.  We have been accumulating oil inventory at a rapid pace, even without SPR sales.  This week, while there was a modest drop in inventory, we remain well above normal seasonal levels.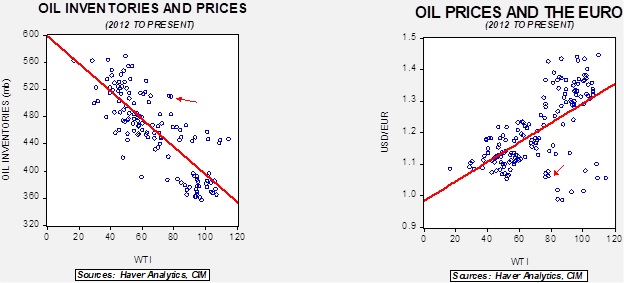 Since the SPR is being used, to some extent, as a buffer stock, we have constructed oil inventory charts incorporating both the SPR and commercial inventories.  With another round of SPR sales set to happen, the combined storage data will again be important.

Total stockpiles peaked in 2017 and are now at levels last seen in 2001.  Using total stocks since 2015, fair value is $93.31.
The Unaccounted Problem
The DOE's weekly report is a combination of survey data and estimates.  Although traders focus on the weekly reports, the government views the monthly reports as the most accurate.  Unfortunately, the monthly reports are issued with a two-month lag. For practical purposes then, the weekly data, though imperfect, is what moves markets.
Line 13 of the petroleum supply section of the petroleum balance sheet is a plug number called "adjustment."  It was previously called "unaccounted for crude oil" as it balances the known sources of crude oil (production, net imports, stock change) with the level of crude oil consumed by the domestic refining industry.  Lately, this number has been rising.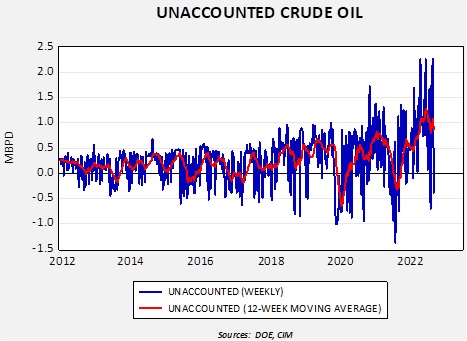 When the reading is above zero, it indicates that more crude oil was refined that week than was identified in the surveys or estimates.  What we know is that there is more crude oil (and/or associated products) available, but what is being missed is quite important.  The DOE argues that blending components used by refiners are possibly being included in the count of crude oil.  However, it is also possible that (a) production is higher than estimated since production in the lower 48 is an estimate, (b) imports are higher, (c) exports are lower, or (d) there is more oil being moved from inventory.  Obviously, how this unaccounted crude oil is accounted for matters a great deal.  Our guess is that it's likely a combination of blending stocks being counted as crude oil and, perhaps, lower exports.  In any case, the monthly numbers should provide some clarity…in May.
Market News:
 Geopolitical News:
 Alternative Energy/Policy News: