Weekly Energy Update (March 2, 2023)
by Bill O'Grady, Thomas Wash, and Patrick Fearon-Hernandez, CFA | PDF
Crude oil remains in a trading range between $72-$82 per barrel.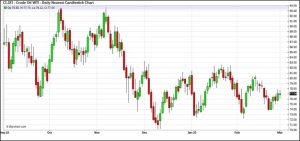 (Source: Barchart.com)
Crude oil inventories rose 1.2 mb compared to a 1.8 mb build forecast.  The SPR was unchanged.

In the details, U.S. crude oil production was unchanged at 12.3 mbpd.  Exports rose 1.0 mbpd, while imports fell 0.1 mbpd.  Refining activity fell 0.1% to 85.8% of capacity.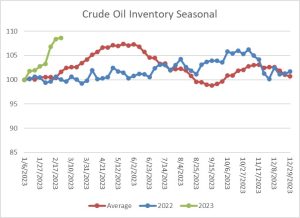 (Sources: DOE, CIM)
The above chart shows the seasonal pattern for crude oil inventories.  We have been accumulating oil inventory at a rapid pace, even without SPR sales.  The primary culprit is low refining activity, which should pick up later this year.  The rapid rise in stockpiles is a bearish factor for oil, and current stockpiles have already exceeded the five-year average peak normally seen in early summer.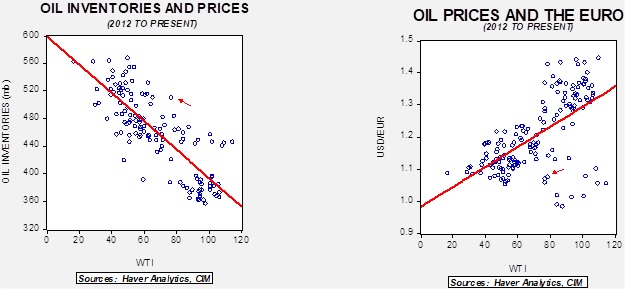 Since the SPR is being used, to some extent, as a buffer stock, we have constructed oil inventory charts incorporating both the SPR and commercial inventories.  With another round of SPR sales set to happen, the combined storage data will again be important.

Total stockpiles peaked in 2017 and are now at levels last seen in 2001.  Using total stocks since 2015, fair value is $94.18.
Natural Gas Update:
Natural gas prices have been under pressure this winter, mostly due to mild temperatures.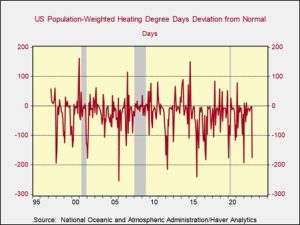 This chart shows the deviation of population-weighted heating degree days[1] for the U.S. compared to the average from 1981 through 2010.  A negative reading suggests warmer-than-normal temperatures, meaning fewer heating degree days.  Although this January was not the mildest on record, heating degree days were clearly below normal.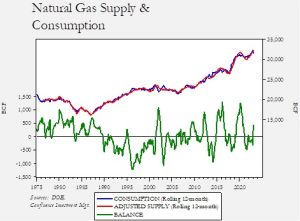 In looking at the trend of supply and consumption, currently the market is oversupplied (indicated by the balance variable being greater than zero).  Interestingly enough, consumption remains robust but so does supply growth.
Because of the warm winter, current inventories are above normal.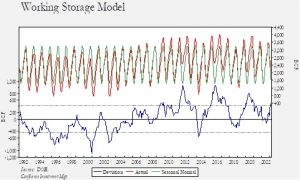 The previous chart shows seasonally adjusted working natural gas storage.  As the deviation line shows, stockpiles are above normal.  We have one more month of storage withdrawals.  In April, the inventory injection season begins.
Market News: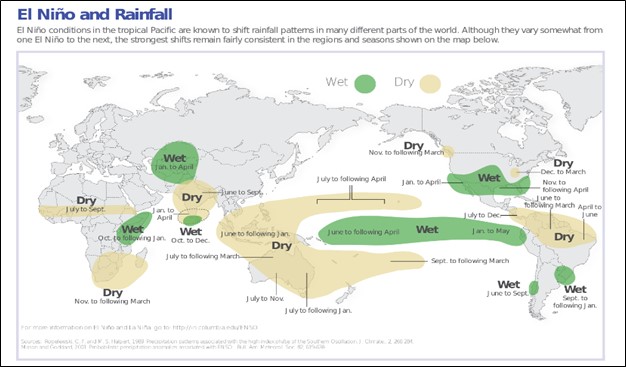 (Source: NOAA)
The below map shows likely winter temperature effects from El Niño.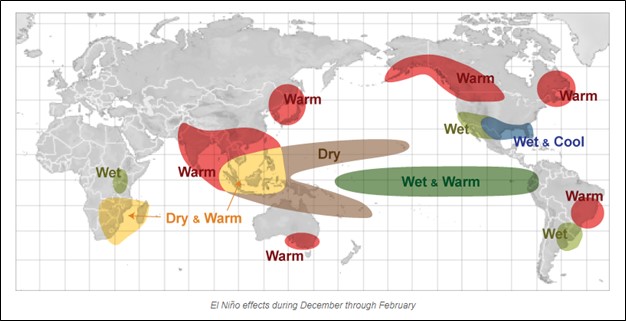 (Source: weather.gov)
Although strong pricing of oil should support increased drilling activity, shale producers have been raising output slowly. Rising production costs and less attractive fields are capping production growth.
After more than 70 years, BP (BP, $39.87) announced that it will cease publishing its Statistical Review of World Energy. The report will now be compiled by the Energy Institute.
 Geopolitical News:
  Alternative Energy/Policy News:
---
[1] Heating degree days (HDD) are a measure of how cold the temperature was on a given day or during a period of days compared to 65oF. For example, a day with a mean temperature of 40°F has 25 HDD. Two such cold days in a row have a total of 50 HDD for the two-day period.