Weekly Energy Update (March 17, 2022)
by Bill O'Grady, Thomas Wash, and Patrick Fearon-Hernandez, CFA | PDF
Oil prices have fallen to near pre-invasion levels.  The initial rally was driven by short covering, and price volatility has reduced market participation.

(Source: Barchart.com)
Crude oil inventories unexpectedly rose 4.3 mb compared to a 1.6 mb draw forecast.  The SPR declined 2.0 mb, meaning the net build was 2.4 mb.

In the details, U.S. crude oil production was unchanged at 11.6 mbpd.  Exports rose 0.5 mbpd, while imports fell 0.4 mb.  Refining activity rose 1.1% and is now 90.4% of capacity.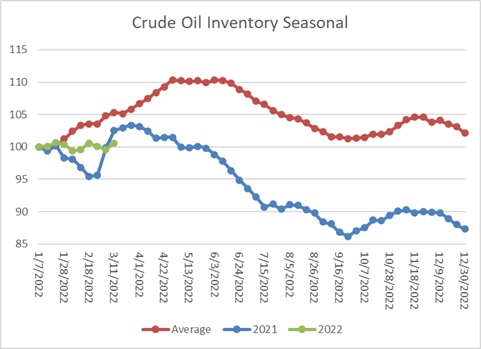 (Sources: DOE, CIM)
This chart shows the seasonal pattern for crude oil inventories.  Even though inventories rose this week, they remain below last year and well below the seasonal average.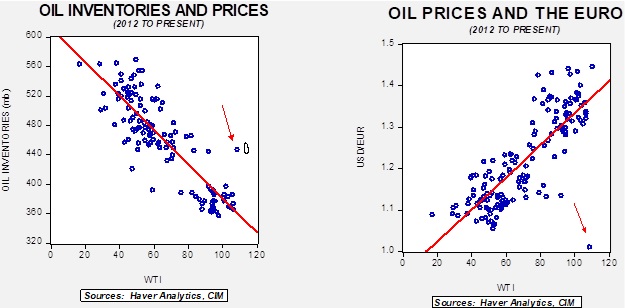 These charts make evident that the normal relationships between the dollar, inventory, and oil prices are currently broken.  However, the chart on the left indicates the degree of overvaluation has narrowed.  Last week is represented by the circle; we have seen prices move in (the average daily price during the month of March is used for this dot).  Overall, the market is consolidating after the major war spike.  We look for continued consolidation, although we note that the situation with Ukraine remains fluid, and prices could move strongly in either direction on war news.
 Market news:
The oil market has been rocked by massive price volatility. As the above chart shows, we are seeing giant swings in the market. The spike we have seen recently appears to be a product of short covering.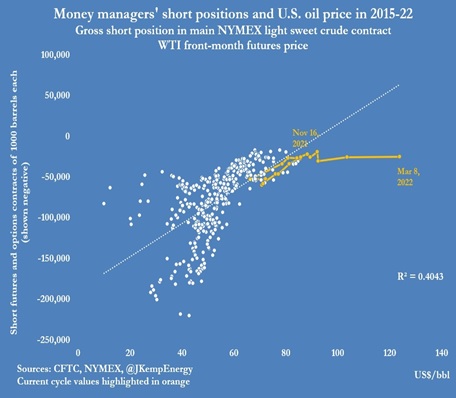 As the chart above shows, we have seen a bout of short covering.  Producing hedgers often use short positions in the futures markets or in over-the-counter instruments.  When prices spike higher, a hedged producer will see the value of the short hedges fall rapidly. Eventually, of course, the producer will sell higher-priced crude into the cash market, but until the sale is made, the hedger will face margin calls to maintain the short hedges.  Essentially, a hedger trades price risk for liquidity risk.  The current extreme situation is creating conditions of liquidity risk for the oil industry (metals too, as seen by the LME closing the nickel trading pit) and creating calls for central bank support.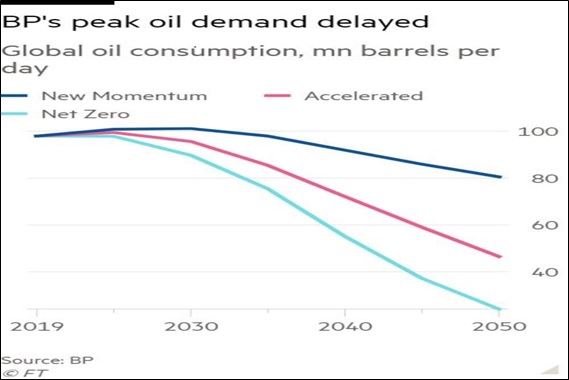 It is hard to justify increased investment into declining demand; the odds of creating stranded assets are elevated.
 Geopolitical news:
Alternative energy/policy news: