Weekly Energy Update (June 30, 2022)
by Bill O'Grady, Thomas Wash, and Patrick Fearon-Hernandez, CFA | PDF
(N.B.=> due to Independence Day, the next report will be issued on July 14.)
The DOE has resolved its systems issues and released weekly data for 6/17/22 and 6/24/22.  We update the data below.
After a sharp correction on recession worries, crude oil prices are recovering.

(Source: Barchart.com)
Crude oil inventories fell 2.8 mb compared to a 1.0 mb draw forecast.  The SPR declined 7.0 mb, meaning the net draw was 9.8 mb.

In the details, U.S. crude oil production rose from 0.1 mbpd to 12.1 mbpd.  Exports and imports both fell 0.2 mbpd.  Refining activity rose 1.0% to 95.0% of capacity.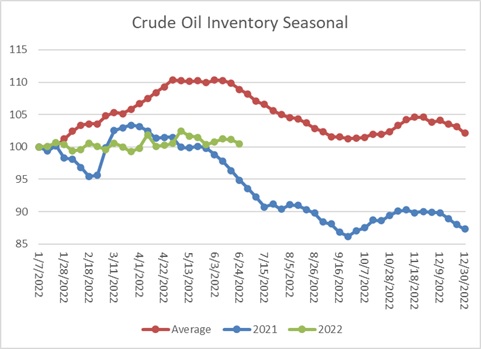 (Sources: DOE, CIM)
The above chart shows the seasonal pattern for crude oil inventories.  This week's report hints we are starting the usual seasonal decline in inventory that should last into early September.  We are not seeing declines similar to last year but something more like the average path.
Since the SPR is being used, to some extent, as a buffer stock, we have constructed oil inventory charts incorporating both the SPR and commercial inventories.

Total stockpiles peaked in 2017 and are now at levels seen in 2004.  Using total stocks since 2015, fair value is $100.86.

With so many crosscurrents in the oil markets, we see some degree of normalization.  The inventory/EUR model suggests oil prices should be around $65 per barrel, so we are seeing about $50 of risk premium in the market.
 Market news:
 Geopolitical news:
 Alternative energy/policy news:
It's summer in the northern hemisphere, which means rising temperatures and increasing air conditioning demand. We are seeing unusually high temperatures in the Far East, including China, Japan, and Russia, especially Siberia.  Norilsk, Russia, about 180 miles from the Arctic Circle, recorded temperatures in excess of 89o, a new record.  Japan has issued warnings of potential blackouts from the heat. China is not only facing high temperatures but flooding as well.  China's temperatures have sent power consumption to new records.

Attributing all unusual weather events to climate change is fraught with risk, but Climate Central claims it has developed ways to determine what is caused by higher CO2 concentrations and what is mere seasonal variation.

When the Ukraine war broke out, some in the analyst community thought this event would speed up the energy transition. Instead, it appears to be leading to a return to fossil fuels.  It is becoming clear that Europe won't tolerate deindustrialization in the face of dwindling Russian oil and gas supplies and instead is not only scrambling for oil and natural gas from other sources but is returning to coal.
Although Tesla (TSLA, USD, 745.46) continues to dominate the EV space in the U.S., it faces increasing competition from the traditional automakers.
As discussed above, climate change concerns tend to take a "back seat" when conventional energy costs rise. Sadly, addressing high costs by burning coal and oil doesn't address the problems of rising CO2 levels.  Even without the events of the past few months, it was doubtful that goals would be met by clean energy production.  Direct removal of carbon from the atmosphere remains necessary if temperature containment is to occur.  Fortunately, removal efforts are showing signs of ramping up.  Big tech is a major funder of these efforts.
Another emerging technology is to expand efforts to tap geothermal energy in the earth's core. The key to this technology is a Soviet-era technique that employs gyrotrons.
---
[1] Strictly speaking, the BIRC isn't a formal organization, so it isn't obvious how one "applies."