Weekly Energy Update (June 16, 2022)
by Bill O'Grady, Thomas Wash, and Patrick Fearon-Hernandez, CFA | PDF
Crude oil prices continue to rise in an orderly fashion.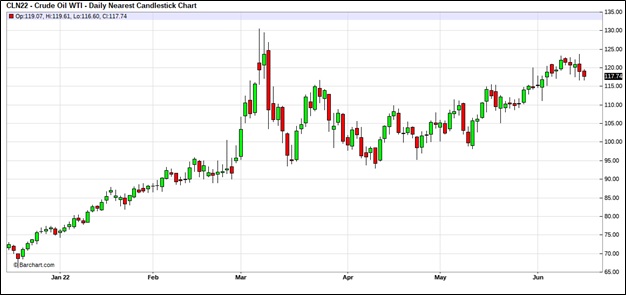 (Source: Barchart.com)
Crude oil inventories rose 2.0 mb compared to a 2.0 mb draw forecast.  The SPR declined 7.7 mb, meaning the net draw was 5.8 mb.

In the details, U.S. crude oil production rose from 0.1 mbpd to 12.0 mbpd.  Exports rose 1.5 mbpd, while imports rose 0.8 mbpd.  Refining activity fell 0.5% to 93.7% of capacity.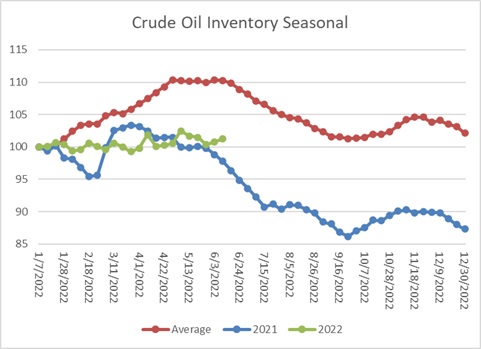 (Sources: DOE, CIM)
The above chart shows the seasonal pattern for crude oil inventories.  This week's report is consistent with the average pattern.  Note the average pattern shows declines into September.
Since the SPR is being used, to some extent, as a buffer stock, we have constructed oil inventory charts incorporating both the SPR and commercial inventories.

Total stockpiles peaked in 2017 and are now at levels seen in 2005.  Using total stocks since 2015, fair value is $97.79.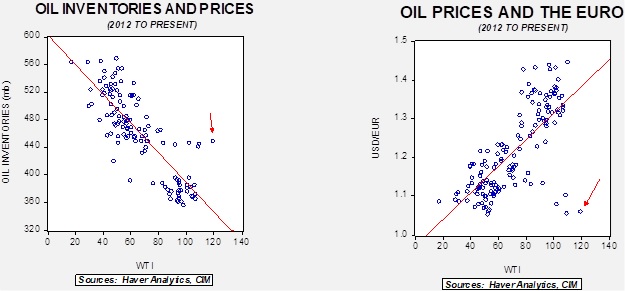 With so many crosscurrents in the oil markets, we see some degree of normalization.  The inventory/EUR model suggests oil prices should be around $65 per barrel, so we are seeing about $50 of risk premium in the market.
Natural Gas Update:
As we head into summer, we wanted to look at current natural gas fundamentals.  First, on a rolling 12-month basis, supply exceeds consumption.
The improved supply situation for the U.S. is partly due to rising production; however, we have also seen lower exports.  Given the U.S. promises to Europe, we look for exports to rise as the summer wears on.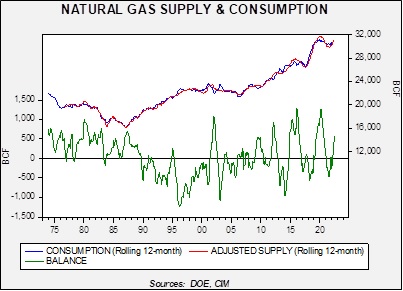 For now, inventories are balanced as we move into summer.  We are in the injection season and thus, expect inventories to rise into November.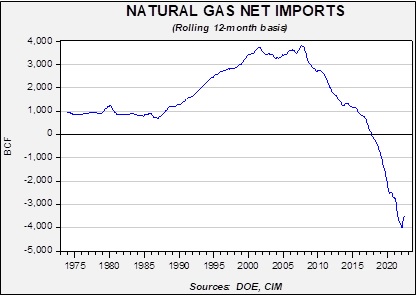 This model compares working storage to the estimated normal level.  We will be watching this model closely over the summer.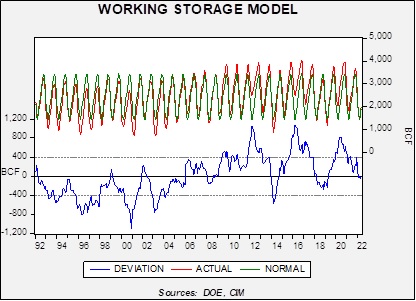 Market news:
The Biden administration is attacking the energy industry.
We are closely monitoring the natural gas market. A couple of factors are driving the market.

We are seeing an early summer heat wave. Last week, the Rockies were dealing with excessive heat, and that heat dome is now moving over the Midwest.  Here in St. Louis, the entire week is expected to be over 90o, with at least three days over 100o.  In a normal summer, St. Louis has three days of over 100o.  The severity of these events is leading forecasters to give heat waves names like we do hurricanes.  High temperatures boost air conditioning use, and since most peaking power units are fired by natural gas, heat waves lift natural gas demand.  We have already seen record electricity demand in Texas.  What is concerning is that this is only June; July and August are usually warmer, so we could be in for a very long, hot summer.  We expect brownouts and blackouts to occur if temps remain elevated.
Last week, a fire at an LNG plant in Texas roiled the market. S. prices fell as the loss of the plant will temporarily lift supplies here.  The news got worse as plant managers indicated the repairs would take closer to three months instead of three weeks.  However, it sent EU prices higher, as the disruption will reduce LNG exports.  Prices were already ticking higher as summer arrived in Europe and Russia cuts supplies further.  This plant produces about a fifth of U.S. LNG, so the loss is a major problem.  LNG imports to Europe are increasing but still are expected to be tight this winter.  Before this event, there were concerns about natural gas supplies in Europe; the chances of rationing increased due to the fire.

Drought continues to reduce western U.S. hydroelectric power, likely boosting demand for natural gas.
Another U.S. oil refinery is set to close in 2023. Diesel fuel prices are hitting records, and gasoline is averaging $5.00 per gallon.  Crude oil prices remain below their all-time highs.
S. oil firms remain reluctant to lift production, especially with talk of a windfall profits tax.
Although it has caught little attention, there are reports that OPEC+ is considering removing all production targets in August. This would allow the cartel to produce full-out.  For most of the oil market's history, some cartel body has restricted supply.  Market intervention was to prevent reservoir destruction.  Restricting output led to higher than market prices but also brought less volatility.  It is because the cartel always had some reserve capacity it could bring to market when prices surged.  If we are running out of spare capacity, not only could oil prices move much higher, but price volatility could soar.  The combination of less than advertised capacity within OPEC and the likely permanent loss of Russian supplies could lead to a high price/high volatility oil market.
The U.S. and EU are trying to create a situation where the world could still take Russian crude oil but reduce how much Russia could earn on the sales via price caps. The idea is to create an oligopsony of buyers that would cap the price of Russian oil.  However, that outcome is already occurring to some extent, as evidenced by the widespread of Urals oil to Brent.
PDVSA, the Venezuelan state oil company, is demanding prepayment for oil sales. Apparently, some buyers are taking crude oil from Venezuela and then not paying for the product.
As global supplies tighten, there is a renewed interest in Canadian tar sands. Given the adverse environmental impact, the interest suggests that high prices are overcoming environmental concerns.
 Geopolitical news:
 Alternative energy/policy news:
---
[1] For background on this issue, see here and here.