Weekly Energy Update (July 28, 2022)
by Bill O'Grady, Thomas Wash, and Patrick Fearon-Hernandez, CFA | PDF
It appears that oil prices are settling into a broad trading range between $125 and $95 per barrel.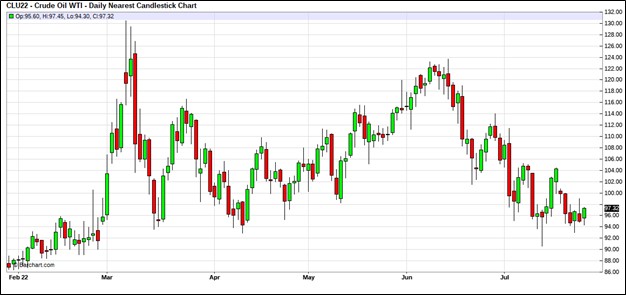 (Source: Barchart.com)
Crude oil inventories fell 4.5 mb compared to a 1.5 mb draw forecast.  The SPR declined 5.6 mb, meaning the net draw was 10.1 mb.

In the details, U.S. crude oil production rose 0.2 mbpd to 12.1 mbpd.  Exports rose 0.8 mb, while imports fell 0.4 mbpd.  Refining activity declined 1.5% to 92.2% of capacity.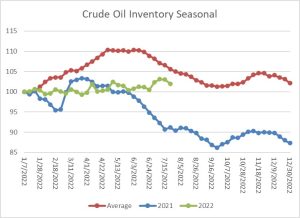 (Sources: DOE, CIM)
The above chart shows the seasonal pattern for crude oil inventories.  Clearly, this year is deviating from the normal path of commercial inventory levels.  Although it is rarely mentioned, the fact that we are not seeing the usual seasonal decline is a bearish factor for oil prices.
Since the SPR is being used, to some extent, as a buffer stock, we have constructed oil inventory charts incorporating both the SPR and commercial inventories.

Total stockpiles peaked in 2017 and are now at levels last seen in 2004.  Using total stocks since 2015, fair value is $103.88.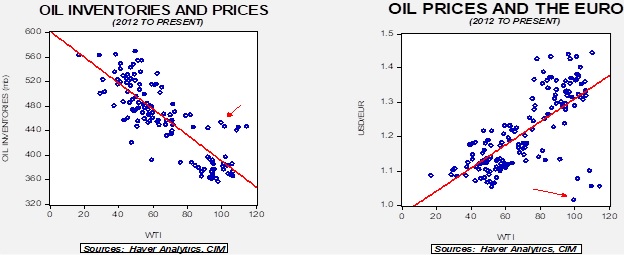 With so many crosscurrents in the oil markets, we are beginning to see some degree of normalization.  The inventory/EUR model suggests oil prices should be around $65 per barrel, so we are seeing about $30 of risk premium in the market.
Gasoline Demand
Last week, we noted that gasoline demand was weakening and that has been putting pressure on oil prices.  This week, we take a look at the number of licensed drivers in the U.S.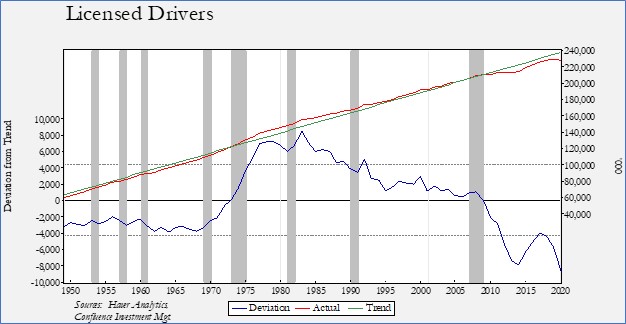 The data is annual, and the last available year is 2020 so we don't know how this metric was affected by the pandemic.  On a trend basis, the number of drivers rose above trend in the early 1970s as baby boomers reached driving age.  As population growth slowed, the number of drivers fell steadily back to trend.  However, after the Great Financial Crisis, the number of drivers fell rapidly and has yet to recover.  It doesn't appear to be the boomers.  In looking at the number of licensed drivers aged 65 and over, the growth rate is still 3% per year.  What we do find is that the number of drivers aged 29 years and younger declined over the past three years, falling 2.2% in 2020.  Social media might play a role, or the urbanization of younger households could play a role as well.
In observing the above chart, it again begs the question, "Why would anyone build additional refinery capacity if the number of drivers is falling below trend?"
 Market news:
Geopolitical news:
Alternative energy/policy news:
Globalization and national security are often at odds. Sometimes, the lowest cost producer is in a country that is deemed a security problem.  At that point, tradeoffs can occur.  Does one simply continue to buy the product as cheaply as possible, or does one pay more for "safer" products?
China seems to be developing an "all of the above" approach to energy security. We have documented China's expansion of coal for electricity production.  But, at the same time, it is aggressively expanding solar power as well by taking steps to lower the cost of solar panels.
Utilities are increasingly using battery storage for price arbitrage. If this practice expands, it will tend to reduce price volatility.
Ford is moving aggressively to expand its battery supply and find lower cost materials for the batteries themselves. For example, the company is opting for iron and phosphorous batteries instead of the usual nickel and cobalt metals.  The batteries will still use lithium, but using U.S. sources means running afoul of environmentalists.
General Motors (GM, $33.53) has secured a loan from the DOE for a battery venture.
The "holy grail" of auto batteries continues to be solid state, which promise to go farther and recharge faster than current batteries.
One of the problems with meeting climate targets is that auto turnover is slow, and therefore, gasoline autos will be with us for many years.
For the past couple of weeks, we have been reporting on the heat wave that has plagued much of the U.S. and Europe. The heat is straining electrical grids in Europe, sending prices higher and increasing the risk of blackouts.
Separating carbon from hydrogen leaves a clean fuel that could replace fossil fuels. Of course, a classic high school chemistry experiment separates hydrogen from water. Accordingly, marriage of nuclear power to make hydrogen is in the works.  In related news, the DOE is partly funding a "hydrogen hub" in the Houston area.
Extreme weather continues.