Weekly Energy Update (January 7, 2021)
by Bill O'Grady, Thomas Wash, and Patrick Fearon-Hernandez, CFA | PDF
Here is an updated crude oil price chart.  Prices are moving higher on dollar weakness and the recent OPEC+ decision, discussed below.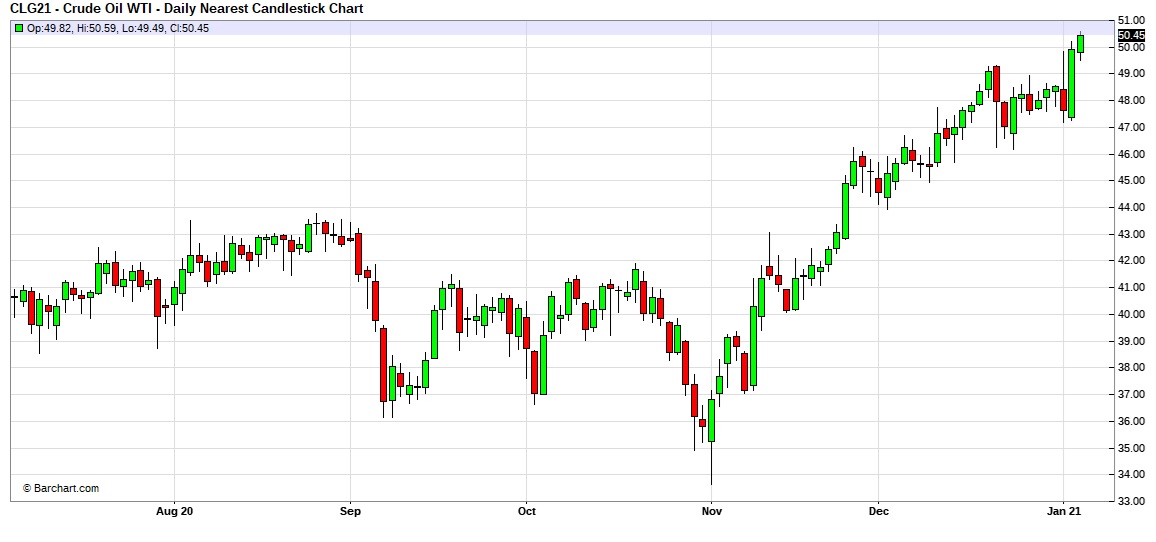 Commercial crude oil inventories fell 8.0 mb, well below the -1.5 mb draw forecast.  The SPR was unchanged; there is still 3.1 mb of storage in excess of the 635.0 mb that existed before the pandemic.

In the details, U.S. crude oil production was unchanged at 11.0 mbpd.  Exports and imports were also unchanged.  Refining activity rose 1.3%.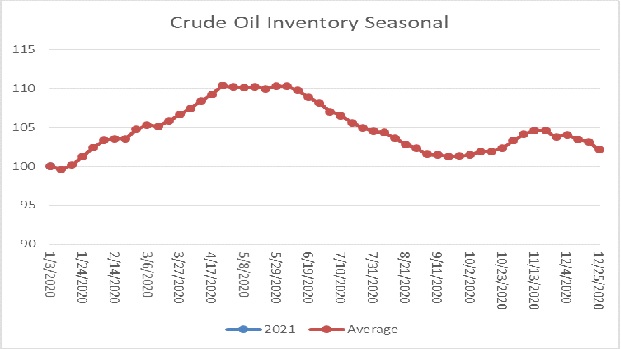 The above chart shows the annual seasonal pattern for crude oil inventories.  Since this is the first reporting week of the year, the data overlaps.  But it is important to note that inventories usually rise about 10% into mid-April.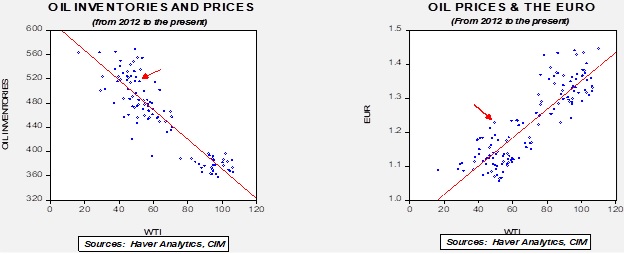 Based on our oil inventory/price model, fair value is $45.18; using the euro/price model, fair value is $75.75.  The combined model, a broader analysis of the oil price, generates a fair value of $57.32.  The wide divergence continues between the EUR and oil inventory models.  Although the inventory issue is a concern, as we note below, if the Saudis are going to play the role of swing producer then the dollar is probably a more important variable.
In geopolitical news, OPEC was in deep negotiations on output policy.  The Russians wanted to increase output, while most of the rest of the cartel, including Saudi Arabia, want to hold production steady.  Although the group has been able to manage output changes without roiling the market, the underlying problem is that Russia has less production flexibility than the Middle East producers.  There are seasonal shut-ins that Russia can execute but closing production in other areas will lead to permanent loss of output.  The Saudis resolved the issue, virtually single-handedly, by agreeing to a unilateral cut of 1.0 mbpd.  We don't expect the cartel reduction to be this size as other nations (Russia, Kazakhstan) will fill some of the gap.  But, this does show that the Kingdom of Saudi Arabia (KSA) is committed to maintaining price levels at the cost of market share.  This action is very bullish, at least for now.  At some point, however, the KSA will want its market share back.  In effect, the KSA is acting as swing producer as it did from 1973 to 1985.  In December 1985, the KSA signaled it was no longer willing to cede market share to prop up prices.  The end result was a 66% plunge in oil prices.  We doubt the Saudis intend to return to the swing producer role on a permanent basis, but their actions create a precedent that will be hard to undo.  One other interesting fact—for the first time in 35 years, the U.S. didn't import any crude oil from Saudi Arabia.
In other geopolitical news:
Here is what we are following in alternative energy news:
Here is what we are following in energy policy: