Weekly Energy Update (January 28, 2021)
by Bill O'Grady, Thomas Wash, and Patrick Fearon-Hernandez, CFA | PDF
Here is an updated crude oil price chart.  Prices are consolidating between $54 to $52 dollars per barrel after a strong rally from early November into late January.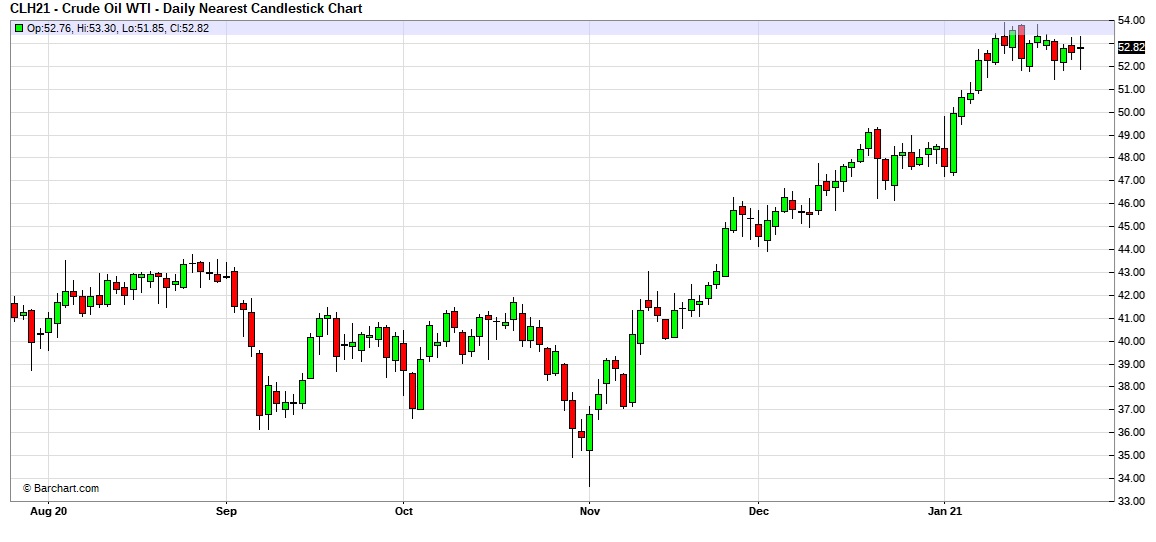 Commercial crude oil inventories unexpectedly fell 9.9 mb when a build of 1.5 mb was forecast.

In the details, U.S. crude oil production declined 0.1 mbpd to 10.9 mbpd.  Exports rose 1.1 mbpd, while imports declined 1.0 mbpd.  Refining activity fell 0.8%.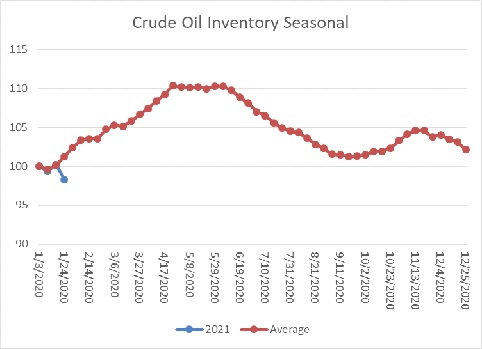 The above chart shows the annual seasonal pattern for crude oil inventories.  This week's decline is abnormal.  The usual seasonal pattern occurs due to refinery maintenance; in the past, the U.S. oil industry had limited ability to export, which contributed to the seasonal pattern.  With the potential for higher exports, the expected seasonal build may not occur, which would be bullish for prices.  Of course, one week doesn't constitute a trend, but the decline was notable.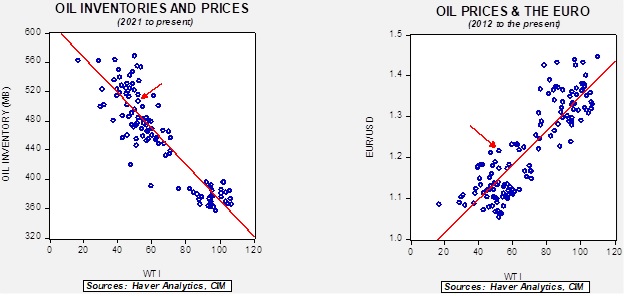 Based on our oil inventory/price model, fair value is $48.05; using the euro/price model, fair value is $70.80.  The combined model, a broader analysis of the oil price, generates a fair value of $58.18.  The wide divergence continues between the EUR and oil inventory models.
Distillate consumption has returned to normal and should continue to rise on a seasonal basis.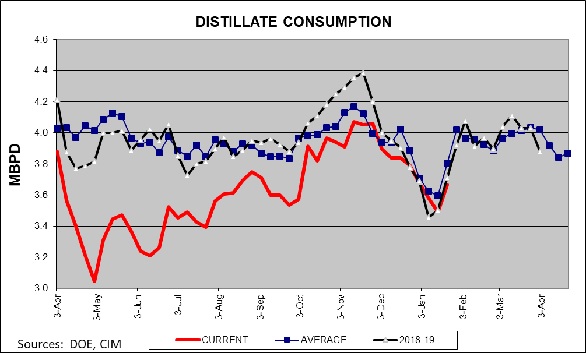 We continue to see evidence of market and policy measures causing a divergence between oil and gas prices compared to related equities.
The steady supply of oil relies, in part, on continued exploration and field development.  Last year, there was a notable decline in acreage acquisition by the largest oil companies in part due to low oil prices.  Because virgin oil fields require investment well before they begin producing, there is a risk that future declining demand will strand the investment.   We are already seeing declines in exploration budgets.
We expect that pipeline growth will be further restricted.  This is bullish for oil and gas prices, and bullish for existing pipelines, but determining the impact on individual companies is hard to generalize.
As expected, the Biden administration is restricting drilling on federal lands.  The oil industry will likely engage the courts to overturn this ruling, but, for now, it looks like this area won't be available for production.  It represents about 9% of onshore production.
By early in the next decade, it is estimated that 50% of new car sales will be EVs.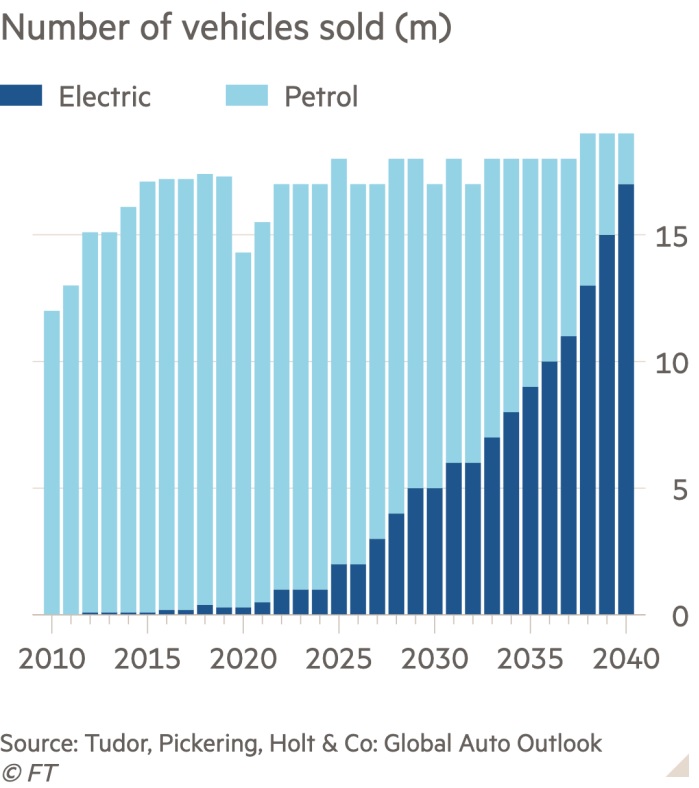 Here is the geopolitical news:
On the alternative energy front, here is what we saw this week: