Weekly Energy Update (January 25, 2021)
by Bill O'Grady, Thomas Wash, and Patrick Fearon-Hernandez, CFA | PDF
The report was delayed due to the Martin Luther King Jr. holiday.  Here is an updated crude oil price chart.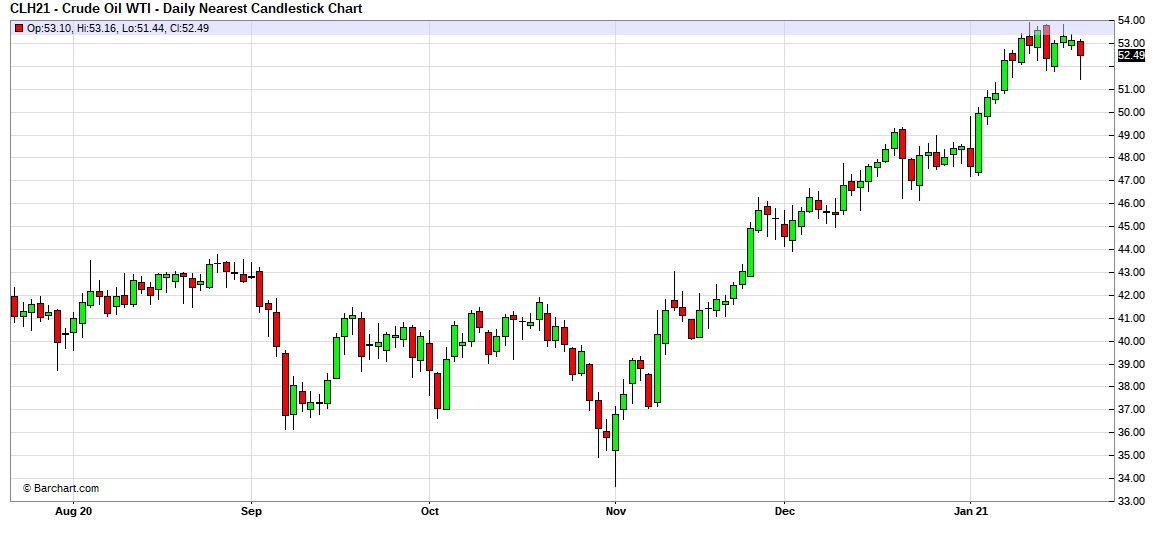 Commercial crude oil inventories unexpectedly rose 4.4 mb, when a decline of 1.3 mb was forecast.

In the details, U.S. crude oil production was unchanged at 11.0 mbpd.  Exports fell 0.8 mbpd, while imports declined 0.2 mbpd.  Refining activity rose 0.5%.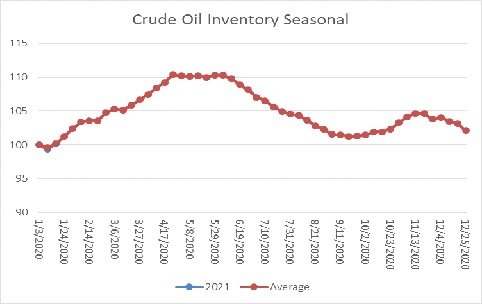 The above chart shows the annual seasonal pattern for crude oil inventories.  This week's rise is normal (although it seemed to surprise most analysts).  If we follow the seasonal pattern, inventories will rise about 10% into mid-April.  That situation should be factored into the current price but the anticipated rise in stockpiles isn't a positive for the market.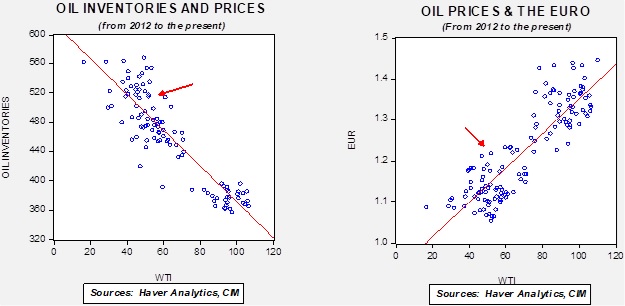 Based on our oil inventory/price model, fair value is $44.83; using the euro/price model, fair value is $70.97.  The combined model, a broader analysis of the oil price, generates a fair value of $56.43.  The wide divergence continues between the EUR and oil inventory models.
In geopolitics, we continue to watch with great interest the situation with Iran.  The U.S. withdrawal from the JCPOA led Iran to violate its restrictions on enriching uranium.  It has also moved further toward acquiring a domestic nuclear weapon.  The incoming Biden administration has signaled it would like Iran to return to the constraints of the JCPOA; we have doubts Iran will accept this program, fearing that a future administration will withdraw again.  We note the U.S. has shifted Israel from the European command to Central command.  For years, the U.S. put Israel under the supervision of the European command to avoid upsetting the Arab states.  From an operational standpoint, it makes more sense for Israel to be in Central command and now that several of its Arab neighbors have normalized relations with Israel, the emerging alliance structure in the region should benefit from the switch.
Islamic State is returning.  It claimed responsibility for two suicide bombings in Baghdad.  This group has shown remarkable resilience.  Although the U.S. and other allies seemingly eliminated the group a couple of years ago, if efforts are not maintained, it has the habit of re-emerging.
Venezuelan oil is under sanction by the U.S.  China is putting additives in Venezuelan oil to mask its origin and transferring cargos at sea to avoid sanctions and acquire Venezuelan crude, "laundering" the shipping documents through Swiss shipping companies.  According to reports, Venezuela accounts for 50% of China's oil imports.
On the policy front, we are seeing the following developments:
In alternative energy, we continue to see investment flows and batteries dominating the news.