Weekly Energy Update (January 13, 2022)
by Bill O'Grady, Thomas Wash, and Patrick Fearon-Hernandez, CFA | PDF
Since troughing in early December, oil prices have been steadily rising due to tightening supplies.  We are approaching the highs set in November.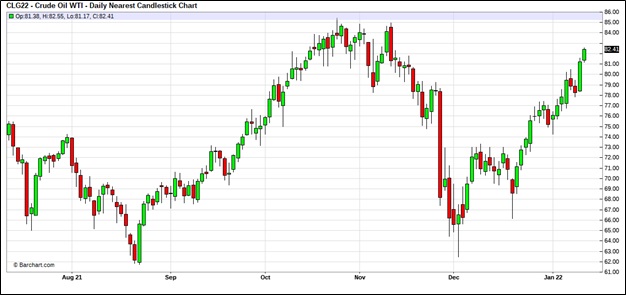 (Source: Barchart.com)
Crude oil inventories fell 4.6 mb compared to a 1.7 mb draw forecast.  The SPR declined 0.3 mb, meaning the net draw was 4.9 mb.

In the details, U.S. crude oil production declined 0.1 mbpd at 11.7 mbpd.  Exports fell 0.6 mbpd, while imports rose 0.2 mbpd.  Refining activity unexpectedly fell 1.4%.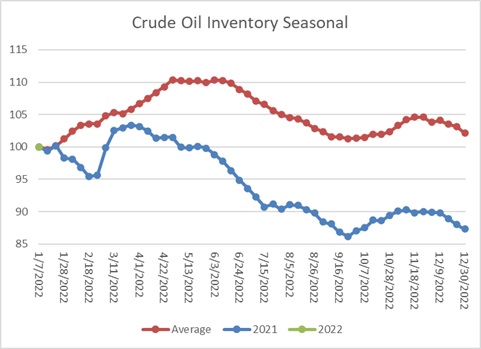 (Sources: DOE, CIM)
This chart shows the seasonal pattern for crude oil inventories.  This week, we reset the chart for 2022, adding 2021 as a reference.  The key element to watch is to determine whether inventories follow the usual seasonal pattern, repeat last year's path.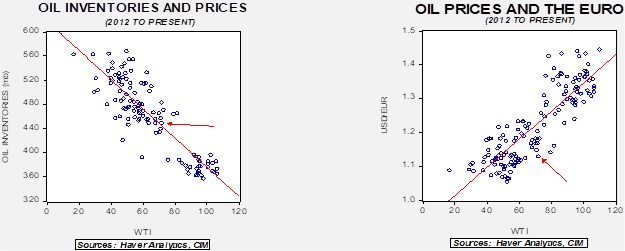 Based on our oil inventory/price model, fair value is $70.20; using the euro/price model, fair value is $53.68.  The combined model, a broader analysis of the oil price, generates a fair value of $62.18.  Current prices exceed our model projections, but price momentum is likely to push prices higher.
Although gasoline inventories have been rising rapidly, we note the rise is consistent with seasonal patterns.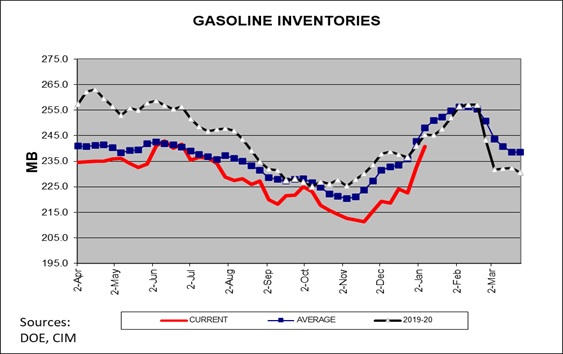 We would expect gasoline stockpiles to rise another 12-15 mb by early February.
 Market news:
Geopolitical news:
Alternative energy/policy news: