Weekly Energy Update (January 12, 2023)
by Bill O'Grady, Thomas Wash, and Patrick Fearon-Hernandez, CFA | PDF
Crude oil prices continue to come under pressure on worries over economic growth, although there is some evidence that prices may be basing between $72 and $82 per barrel.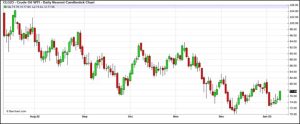 (Source: Barchart.com)
Crude oil inventories jumped 19.0 mb compared to a 3.0 mb draw forecast.  The SPR delined 0.8 mb, meaning the net build was 18.2 mb.  The unusually large build was caused by a large drop in exports, a rise in imports, and continued depressed refinery operations due to the deep cold snap late last year.

In the details, U.S. crude oil production rose 0.1 mbpd to 12.2 mbpd.  Exports fell 2.1 mbpd, while imports rose 0.6 mbpd.  Refining activity rose 4.3% to 84.1% of capacity.  The Christmas cold snap closed in a significant level of refining activity, and the industry is slowly recovering.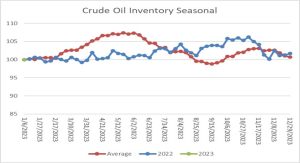 (Sources: DOE, CIM)
The above chart shows the seasonal pattern for crude oil inventories.  Because we are starting the new year, we only have one datapoint for 2023.  The chart does show that the usual seasonal pattern was not followed last year.  This is because the average still reflects the restrictions on U.S. oil exports whereas there isn't much of a discernable pattern to this data now that exports are allowed.
This chart shows the sharp drop and partial recovery in refining operations.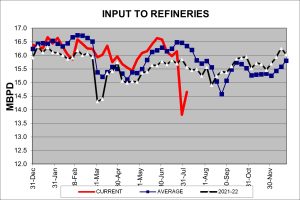 (Sources:  DOE, CIM)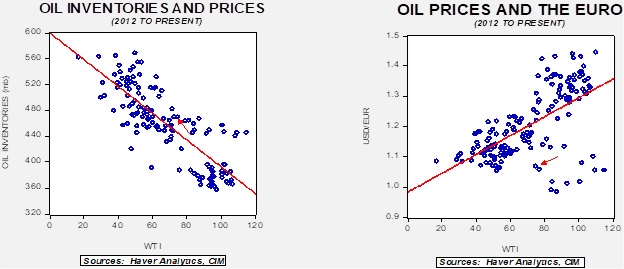 Since the SPR is being used, to some extent, as a buffer stock, we have constructed oil inventory charts incorporating both the SPR and commercial inventories.

Total stockpiles peaked in 2017 and are now at levels last seen in 2001.  Using total stocks since 2015, fair value is $107.08.
Market News: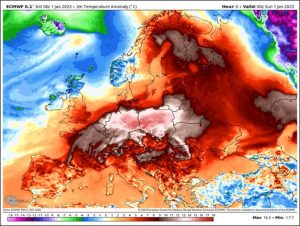 (Source)
 Geopolitical News:
 Alternative Energy/Policy News: