Weekly Energy Update (January 20, 2023)
by Bill O'Grady, Thomas Wash, and Patrick Fearon-Hernandez, CFA | PDF
Crude oil prices are trying to base but so far have failed to break above resistance at around $80 per barrel.

(Source: Barchart.com)
Crude oil inventories rose 8.4 mb compared to a 2.0 mb draw forecast.  The SPR was unchanged, the first time since the reporting week of May 20, 2022.  The unusually large build was caused by slower than expected recovery in refinery operations.

In the details, U.S. crude oil production was unchanged at 12.2 mbpd.  Exports rose 1.7 mbpd, while imports rose 0.5 mbpd.  Refining activity rose 1.2% to 85.3% of capacity.  The Christmas cold snap closed in a significant level of refining activity, and the industry is slowly recovering.

(Sources: DOE, CIM)
The above chart shows the seasonal pattern for crude oil inventories.  Last week's jump in inventory means we are starting the year off with well above average inventory injections.  The chart does show that the usual seasonal pattern was not followed last year.  This is because the average still reflects the restrictions on U.S. oil exports whereas there isn't much of a discernable pattern to this data now that exports are allowed.
Th chart below shows the sharp drop and partial recovery in refining operations.  Usually, we do see some refinery maintenance this time of year, which will end in early February.  Thus, we may not see a full recovery in refinery operations until later in the quarter.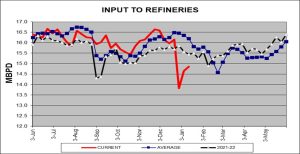 (Sources:  DOE, CIM)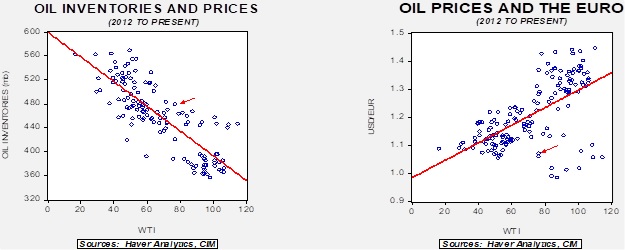 Since the SPR is being used, to some extent, as a buffer stock, we have constructed oil inventory charts incorporating both the SPR and commercial inventories.  For the next few months, we expect the SPR level to remain steady, so changes in total stockpiles will be driven solely by commercial adjustments.

Total stockpiles peaked in 2017 and are now at levels last seen in 2001.  Using total stocks since 2015, fair value is $107.07.
Market News:
As the government's SPR sales begin to wind down, the potential for higher prices has increased. We do expect a resumption of sales if oil prices threaten $100 per barrel, but it is unlikely that we will see another large sale just because prices are high.  We believe that the SPR sale was an underappreciated bearish factor last year, and if we are correct, an end to selling will likely be more bullish than expected.

It is our position that the SPR will never be refilled to its +600 mb level last seen before the recent sales. The structure that the Biden administration has put in place to buy oil makes it very unlikely that purchases will occur.

The IEA is warning that the reopening of China will lift global oil demand to a new record.
The Kingdom of Saudi Arabia (KSA) is kicking off investment into the mining sector, likely to diversify its economy away from oil and gas just in case demand for these products fall as green energy expands. The $15 billion starter fund should boost mining investment and will likely support the sector.

Saudi Arabia, due to cost structure and low emissions from production, believes it will be the last oil producer standing, even as the world moves away from fossil fuels.
In another effort to diversify its energy sources, one that will be most controversial, the KSA has indicated that it will use its domestic uranium to complete the nuclear fuel cycle. In theory, doing so could give the country the wherewithal to develop nuclear weapons.  Given the advanced status of Iran's program coupled with uncertainty surrounding the U.S. security guarantee, this claim could further raise risks in the region.

The history of oil is littered with "we are running out" narratives. Daniel Yergin's The Prize is perhaps the best history of the industry, and at several junctures, the accepted wisdom was that the age of oil was ending because all the fields had been tapped.  What history shows is that supply shortages lift prices, increasing not just exploration activity but also new technologies.  Since oil was discovered in 1859, this cycle has been in place.  Thus, when the Financial Times runs a story about the end of shale, we take it with a bit of skepticism.  In some respects, the story might be right if current conditions remain in place, but, those conditions probably won't last.  The FT story and the EIA's short-term forecast for production are predicated on prices staying about where they are.  However, as we have noted, if we assume around a 200 mb decline in commercial stockpiles, which would have occurred had it not been for the SPR draw, we would be looking at $135 per barrel for crude oil.  Prices at that level will probably change behaviors.  Supply issues, such as the lack of workers, capital constraints, regulatory constraints, etc., remain, but all these can be overcome with higher prices.
There is an old adage in markets that "nothing cures high prices like high prices." In market theory, price is a signal, and high prices tell consumers to conserve, but more importantly, they reward suppliers who bring product to market.  As prices rise, especially in Europe, we are seeing a notable increase in exploration and development activity in the eastern Mediterranean.  Large natural gas fields are being discovered in a difficult geopolitical environment.  Offshore fields south of Cyprus have brought the involvement of Turkey, Greece, Israel, Lebanon, and even indirectly, Hamas.  Although there has been some degree of cooperation, deep divisions remain; for example, Turkish and Greek vessels routinely threaten each other.  Government instability can also upend agreements, but high prices will make it more likely that these obstacles will be overcome and will improve the supply situation in Europe and the Middle East.
 Geopolitical News:
 Alternative Energy/Policy News:
The IEA has issued its annual report on the state of energy technology, which skews toward green energy production. There are a number of takeaways but the one that caught our attention is China's dominance in the production of components for these products.  If the West is going to develop these energy sources, a massive level of investment will be required.
Sweden announced it has discovered a large deposit of rare earths. Rare earths are not really all that rare, although finding concentrated deposits can be a challenge.  The mining of such products, however, is environmentally difficult and the processing even more so.  Thus, the challenge of overcoming China in this area is, to some degree, tied to either making the process cleaner (and likely more expensive) or accepting the environmental degradation.
China's dominance in lithium is seen in the chart below.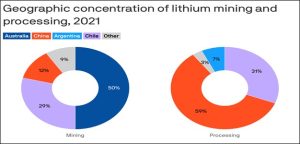 (Source:  IEA)