Weekly Energy Update (February 11, 2021)
by Bill O'Grady, Thomas Wash, and Patrick Fearon-Hernandez, CFA | PDF
Here is an updated crude oil price chart.  Prices continue to rise.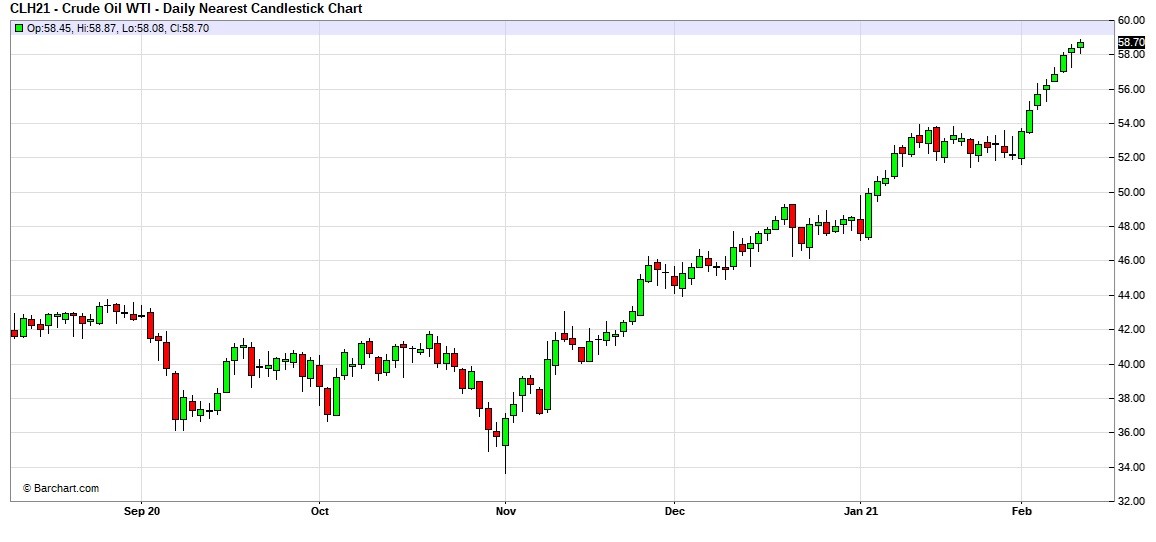 Crude oil inventories fell 6.6 mb when a draw of 0.8 mb was forecast.  The SPR fell 0.2 mb, meaning the draw in commercial inventories was 6.8 mb.

In the details, U.S. crude oil production rose 0.1 mb to 11.0 mbpd.  Exports fell 0.9 mbpd, while imports declined 0.7 mbpd.  Refining activity rose 0.7%.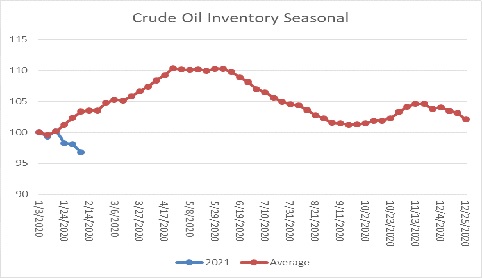 The above chart shows the annual seasonal pattern for crude oil inventories.  This week's decline is contraseasonal.  The usual seasonal pattern occurs due to refinery maintenance; in the past, the U.S. oil industry had limited ability to export, which contributed to the seasonal pattern.  With the potential for higher exports, the expected seasonal build may not occur, which would be bullish for prices.  If we were following the normal seasonal pattern, oil inventories would be 27.1 mb higher.
A key factor in this unusual pattern is that refinery operations are not showing signs of maintenance.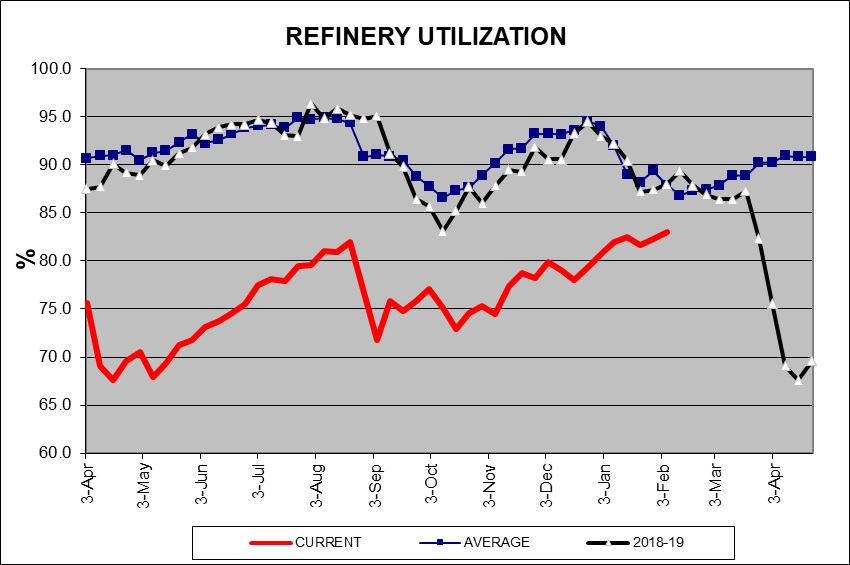 Refinery utilization usually falls into the new year and is troughing now.  Instead, we are seeing continued strength as the industry is preparing for stronger demand later this year.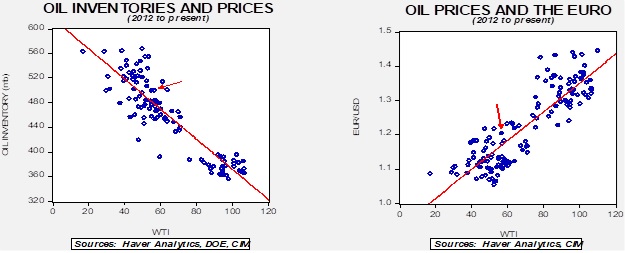 Based on our oil inventory/price model, fair value is $50.63; using the euro/price model, fair value is $68.06.  The combined model, a broader analysis of the oil price, generates a fair value of $58.20.  The wide divergence continues between the EUR and oil inventory models.
Geopolitical news:
China has suffered severe environmental degradation caused by its rapid industrialization.  General Secretary Xi has made environmental improvement a priority.  We note that he has brought Xie Zhenhua back into government as a special envoy for climate issues, a move designed to send signals to Washington that the country is willing to cooperate on this shared concern.
The Biden administration has removed the Houthis, the key rebel group in Yemen, from the U.S. terrorism list.  However, that doesn't mean the Houthis are now in the clear.  The State Department indicates that the group will continue to be under scrutiny.
Alternative energy/policy news: