Weekly Energy Update (February 9, 2023)
by Bill O'Grady, Thomas Wash, and Patrick Fearon-Hernandez, CFA | PDF
Crude oil prices appear to have based but so far have failed to break above resistance at around $80-$82 per barrel.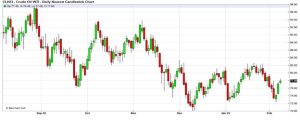 (Source: Barchart.com)
Crude oil inventories rose 2.4 mb compared to a 2.0 mb build forecast.  The SPR was unchanged.

In the details, U.S. crude oil production rose 0.1 mbpd to 12.3 mbpd.  Exports fell 0.6 mbpd, while imports declined 0.2 mbpd.  Refining activity increased 2.2% to 87.9% of capacity.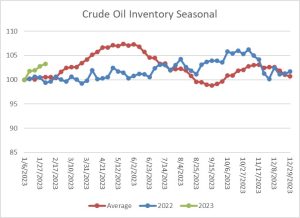 (Sources: DOE, CIM)
The above chart shows the seasonal pattern for crude oil inventories.  Last week's increase was contra-seasonal.  So far, crude oil inventories have been rising this year, mostly because refinery operations have been weaker than normal.  As refining activity accelerates, we would look for commercial inventory accumulation to slow.

Since the SPR is being used, to some extent, as a buffer stock, we have constructed oil inventory charts incorporating both the SPR and commercial inventories.  For the next few months, we expect the SPR level to remain steady, so changes in total stockpiles will be driven solely by commercial adjustments.

Total stockpiles peaked in 2017 and are now at levels last seen in 2001.  Using total stocks since 2015, fair value is $107.07.
Summer:
We don't usually start thinking about summer until pitchers and catchers report to spring training.  By then, the Super Bowl has been played and we are only a couple of weeks away from the kick-off of the NCAA's "March Madness" tournament.  However, we have been watching the gasoline markets and there are some concerns lurking around the bend.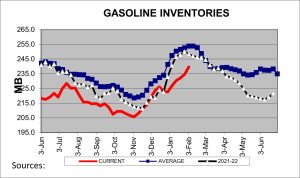 Gasoline inventories are running about 14 mb below their five-year average.  Scaled to consumption, inventories are in line with normal, but that's only because consumption has been weak.  We are approaching the usual peak in gasoline stockpiles, since inventories usually decline as refiners clear their winter grade gasoline from surplus to prepare for summer.  If we experience the usual drop in the coming weeks, stockpiles could be lower than normal and may trigger higher prices.  High gasoline prices are politically sensitive and may trigger another round of SPR releases.
At the same time, we are in the midst of a secular drop in gasoline consumption.  The following chart shows annual miles driven by passenger cars and light trucks.  In general, the trend in miles driven rose steadily from the early 1970s until the Great Financial Crisis in 2007.  We use gray bars to highlight periods when we did not hit a new high in the number of miles driven and note the number of months until a new peak occurred.  There was a small dip from 1973 to 1975, which was a product of the Arab Oil Embargo (which pushed up gasoline prices), and a more notable dip in the uptrend from 1979 to 1982, triggered by two U.S. recessions and a spike in prices caused by the disruptions from the Iran/Iraq War.  From 1983 until 2007, the rise in driving was relentlessly higher, with only short interruptions typically due to recessions or periods of high prices.  After 2007, though, we had a long gap before a new high was reached and the underlying trend clearly declined.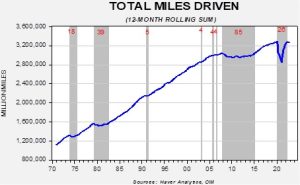 There are likely multiple reasons for the overall change in trend.  First, social media has led to friends being able to interact online, rather than needing to drive to meet in person.  Working from home and increased urbanization have also likely played a role.  Driving less, coupled with steady efficiency improvements, is leading to lower demand for gasoline.
The underlying factors reduce the chances of a gasoline crisis this summer, although the lack of inventory bears watching.  Probably the biggest factor that could push gasoline prices higher is crude oil pricing.
Market News:
 Geopolitical News:
 Alternative Energy/Policy News: