Weekly Energy Update (February 25, 2022)
by Bill O'Grady, Thomas Wash, and Patrick Fearon-Hernandez, CFA | PDF
Oil prices briefly moved above $100 per barrel on news of the Russian invasion of Ukraine.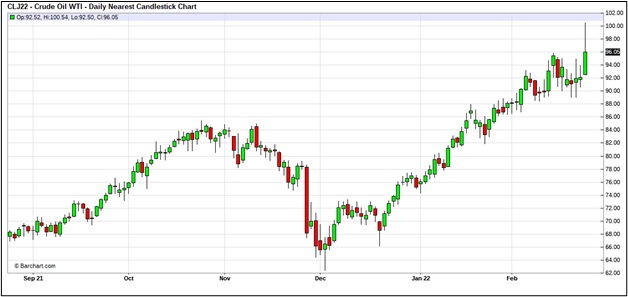 (Source: Barchart.com)
Crude oil inventories unexpectedly rose 4.5 mb compared to a 1.0 mb draw forecast.  The SPR declined 2.4 mb, meaning the net build was 2.1 mb.

In the details, U.S. crude oil production was unchanged at 11.6 mbpd.  Exports rose 0.4 mbpd while imports increased 1.0 mbpd.  Refining activity rose 2.1%, recovering from the previous week's decline tied to the cold snap that adversely affected refining in Texas and Louisiana.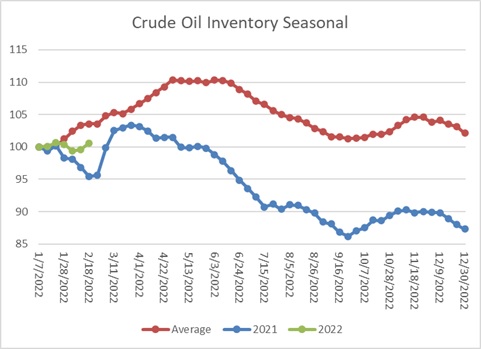 (Sources: DOE, CIM)
This chart shows the seasonal pattern for crude oil inventories.  This week's report shows we are "splitting the difference" between last year's plunge and the usual rise seen in the 5-year average.  Under normal circumstances, we would anticipate a steady rise in stockpiles, but under current conditions, normal patterns may not develop this year.

Based on our oil inventory/price model, fair value is $69.56; using the euro/price model, fair value is $54.54.  The combined model, a broader analysis of the oil price, generates a fair value of $62.62.  Current prices are being driven by ESG and geopolitics, so the usual impact of inventory and the dollar has been overwhelmed.  However, the analysis shows that any sort of normalization will likely lead to lower oil prices.
 Market news:
Clearly the crisis in Ukraine is bullish for oil and natural gas prices. For now, conditions are fluid, but we expect rising concerns about the security of supply.  One key relationship to watch is the correlation between oil prices and commercial crude oil inventories.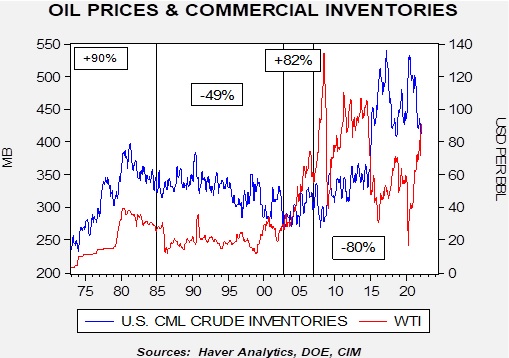 The normal relationship between inventory and price is inverse.  In general, rising inventories suggest excess supply, so rising stockpiles are usually bearish.  However, as the above chart shows, there are periods where the two series are positively correlated.  During the geopolitical turbulence of the 1970s into the early 1980s, U.S. commercial crude stocks and prices were positively correlated.  Another word for this condition is "hoarding."  In other words, rising inventories indicate increasing demand.  Since 2007, inventories and prices have been inversely correlated; we will be watching closely to see if this correlation "flips."  If it does, it would be considered very bullish for crude oil prices.
Geopolitical news:
Alternative energy/policy news:
As EVs grow in popularity, the need for battery disposal or recycling is emerging. New firms are springing up to meet the challenge.
A recent report from the Institute for Energy Economics and Financial Analysis (IEEFA) says that small modular nuclear reactors won't be an answer for climate change.
One issue that could constrain the growth of green energy is the lack of trained labor to build out the green infrastructure.